Jewish encyclopedia of 1905; PINSK: http://www.jewishencyclopedia.com/view.jsp?artid=338&letter=P&search=Pinsk

By : J. G. Lipman Herman Rosenthal Benzion Eisenstadt


Early Jewish Settlers.

Russian city in the government of Minsk, Russia. There were Jews in Pinsk prior to the sixteenth century, and there may have been an organized community there at the time of the expulsion of the Jews from Lithuania in 1495; but the first mention of the Jewish community there in Russian-Lithuanian documents dates back to 1506. On Aug. 9 of that year the owner of Pinsk, Prince Feodor Ivanovich Yaroslavich, in his own name and in that of his wife, Princess Yelena, granted to the Jewish community of Pinsk, at the request of Yesko Meycrovich, Pesakh Yesofovich, and Abram Ryzhkevich, and of other Jews of Pinsk, two parcels of land for a house of prayer and a cemetery, and confirmed all the rights and privileges given to the Jews of Lithuania by King Alexander Jagellon. This grant to the Jews of Pinsk was confirmed by Queen Bona on Aug. 18, 1533. From 1506 until the end of the sixteenth century the Jews are frequently mentioned in various documents. In 1514 they were included in the confirmation of privileges granted to the Jews of Lithuania by King Sigismund, whereby they were freed from special military duties and taxes and placed on an equality, in these respects, with the other inhabitants of the land, while they were also exempted from direct military service. They were included among the Jewish communities of Lithuania upon which a tax of 1,000 kop groschen was imposed by the king in 1529, the entire sum to be subject to a pro rata contribution determined upon by the communities. From other documents it is evident that members of the local Jewish community were prominent as traders in the market-place, also as landowners, leaseholders, and farmers of taxes. In a document of March 27, 1522, reference is made to the fact that Lezer Markovich and Avram Volchkovich owned stores in the market-place near the castle. In another document, dated 1533, Avram Markovich was awarded by the city court the possession of the estate of Boyar Fedka Volodkevich, who had mortgaged it to Avram's father, Mark Yeskovich. Still other documents show that in 1540 Aaron Ilich Khoroshenki of Grodno inherited some property in Pinsk, and that in 1542 Queen Bona confirmed the Jews Kherson and Nahum Abramovich in the possession of the estate, in the village of Krainovichi, waywodeship of Pinsk, which they had inherited from their father, Abram Ryzhkevich.

Abram Ryzhkevich was a prominent member of the Jewish community at the beginning of the sixteenth century, and was active in communal work. He was a favorite of Prince Feodor Yaroslavich, who presented him with the estate in question with all its dependencies and serfs. The last-named wererelieved from the payment of any crown taxes, and were to serve Abram Ryzhkevich exclusively. He and his children were regarded as boyars, and shared the privileges and duties of that class.

Pesak? Yesofovich.

Pesak? Yesofovich, mentioned with Yesko Meyerovich and Abram Ryzhkevich in the grant to the Jewish community of 1506, took an important part in local affairs. Like Abram Ryzhkevich, he was intimate with Prince Feodor Yaroslavich, was presented by the prince with a mansion in the town of Pinsk, and was exempted at the same time from the payment of any taxes or the rendering of local services, with the exception of participation in the repairing of the city walls. The possession of this mansion was confirmed by Queen Bona to Pesak?'s son Nahum in 1550, he having purchased it from Bentz Misevich, to whom the property was sold by Nahum's father. Inheriting their father's influence, Nahum and his brother Israel played important rôles as merchants and leaseholders. Thus on June 23, 1550, they, together with Goshka Moshkevich, were awarded by Queen Bona the lease of the customs and inns of Pinsk, Kletzk, and Gorodetzk for a term of three years, and had the lease renewed in 1553 for a further term of three years, on payment of 875 kop groschen and of 25 stones of wax. In the same year these leaseholders are mentioned in a characteristic lawsuit. There was an old custom, known as "kanuny," on the strength of which the archbishop was entitled to brew mead and beer six times annually without payment of taxes. The Pesakhovich family evidently refused to recognize the validity of this privilege and endeavored to collect the taxes. The case was carried to the courts, but the bishop being unable to show any documents in support of his claim, and admitting that it was merely based on custom, the queen decided that the legal validity of the custom should not be recognized; but since the income of the "kanuny" was collected for the benefit of the Church the tax-farmers were required to give annually to the archbishop 9 stones of wax for candles," not as a tax, but merely as a mark of our kindly intention toward God's churches."

The Pesakhovich Family.

The Pesakhovich family continues to be mentioned prominently in a large number of documents, some of them dated in the late sixties of the sixteenth century. Thus in a document of May 19, 1555, Nahum Pesakhovich, as representative of all the Jews in the grand duchy of Lithuania, lodged a complaint with the king against the magistrate and burghers of Kiev because, contrary to the old-established custom, they had prohibited the Jews from coming to Kiev for trading in the city stores, and compelled them to stop at, and to sell their wares in, the city market recently erected by the burghers. Postponing his final decision until his return to Poland, the king granted the Jews the right to carry on trade as theretofore.

In a document of Oct. 31, 1558, it is stated that the customs, inns, breweries, and ferries of Pinsk, which had been leased to Nahum and Israel Pesakhovich for 450 kop groschen, were now awarded to Khaim Rubinovich for the annual sum of 550 groschen. This indicates that the Pesakhovich family was yielding to the competition of younger men.

An interesting light is shed on contemporary conditions by a document dated Dec. 12, 1561. This contains the complaint of Nahum Pesakhovich against Grigori Grichin, the estate-owner in the district of Pinsk, who had mortgaged to him, to secure a debt of 33 kop groschen and of 5 pails of unfermented mead, six of his men in the village of Poryechye, but had given him only five men. The men thus mortgaged to Nahum Pesakhovich were each compelled to pay annually to the latter 20 groschen, one barrel of oats, and a load of hay; they served him one day in every seven, and assisted him at harvest-time. This would indicate that the Jews, like the boyars, commanded the services of the serfs, and could hold them under mortgage. In another document, dated 1565, Nahum Pesakhovich informed the authorities that he had lost in the house of the burgher Kimich 10 kop groschen and a case containing his seal with his coat of arms.

The Pinsk Jewry in 1555.

In 1551 Pinsk is mentioned among the communities whose Jews were freed from the payment of the special tax called "serebschizna." In 1552-55 the starost of Pinsk took a census of the district in order to ascertain the value of property which was held in the district of Queen Bona. In the data thus secured the Jewish house-owners in Pinsk and the Jewish landowners in its vicinity are mentioned. It appears from this census that Jews owned property and lived on the following streets: Dymiskovskaya (along the river), Stephanovskaya ulitza (beyond the Troitzki bridge), Velikaya ulitza from the Spasskiya gates, Kovalskaya, Grodetz, and Zhidovskaya ulitzi, and the street near the Spass Church. The largest and most prominent Jewish property-owners in Pinsk and vicinity were the members of the Pesakhovich family—Nahum, Mariana, Israel, Kusko, Rakhval (probably Jerahmeel), Mosko, and Lezer Nahumovich; other prominent property-owners were Ilia Moiseyevich, Nosko Moiseyevich, Abram Markovich, and Lezer Markovich. The synagogue and the house of the cantor were situated in the Zhidovskaya ulitza. Jewish settlements near the village of Kustzich are mentioned.

A number of documents dated 1561 refer in various connections to the Jews of Pinsk. Thus one of March 10, 1561, contains a complaint of Pan Andrei Okhrenski, representative of Prince Nikolai Radziwill, and of the Jew Mikhel against Matvei Voitekhovich, estate-owner in the district of Pinsk; the last-named had sent a number of his men to the potash-works belonging to Prince Radziwill and managed by the Jew above-mentioned. These men attacked the works, damaging the premises, driving off the laborers, and committing many thefts.

By a decree promulgated May 2, 1561, King Sigismund August appointed Stanislav Dovorino as superior judge of Pinsk and Kobrin, and placed all the Jews of Pinsk and of the neighboring villages under his jurisdiction, and their associates were ordered to turn over the magazines and stores to the magistrate and burghers of Pinsk. In August of the same year the salt monopoly of Pinsk was awarded to the Jews Khemiya and Abram Rubinovich.But on Dec. 25, 1564, the leases were awarded to the Jews Vaska Medenchich and Gershon Avramovich, who offered the king 20 kop groschen more than was paid by the Christian merchants. In the following year the income of Pinsk was leased to the Jew David Shmerlevich.

In the census of Pinsk taken again in 1566, Jewish house-owners are found on streets not mentioned in the previous census; among these were the Stara, Lyshkovska, and Sochivchinskaya ulitzy. Among the house-owners not previously mentioned were Zelman, doctor ("doctor," meaning "rabbi" or "dayyan"), Meïr Moiseyevia, doctor, Novach, doctor, and others. The Pesakhovich family was still prominent among the landowners.

Under Stephen Bathori.

In a circular letter of 1578 King Stephen Bathori informed the Jews of the town and district of Pinsk that because of their failure to pay their taxes in gold, and because of their indebtedness, he would send to them the nobleman Mikolai Kindei with instructions to collect the sum due. By an order of Jan. 20, 1581, King Stephen Bathori granted the Magdeburg Rights to the city of Pinsk. This provided that Jews who had recently acquired houses in the town were to pay the same taxes as the Christian householders. Thenceforward, however, the Jews were forbidden, under penalty of confiscation, to buy houses or to acquire them in any other way. Elsewhere in the same document the citizens of Pinsk are given permission to build a town hall in the market-place, and for this purpose the Jewish shops were to be torn down. The grant of the Magdeburg Rights was subsequently confirmed by Sigismund III. (1589-1623), Ladislaus IV. (1633), and John Casimir (1650).

In spite of the growing competition of the Christian merchants, the Jews must have carried on a considerable import and export trade, as is shown by the custom-house records of Brest-Litovsk. Among those who exported goods from Pinsk to Lublin in 1583 Levko Bendetovich is mentioned (wax and skins), and among the importers was one ?ayyim Itzkhakovich (steel, cloth, iron, scythes, prunes, onion-seed, and girdles). Abraham Zroilevich imported caps, Hungarian knives, velvet girdles, linen from Glogau, nuts, prunes, lead, nails, needles, pins, and ribbons. Abraham Meyerovich imported wine. Other importers were Abram Yaknovich, Yatzko Nosanovich, Yakub Aronovich, and Hilel and Rubin Lazarevich.

About 1620 the Lithuanian Council was organized, of which Pinsk, with Brest-Litovsk and Grodno, became a part. In 1640 the Jews Jacob Rabinovich and Mordecai-Shmoilo Izavelevich applied in their own name, and in the names of all the Jews then living on church lands, to Pakhomi Oranski, the Bishop of Pinsk and Turov, for permission to remit all taxes directly to him instead of to the parish priests. Complying with this request, the bishop reaffirmed the rights previously granted to the Jews; they were at liberty to build houses on their lots, to rent them to newly arrived people, to build inns, breweries, etc.

Increasing Anti-Jewish Feeling.

Toward the middle of the seventeenth century the Jews of Pinsk began to feel more and more the animosity of their Christian neighbors; and this was true also of other Jewish communities. In 1647 "Lady" Deborah Lezerova and her son "Sir" Yakub Lezerovich complained to the magistrates that their grain and hay had been set on fire by peasants. In the following year numerous complaints of attack, robbery, plunder, and arson were reported by the local Jews. Rebellion was in the air, and with the other Jewish communities in Lithuania that of Pinsk felt the cruelties of the advancing Cossacks, who killed in great numbers the poorer Jews who were not able to escape. Prince Radziwill, who hastened to the relief of the city, finding the rioters there, set it on fire and destroyed it.

Hannover, in "Yewen Me?ulah," relates that the Jews who remained in Pinsk and those who were found on the roads or in the suburbs of that city were all killed by the Cossacks. He remarks also that when Radziwill set fire to the town, many of the Cossacks endeavored to escape by boats and were drowned in the river, while others were killed or burned by the Lithuanian soldiers. Meïr ben Samuel, in "Zuk ha-'Ittim," says that the Jews of Pinsk were delivered by the townspeople (i.e., the Greek Orthodox) to the Cossacks, who massacred them.

Evidently Jews had again appeared in Pinsk by 1651, for the rural judge Dadzibog Markeisch, in his will, reminds his wife of his debt of 300 gulden to the Pinsk Jew Gosher Abramovich, of which he had already repaid 100 gulden and 110 thalers, and asks her to pay the remainder. In 1662 the Jews of Pinsk were relieved by John Casimir of the headtax, which they were unable to pay on account of their impoverished condition. On April 11, 1665, the heirs of the Jew Nathan Lezerovich were awarded by the court their claim against Pana Terletzkaya for 69,209 zlot. For her refusal to allow the collection of the sum as ordered by the court she was expelled from the country. In 1665, after the country had been ruined by the enemy, the Jewish community of Pinsk paid its proportion of special taxation for the benefit of the nobility.

In the Nineteenth Century.

Beyond the fact that ?asidism developed in the suburb of Karlin (see Aaron ben Jacob of Karlin), little is known about the history of the Pinsk community in the eighteenth century; but since the first quarter of the nineteenth century the Jews there have taken an active part in the development of the export and import trade, especially with Kiev, Krementchug, and Yekaterinoslav, with which it is connected by a steamship line on the Dnieper. Many of the members of the Jewish community of Pinsk removed to the newly opened South-Russian province and became active members of the various communities there. In the last quarter of the nineteenth century prominent Jewish citizens of Pinsk developed to a considerable extent its industries, in which thousands of Jewish workers now find steady occupation. They have established chemical-factories, sawmills, a match-factory (400 Jewish workers, producing 10,000,000 boxes of matches perannum; established by L. Hirschmanin 1900), shoe-nail factory (200 Jewish workers), candle-factory, cork-factory, parquet-factory, brewery, and tobacco-factories (with a total of 800 Jewish workers). The Luries and Levines have been especially active in that direction. Another cork-factory, owned by a Christian, employs 150 Jewish workers; and the shipyards (owned by a Frenchman), in which large steamers and sailing vessels are built, also employs a few hundred Jews. Besides these, there are many Jewish artisans in Pinsk who are occupied as nailsmiths, founders, workers in brass, and tanners; in soap-manufactories, small breweries, violin-string factories, the molasses-factory, the flaxseed-oil factory, and the ?allit-factory. In all these the Jewish Sabbath and holy days are strictly observed. Many Jewish laborers are employed on the docks of Pinsk and as skilled boatmen.

Pinsk has become one of the chief centers of Jewish industry in northwest Russia. The total output of its Jewish factories is valued at two and a half million rubles. The pay of working men per week in the factories is:
see table

Since 1890 there have been technical classes connected with the Pinsk Talmud Torah, where the boys learn the trades of locksmiths, carpenters, etc., and technology, natural history, and drawing.

Bibliography: Regesty i Nadpisi;
Russko-Yevreiski Arkhiv. vols. i. and ii.;
Voskhod, Oct., 1901, p. 23;
Welt, 1898, No. 11.J. G. L.

Rabbis.

The first rabbi mentioned in connection with Pinsk is R. Simson. With R. Solomon Luria (MaHRaSh) and R. Mordecai of Tiktin, he was chosen, in 1568, to adjudicate the controversy relating to the association of Podlasye. His successors were: R. Naphtali, son of R. Isaac Katz (removed to Lublin; d. 1650); R. Moses, son of R. Israel Jacob (c. 1673; his name occurs in the "Sha'are Shamayim"); R. Naphtali, son of R. Isaac Ginsburg (d. 1687); R. Samuel Halpern, son of R. Isaac Halpern (d. 1703; mentioned in "Dibre ?akamim," 1691); R. Isaac Meïr, son of R. Jonah ?e'omim; R. Samuel, son of R. Naphtali Herz Ginzburg (mentioned in "'Ammude 'Olam," Amsterdam, 1713); R. Asher Ginzburg (mentioned in the preface to "Ga'on Lewi"); R. Israel Isher, son of R. Abraham Mamri (mentioned in Tanna debe Eliyahu, 1747); R. Raphael, son of R. Jekuthiel Süssel (1763 to 1773; d. 1804); R. Abraham, son of R. Solomon (mentioned in the "Netib ha-Yashar"); R. Levy Isaac; R. Abigdor (had a controversy with the ?asidim on the question of giving precedence in prayers to "Hodu" over "Baruk she-Amar"; the question was submitted for settlement to Emperor Paul I.: "Voskhod," 1893, i.); R. Joshua, son of Shalom (Phinehas Michael, "Masseket Nazir," Preface); R. ?ayyim ha-Kohen Rapoport (resigned in 1825 to go to Jerusalem; d. 1840); Aaron of Pinsk (author of "Tosefot Aharon," Königsberg, 1858; d. 1842); R. Mordecai Sackheim (1843 to his death in 1853); R. Eleazar Moses Hurwitz (1860 to his death in 1895).

Among those members of the community of Pinsk who achieved distinction were the following: R. Elijah, son of R. Moses ("?iryah Ne'emanah," p. 125); R. Moses Goldes, grandson of the author of "Tola'at Ya'a?ob"; R. Kalonymus Kalman Ginzburg (president of the community); R. Jonathan ("Dibre Rab Meshallem"); R. Solomon Bachrach, son of R. Samuel Bachrach ("Pin?as Tiktin"); R. ?ayyim of Karlin ("'Ir Wilna," p. 31); R. Solomon, son of R. Asher ("Geburath He-Or"); R. Joseph Janower ("Zeker Yehosef," Warsaw, 1860); R. Samuel, son of Moses Levin ("Ba'al ?edoshim," p. 210); R. Asher, son of R. Kalonymus Kalman Ginzburg ("?iryah Ne'emanah," p. 185); R. Gad Asher, son of R. Joshua Rokea? ("Anshe Shem," p. 63); R. Joshua Ezekiel (ib.); R. ?ayyim Schönfinkel (ib. p. 70); R. Abraham Isaac ("Birkat Rosh"); R. Notel Michael Schönfinkel ("Da'at ?edoshim," p. 181); Zeeb, Moses, Issac, and Solomon Wolf, sons of R. Samuel Levin; R. Jacob Sim?ah Wolfsohn ("Anshe Shem," p. 40); R. Aaron Luria; R. Samuel Radinkovitz.

The writers of Pinsk include: R. Moses Aaron Schatzkes (author of "Maftea?"), R. ?ebi Hirsch, Shereshevski, A. B. Dobsevage, N. M. Schaikewitz, Baruch Epstein, E. D. Lifshitz. Abraham Kunki passed through Pinsk while traveling to collect money for the support of the Jerusalem Talmud Torah (preface to "Aba? Soferim," Amsterdam, 1704).

In 1781 the heads of the Jewish congregations of Pinsk followed the example of some Russian Jewish communities by excommunicating the ?asidim. In 1799 the town was destroyed by fire, and its records were lost. Pinsk has two cemeteries: in the older, interments ceased in 1810. The total population of the town (1905) is about 28,000, of whom 18,000 are Jews.

Karlin:

Until about one hundred years ago Karlin was a suburb of Pinsk, and its Jewish residents constituted a part of the Pinsk community. Then R. Samuel Levin obtained the separation of Karlin from Pinsk (Steinschneider, "'Ir Wilna," p. 188). In 1870 the ?asidim of Karlin removed to the neighboring town of Stolin. The rabbis of the Mitnaggedim of Karlin include: R. Samuel Antipoler; R. Abraham Rosenkranz; the "Rabbi of Wolpe" (his proper name is unknown); R. Jacob (author of "Miskenot Ya'a?ob") and his brother R. Isaac (author of "?eren Orah"); R. Samuel Abigdor Tosefa'ah (author of "She'elot u-Teshubot"); David Friedmann (the present [1905] incumbent; author of "Yad Dawid").H

For more information go to:
http://www.jewishgen.org/yizkor/pinsk1/Pine11_017.html
Pinsk
From Wikipedia, the free encyclopedia
(Belarusian: "P?"~"ƒ"{), a town in Belarus, in the Polesia region, traversed by the river Pripyat, at the confluence of the Strumen and Pina rivers. The region is known as the Marsh of Pinsk. It is a fertile agricultural center. It lies south-west of Minsk. Population is about 130,000. The city is a small industrial center producing ships sailing the local rivers.

The historic city has a beautifully restored downtown full of two-story buildings dating from the 19th century and the beginning of the 20th century
History

Pinsk is first mentioned in the chronicles of 1097 as Pinesk, a town belonging to Sviatopolk of Turov. The name is derived from the river Pina. Pinsk's early history is closely linked with the history of Turov. Until the mid-12th century Pinsk was the seat of Sviatopolk's descendants, but a cadet line of the same family established their own seat at Pinsk after the Mongol invasion of Rus in 1239.

The Pinsk principality had an important strategic location, between the principalities of Navahrudak and Halych-Volynia, which fought each other for other Ruthenian territories. Pinsk did not take part in this struggle, although it was inclined towards the princes of Novaharodak, which is shown by the fact that the future prince of Novaharodak and Vaisvilkas of Lithuania spent some time in Pinsk.

In 1320 Pinsk was won by the rulers of Navahrudak, who incorporated it into their state, known as the Grand Duchy of Lithuania. From this time on Pinsk was ruled by Gedimin's eldest son, Narymunt. Afterwards, for the next two centuries the city had different rulers.

In 1581 Pinsk was granted the Magdeburg rights and in 1569, after the union of Lithuania with the Crown of the Polish Kingdom, it became the seat of the province of Brest.

From 1633 on Pinsk had a secondary school, a so-called brotherhood school (the brotherhoods were religious citizens' organisations with the aim of providing education for their members and their children). During the Cossack rebellion of Bohdan Chmielnicki (1640), it was captured by Cossacks who carried out a pogrom against the city's Jewish population; the Poles retook it by assault, killing 24,000 persons and burning 5,000 houses. Eight years later the town was burned by the Russians.

In 1648, on the eve of the Russo-Polish War (1654-1667), Pinsk was occupied by Ukrainian Cossack army under commander Niababy and could only be reconquered with great difficulty by prince Janusz Radziwi??, a high-ranking commander in the Polish-Lithuanian army. During the war between Moscow and Poland-Lithuania (1654-1667) the city suffered heavily from the attacks of the Muscovite army under Prince Volkolnsky and its allied army of Ukrainian Cossacks.

Charles XII took it in 1706, and burned the town with its suburbs. In spite of all the wars the city recovered and the town developed with the existence of a printing workshop in Pinsk from 1729-44.
Pinsk fell to the Russian Empire in 1793 in the Third Partition of Poland, became part of Poland in 1920 after the Polish-Soviet War and was incorporated into Soviet Union in 1939. At this time, the city's population was over 90% Jewish. From 1941 to 1944 it was occupied by Nazi Germany, and its Jewish population interned in concentration camps. Between 18,000 and 30,000 Jewish residents of Pinsk were killed by the Nazis in the Holocaust. Ten thousand were murdered in one day. Since the collapse of the Soviet Union in 1991 Pinsk has belonged to the Republic of Belarus
Sights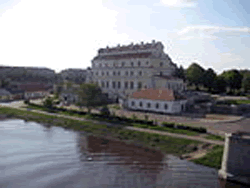 Jesuit collegium
Two main sights of the town are lined along the river. These are the Assumption Cathedral of the monastery of the greyfriars (1712-30) with a campanile from 1817 (picture) and the Jesuit collegium (1635-48), a large Mannerist complex, whose cathedral was demolished after the World War II (picture).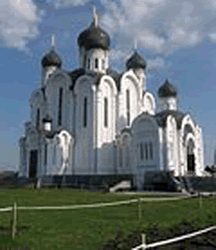 The St. Theodore Cathedral
The foremost among modern buildings is the black-domed Orthodox cathedral of St. Theodore.
[] Famous people
* Matusz Butrymowicz, local judge
* Ryszard Kapu?ci?ski (1932-2007), Polish writer and reporter
* Anzia Yezierska (c. 1890-1970), writer
* Simon Kuznets (1901–1985), 1971 Nobel laureate in economics
* Golda Meir (1898–1978), fourth prime minister of Israel, born in Kiev, lived 2 years of her childhood in Pinsk
* Adam Naruszewicz (1733–1796), Polish poet, historian, bishop
* Chaim Weizmann (1874–1952), first president of Israel, born in Motal', near Pinsk and educated in Pinsk
* Karol Wyrwicz (1717–1793), historian
* Ivan Zholtovsky (1867–1959), famous Russian and Soviet architect.
* Igor Kolb (1977?-), principal dancer of Mariinsky Ballet
Pinsk burial societies at Mount Hebron
Last Name, First Name Location Society Date of Death
ABRAMOWITZ, BECKY 4-13-G-6-13 EZRAS ACHIM BNEI PINSK 12/28/1990
ABRAMOWITZ, ISADORE 4-13-G-6-12 EZRAS ACHIM BNEI PINSK 11/17/1971
ADUKOFF, MORDUCHI 4-13-G-2-1 EZRAS ACHIM BNEI PINSK 12/15/1921
ALBERT, DAVID 53-14-G-3-C PINSKER KARLINER LGE 2/3/1951
BARRON, LOUIS 4-13-G-4-13 EZRAS ACHIM BNEI PINSK 8/30/1943
BASS, ISRAEL 4-13-G-6-6 EZRAS ACHIM BNEI PINSK 9/14/1964
BASS, SELMA 4-13-G-6-5 EZRAS ACHIM BNEI PINSK 6/15/1961
BASSEWITZ, MAX 4-13-G-7-6 EZRAS ACHIM BNEI PINSK 1/12/1987
BASSEWITZ, MOLLIE 4-13-G-7-5 EZRAS ACHIM BNEI PINSK 3/4/1968
BECKIES, SOL 53-14-G-2-2 PINSKER KARLINER LGE 10/9/1952
BELLMAN, JOHN 114-18-2-6 EZRAS ACHIM BNEI PINSK 10/4/1943
BELLMAN, PEARL 114-18-1-6 EZRAS ACHIM BNEI PINSK 7/18/1940
BENDER, JULES 4-13-G-7-10 EZRAS ACHIM BNEI PINSK 1/13/1982
BERGMAN, BERTHA 4-13-G-11-13 EZRAS ACHIM BNEI PINSK 5/11/1940
BERGMAN, HELEN 4-13-G-12-12 EZRAS ACHIM BNEI PINSK 2/8/1984
BERGMAN, HYMAN 4-13-G-11-12 EZRAS ACHIM BNEI PINSK 1/23/1955
BERGMAN, IRVING 4-13-G-12-13 EZRAS ACHIM BNEI PINSK 2/16/1985
BERKOWITZ, DAVID 53-14-G-4-10 PINSKER KARLINER LGE 8/10/1935
BERKOWITZ, EVA 53-14-G-8-10 PINSKER KARLINER LGE 1/2/1941
BERKOWITZ, ROSE 4-13-G-1-6 EZRAS ACHIM BNEI PINSK 11/14/1919
BERMAN, VIVIAN 53-14-G-3-B PINSKER KARLINER LGE 7/18/1917
BERNSTEIN, HYMAN 53-14-G-10-8 PINSKER KARLINER LGE 3/25/1932
BERNSTEIN, NATHAN 114-18-13-8 EZRAS ACHIM BNEI PINSK 12/23/1954
BERNSTEIN, S/B 53-14-G-1-4 PINSKER KARLINER LGE 7/13/1922
BERNSTEIN, SADIE 114-18-13-9 EZRAS ACHIM BNEI PINSK 4/21/1993
BETRON, MAX 53-14-G-12-13 PINSKER KARLINER LGE 9/23/1967
BETRON, PAULINE 53-14-G-12-14 PINSKER KARLINER LGE 5/18/1953
BILKIS, MARTIN 53-14-G-12-12 PINSKER KARLINER LGE 9/25/1993
BIRNBAUM, SARAH 4-13-G-10-15 EZRAS ACHIM BNEI PINSK 2/15/1992
BLOOM, FRANK 53-14-G-7-3 PINSKER KARLINER LGE 3/4/1928
BORAK, MEYER 53-14-G-3-3 PINSKER KARLINER LGE 4/15/1921
BORNSTEIN, SARAH 53-14-G-1-1 PINSKER KARLINER LGE 10/23/1918
BOYAISKY, EPHRAIM 53-14-G-3-1 PINSKER KARLINER LGE 6/3/1917
BREGMAN, TAUBE 4-13-G-1-2 EZRAS ACHIM BNEI PINSK 9/6/1917
BRILL, ANNA 114-18-3-8 EZRAS ACHIM BNEI PINSK 4/9/1974
BRILL, SAMUEL 114-18-1-8 EZRAS ACHIM BNEI PINSK 1/25/1938
BRODOWSKY, HERMAN 4-13-G-7-8 EZRAS ACHIM BNEI PINSK 11/16/1970
BURGER, S/B 53-14-G-2-4 PINSKER KARLINER LGE 8/18/1953
BURSTEIN, BENJAMIN 114-18-6-4 EZRAS ACHIM BNEI PINSK 9/22/1993
BURSTEIN, ESTHER 114-18-15-3 EZRAS ACHIM BNEI PINSK 3/14/1964
BURSTEIN, FRANCES 114-18-9-1 EZRAS ACHIM BNEI PINSK 10/11/1966
BURSTEIN, LOUIS 114-18-9-2 EZRAS ACHIM BNEI PINSK 5/3/1988
BURSTEIN, MEYER 114-18-15-5 EZRAS ACHIM BNEI PINSK 4/27/1992
BURSTEIN, MORRIS 114-18-15-2 EZRAS ACHIM BNEI PINSK 1/19/1953
BURSTEIN, SALLY 114-18-6-6 EZRAS ACHIM BNEI PINSK 9/26/1997
BURSTEIN, SAMUEL 114-18-6-5 EZRAS ACHIM BNEI PINSK 7/27/1997
BURSTEIN, SYLVIA 114-18-15-4 EZRAS ACHIM BNEI PINSK 11/15/2004
CARVER, ROBERT 4-13-G-6-16 EZRAS ACHIM BNEI PINSK 6/28/1965
CHADOFF, ANNIE 53-14-G-3-6 PINSKER KARLINER LGE 1/1/1918
CHINCHIN, DOBA 53-14-G-5-6 PINSKER KARLINER LGE 8/27/1926
COHEN, HARRIET 4-13-G-A-3 EZRAS ACHIM BNEI PINSK 1/1/1936
COHEN, ISIDORE 114-18-5-13 EZRAS ACHIM BNEI PINSK 3/4/1980
COHEN, MOLLY 4-13-G-1-5 EZRAS ACHIM BNEI PINSK 9/26/1917
COHEN, PEARL 114-18-5-12 EZRAS ACHIM BNEI PINSK 3/27/2006
DAVIDSON, GUSSIE 4-13-G-5-1 EZRAS ACHIM BNEI PINSK 7/31/1953
DAVIDSON, SELMA 4-13-G-8-13 EZRAS ACHIM BNEI PINSK 7/29/1986
DAVIS, HYMAN 4-13-G-10-12 EZRAS ACHIM BNEI PINSK 10/25/1951
DAVIS, NANCY 4-13-G-11-1 EZRAS ACHIM BNEI PINSK 11/14/1980
DRUCKER, ZELDA 114-18-1-4 EZRAS ACHIM BNEI PINSK 2/13/1942
EMEN, FANNIE 114-18-3-2 EZRAS ACHIM BNEI PINSK 1/29/1991
EPSTEIN, FRUMAL 4-13-G-2-11 EZRAS ACHIM BNEI PINSK 7/14/1926
EPSTEIN, LOUIS 4-13-G-1-1 EZRAS ACHIM BNEI PINSK 9/21/1916
ERENBERG, JOSEPH 114-18-2-1 EZRAS ACHIM BNEI PINSK 6/1/1961
ESENBERG, GERTRUDE 114-18-1-3 EZRAS ACHIM BNEI PINSK 4/13/1950
FARBER, ESTHER 4-13-G-2-10 EZRAS ACHIM BNEI PINSK 5/6/1930
FARBER, FRANCES 4-13-G-4-5 EZRAS ACHIM BNEI PINSK 7/6/1947
FARBER, LOUIS 4-13-G-5-6 EZRAS ACHIM BNEI PINSK 6/6/1959
FARBER, REBECCA 4-13-G-4-7 EZRAS ACHIM BNEI PINSK 5/14/1943
FELDMAN, BECKIE 4-13-G-3-2 EZRAS ACHIM BNEI PINSK 1/18/1935
FELDMAN, HARRY 53-14-G-6-8 PINSKER KARLINER LGE 12/24/1925
FELDMAN, NATHAN 53-14-G-3-2 PINSKER KARLINER LGE 12/23/1919
FELDMAN, SAM 4-13-G-3-5 EZRAS ACHIM BNEI PINSK 7/9/1939
FIELDS, IRVING 4-13-G-7-2 EZRAS ACHIM BNEI PINSK 9/1/1975
FIELDS, RHODA 4-13-G-7-1 EZRAS ACHIM BNEI PINSK 10/31/1965
FINKELSON, BESSIE 4-13-G-2-14 EZRAS ACHIM BNEI PINSK 8/8/1911
FISHER, MARILYN 114-18-7-5 EZRAS ACHIM BNEI PINSK 12/29/1975
FISHER, MAURICE 114-18-7-4 EZRAS ACHIM BNEI PINSK 1/19/1972
FRACKMAN, ELIZABETH 4-13-G-8-3 EZRAS ACHIM BNEI PINSK 2/13/1981
FRANKEL, ANNIE 114-18-15-11 EZRAS ACHIM BNEI PINSK 3/6/1945
FRANKEL, IKE 114-18-15-12 EZRAS ACHIM BNEI PINSK 8/2/1946
GERSHOWITZ, ANNA 4-13-G-6-14 EZRAS ACHIM BNEI PINSK 2/13/1976
GERSHOWITZ, THEODORE 4-13-G-6-15 EZRAS ACHIM BNEI PINSK 11/15/1985
GILLMAN, EDWARD 114-18-7-13 EZRAS ACHIM BNEI PINSK 11/22/2006
GILLMAN, SYLVIA 114-18-7-12 EZRAS ACHIM BNEI PINSK 6/27/2005
GINIS, ESTER 53-14-G-8-13 PINSKER KARLINER LGE 10/10/1993
GINSBERG, MAX 4-13-G-4-15 EZRAS ACHIM BNEI PINSK 4/5/1939
GOLDBERG, FANNIE 4-13-G-1-11 EZRAS ACHIM BNEI PINSK 1/12/1914
GOLDBERG, ISIDORE 53-14-G-1-2 PINSKER KARLINER LGE 1/9/1920
GOLDBERG, MIRIAM 53-14-G-1-3 PINSKER KARLINER LGE 3/7/1920
GOLDFARB, ANNA 53-14-G-10-10 PINSKER KARLINER LGE 3/10/1939
GOLDFARB, LOUIS 53-14-G-10-9 PINSKER KARLINER LGE 8/19/1936
GOTTLIEB, CHARLES 53-14-G-4-9 PINSKER KARLINER LGE 7/10/1934
GOTTLIEB, IDA 53-14-G-4-8 PINSKER KARLINER LGE 2/17/1934
GREENBERG, MURIEL 4-13-G-12-6 EZRAS ACHIM BNEI PINSK 5/6/2003
GROSSMAN, BESSIE 53-14-G-6-11 PINSKER KARLINER LGE 12/19/1950
GROSSMAN, NATHAN 53-14-G-6-10 PINSKER KARLINER LGE 1/29/1926
HALPERIN, ANNA 4-13-G-11-10 EZRAS ACHIM BNEI PINSK 9/14/1965
HALPERIN, FLORENCE 4-13-G-12-15 EZRAS ACHIM BNEI PINSK 5/4/1967
HALPERIN, HARRY 4-13-G-11-11 EZRAS ACHIM BNEI PINSK 6/5/1953
HALPERIN, SAMUEL 4-13-G-12-16 EZRAS ACHIM BNEI PINSK 5/26/1956
HALPERN, MORRIS 53-14-G-7-4 PINSKER KARLINER LGE 10/5/1928
HALPERN, S/B 4-13-G-1-* EZRAS ACHIM BNEI PINSK 10/7/1920
HALTZMAN, GLADYS 4-13-G-3-1 EZRAS ACHIM BNEI PINSK 3/5/1934
HAUBEN, ISIDORE 4-13-G-10-13 EZRAS ACHIM BNEI PINSK 4/3/1947
HELLER, ARTHUR 114-18-9-6 EZRAS ACHIM BNEI PINSK 7/25/2003
HELLER, GLORIA 114-18-9-5 EZRAS ACHIM BNEI PINSK 9/28/1986
HOFFSTEIN, HARRY 4-13-G-2-7 EZRAS ACHIM BNEI PINSK 8/28/1912
HOLTZMAN, IDA 4-13-G-5-3 EZRAS ACHIM BNEI PINSK 12/11/1957
HOLTZMAN, JERRY 4-13-G-7-14 EZRAS ACHIM BNEI PINSK 12/23/1976
HOLTZMAN, SHEILA 4-13-G-7-13 EZRAS ACHIM BNEI PINSK 8/30/1984
HOLZMAN, ALFRED 4-13-G-8-2 EZRAS ACHIM BNEI PINSK 10/22/1986
HOLZMAN, CECILIA 4-13-G-8-1 EZRAS ACHIM BNEI PINSK 10/1/2000
HORTON, IRENE 114-18-6-1 EZRAS ACHIM BNEI PINSK 2/28/1987
HORTON, ROBERT 114-18-2-13 EZRAS ACHIM BNEI PINSK 4/28/1988
HURWITZ, ANNA 114-18-11-9 EZRAS ACHIM BNEI PINSK 8/17/1968
HURWITZ, MORRIS 114-18-11-8 EZRAS ACHIM BNEI PINSK 3/11/1957
JACOBS, EDWARD 4-13-G-A-1 EZRAS ACHIM BNEI PINSK 11/15/1920
JACOBS, IRVING 114-18-2-2 EZRAS ACHIM BNEI PINSK 4/8/1954
JORMARK, PHILIP 4-13-G-9-13 EZRAS ACHIM BNEI PINSK 10/30/1999
KALISH, LENA 114-18-6-13 EZRAS ACHIM BNEI PINSK 7/21/1980
KAMINETZKY, ABRAHAM 53-14-G-7-1 PINSKER KARLINER LGE 6/16/1926
KAMINETZKY, DORA 53-14-G-9-3 PINSKER KARLINER LGE 1/19/1941
KAMINSKY, ALBERT 114-18-4-11 EZRAS ACHIM BNEI PINSK 1/7/1978
KAMINSKY, MINNIE 114-18-4-10 EZRAS ACHIM BNEI PINSK 2/28/1998
KAPLAN, BENJAMIN 4-13-G-11-14 EZRAS ACHIM BNEI PINSK 12/9/1967
KAPLAN, FLORA 4-13-G-12-14 EZRAS ACHIM BNEI PINSK 6/10/1986
KASHE, LEO 53-14-G-1/2-7 PINSKER KARLINER LGE 4/18/1980
KASHE, RUTH 53-14-G-1/2-6 PINSKER KARLINER LGE 2/19/2002
KASS, BROCHE 53-14-G-8-9 PINSKER KARLINER LGE 6/5/1933
KASS, JOEL 53-14-G-8-8 PINSKER KARLINER LGE 4/16/1931
KATZ, TED 53-14-G-7-5 PINSKER KARLINER LGE 9/28/1993
KITTOWER, ESTHER 114-18-14-11 EZRAS ACHIM BNEI PINSK 12/13/1989
KLEIN, LOUIS 53-14-G-5-3 PINSKER KARLINER LGE 3/1/1925
KOHN, SAMUEL 4-13-G-11-2 EZRAS ACHIM BNEI PINSK 10/12/1955
KOLODNEY, IRVING 114-18-12-8 EZRAS ACHIM BNEI PINSK 11/30/1948
KOLODNEY, RACHEL 4-13-G-4-10 EZRAS ACHIM BNEI PINSK 2/2/1963
KOLODNEY, SHIRLEY 4-13-G-A-2 EZRAS ACHIM BNEI PINSK 3/13/1929
KOLODNY, IDA 4-13-G-6-1 EZRAS ACHIM BNEI PINSK 12/6/1957
KOLODNY, IRVING 4-13-G-5-14 EZRAS ACHIM BNEI PINSK 10/9/1972
KOLODNY, OSCAR 4-13-G-4-11 EZRAS ACHIM BNEI PINSK 7/7/1939
KOLODNY, ROSE 53-14-G-11-1 PINSKER KARLINER LGE 2/11/1947
KOLODNY, SAMUEL 4-13-G-1-12 EZRAS ACHIM BNEI PINSK 2/23/1914
KOROBOW, ALBERT 114-18-14-10 EZRAS ACHIM BNEI PINSK 11/10/1956
KOROBOW, AUGUSTA 114-18-1-5 EZRAS ACHIM BNEI PINSK 11/13/1940
KOROBOW, CHARLES 114-18-4-13 EZRAS ACHIM BNEI PINSK 1/30/1976
KOROBOW, CHARLES 114-18-5-8 EZRAS ACHIM BNEI PINSK 4/29/1995
KOROBOW, ESTHER 114-18-11-11 EZRAS ACHIM BNEI PINSK 3/23/1967
KOROBOW, GILDA 114-18-5-9 EZRAS ACHIM BNEI PINSK 6/27/1984
KOROBOW, HELEN 114-18-4-12 EZRAS ACHIM BNEI PINSK 1/2/1989
KOROBOW, HERMAN 114-18-5-10 EZRAS ACHIM BNEI PINSK 12/2/1988
KOROBOW, IDA 114-18-5-11 EZRAS ACHIM BNEI PINSK 6/19/1988
KRASNER, PESIE 53-14-G-6-13 PINSKER KARLINER LGE 6/2/1944
KRASNER, SIMON 53-14-G-6-14 PINSKER KARLINER LGE 12/18/1931
KRAYZMAN, ANNA 53-14-G-8-12 PINSKER KARLINER LGE 10/16/1993
KRIDER, JENNIE 114-18-10-2 EZRAS ACHIM BNEI PINSK 11/21/1966
KRIDER, RUBIN 114-18-10-1 EZRAS ACHIM BNEI PINSK 2/25/1964
KRINIUCK, REBECCA 4-13-G-2-12 EZRAS ACHIM BNEI PINSK 4/3/1920
KRINUCK, ISADORE 4-13-G-3-6 EZRAS ACHIM BNEI PINSK 1/25/1941
KUPERMAN, EPHROIN 4-13-G-3-4 EZRAS ACHIM BNEI PINSK 7/15/1946
KUPERMAN, RACHEL 4-13-G-3-3 EZRAS ACHIM BNEI PINSK 4/11/1935
LAZARUS, LEONARD 114-18-A-4 EZRAS ACHIM BNEI PINSK 2/24/1966
LERNER, MOLLIE 114-18-3-9 EZRAS ACHIM BNEI PINSK 7/11/1967
LEVINE, ERIC 114-18-A-17 EZRAS ACHIM BNEI PINSK 11/26/1960
LEVINE, JUDE 4-13-G-4-4 EZRAS ACHIM BNEI PINSK 9/8/1955
LEVINE, MINNIE 114-18-4-3 EZRAS ACHIM BNEI PINSK 4/17/1978
LEVINE, PHILIP 114-18-4-4 EZRAS ACHIM BNEI PINSK 9/12/2002
LEVINE, PRISCILLA 4-13-G-11-8 EZRAS ACHIM BNEI PINSK 1/5/1994
LEVINE, SAMUEL 4-13-G-11-7 EZRAS ACHIM BNEI PINSK 1/31/1981
LEVY, HERBERT 4-13-G-8-6 EZRAS ACHIM BNEI PINSK 1/5/1982
LEVY, ROSE 4-13-G-8-7 EZRAS ACHIM BNEI PINSK 1/31/1998
LIPSKY, S/B 4-13-G-2-* EZRAS ACHIM BNEI PINSK 6/18/1912
LUTZ, FRANCES 114-18-10-8 EZRAS ACHIM BNEI PINSK 7/9/1989
MARKS, ESTELLE 114-18-3-13 EZRAS ACHIM BNEI PINSK 1/22/1966
MARKS, NATHAN 114-18-3-12 EZRAS ACHIM BNEI PINSK 10/1/1970
MATT, ELSIE 114-18-13-13 EZRAS ACHIM BNEI PINSK 3/11/1967
MEKLER, SHIRLEY 114-18-A-18 EZRAS ACHIM BNEI PINSK 11/10/1940
MIDLER, SAMUEL 53-14-G-5-2 PINSKER KARLINER LGE 3/2/1923
MORGENSTERN, ESTHER 114-18-10-3 EZRAS ACHIM BNEI PINSK 8/21/1996
MORGENSTERN, JACK 114-18-10-4 EZRAS ACHIM BNEI PINSK 9/14/1959
NEDACH, JOSEPH 53-14-G-7-2 PINSKER KARLINER LGE 6/28/1926
NEIDITCH, HARRY 4-13-G-11-5 EZRAS ACHIM BNEI PINSK 2/7/1941
NEIDITCH, MORRIS 4-13-G-11-4 EZRAS ACHIM BNEI PINSK 5/29/1927
NELSON, SOLOMON 4-13-G-2-2 EZRAS ACHIM BNEI PINSK 2/17/1917
NEWMAN, GEORGE 4-13-G-11-6 EZRAS ACHIM BNEI PINSK 8/18/1975
NEWMAN, RACHEL 4-13-G-11-3 EZRAS ACHIM BNEI PINSK 2/28/1935
NEWMAN, SARA 114-18-4-5 EZRAS ACHIM BNEI PINSK 4/8/1979
NISHKIN, IDA 4-13-G-10-16 EZRAS ACHIM BNEI PINSK 4/22/1956
NOODLEMAN, HYMAN 53-14-G-6-9 PINSKER KARLINER LGE 8/8/1936
NOODOLMAN, JENNIE 53-14-G-4-12 PINSKER KARLINER LGE 4/4/1922
OSTER, CECILIA 4-13-G-7-4 EZRAS ACHIM BNEI PINSK 9/16/1973
OSTER, DAVID 4-13-G-7-3 EZRAS ACHIM BNEI PINSK 5/29/1976
OSTER, FRANCES 4-13-G-2-9 EZRAS ACHIM BNEI PINSK 1/17/1932
OSTER, IDA 4-13-G-3-8 EZRAS ACHIM BNEI PINSK 6/17/1948
OSTER, MAX 4-13-G-3-7 EZRAS ACHIM BNEI PINSK 2/27/1940
OSTER, SHIRLEY 4-13-G-8-8 EZRAS ACHIM BNEI PINSK 5/13/1984
PALMER, EVELYN 114-18-12-10 EZRAS ACHIM BNEI PINSK 3/17/2001
PALMER, JOSEPH 114-18-12-11 EZRAS ACHIM BNEI PINSK 4/17/1952
PANISH, BERTHA 53-14-G-5-4 PINSKER KARLINER LGE 1/7/1951
PERLMAN, FANNIE 114-18-14-8 EZRAS ACHIM BNEI PINSK 3/15/1950
PERLMAN, JACOBS 114-18-14-9 EZRAS ACHIM BNEI PINSK 1/8/1945
PISHKIN, ESTHER 53-14-G-3-A PINSKER KARLINER LGE 7/22/1916
PLEBAN, LEON 53-14-G-6-12 PINSKER KARLINER LGE 9/1/1993
POLAN, BENJAMIN 4-13-G-5-8 EZRAS ACHIM BNEI PINSK 4/27/1956
POMERANTZ, ETTA 4-13-G-5-11 EZRAS ACHIM BNEI PINSK 9/20/1974
POMERANTZ, JOSEPH 4-13-G-2-5 EZRAS ACHIM BNEI PINSK 4/28/1953
POMERANTZ, MAE 114-18-11-13 EZRAS ACHIM BNEI PINSK 1/16/1959
POMERANTZ, MARJORIE 4-13-G-9-12 EZRAS ACHIM BNEI PINSK 2/14/2007
POMERANTZ, RAYMOND 4-13-G-9-11 EZRAS ACHIM BNEI PINSK 10/6/2001
POMERANTZ, SARAH 114-18-12-12 EZRAS ACHIM BNEI PINSK 11/16/1947
POMERANTZ, SOLOMON 4-13-G-5-10 EZRAS ACHIM BNEI PINSK 12/22/1956
POMERANZ, ELIZABETH 4-13-G-4-1 EZRAS ACHIM BNEI PINSK 9/22/1935
POMERANZ, HARRY 4-13-G-4-2 EZRAS ACHIM BNEI PINSK 1/1/1944
POMERANZ, JEROME 114-18-12-13 EZRAS ACHIM BNEI PINSK 10/30/1937
RAPHAEL, MALE 114-18-A-19 EZRAS ACHIM BNEI PINSK 5/7/1938
RAPHAEL, SAM 114-18-4-9 EZRAS ACHIM BNEI PINSK 5/19/1989
RAPHAEL, SHIRLEY 114-18-4-8 EZRAS ACHIM BNEI PINSK 11/5/1984
RAPPAPORT, GERTRUDE 114-18-7-2 EZRAS ACHIM BNEI PINSK 5/24/1981
RAPPAPORT, MOE 114-18-7-1 EZRAS ACHIM BNEI PINSK 3/1/1970
RAPPAPORT, SHIRLEY 114-18-7-3 EZRAS ACHIM BNEI PINSK 10/6/1986
ROSE, ABRAHAM 114-18-3-5 EZRAS ACHIM BNEI PINSK 7/18/1981
ROSENBURGH, FANNY 4-13-G-10-11 EZRAS ACHIM BNEI PINSK 12/16/1982
ROSENBURGH, WILLIAM 4-13-G-10-10 EZRAS ACHIM BNEI PINSK 2/10/1947
ROTHMAN, JACK 53-14-G-2-3 PINSKER KARLINER LGE 10/13/1952
RUBENSTEIN, DAVID 4-13-G-2-4 EZRAS ACHIM BNEI PINSK 5/10/1914
RUBIN, DAVID 53-14-G-10-14 PINSKER KARLINER LGE 5/10/1965
RUBIN, ESTHER 53-14-G-13-5/6 PINSKER KARLINER LGE 6/17/1955
RUBIN, HARRY 53-14-G-9-6 PINSKER KARLINER LGE 1/19/1987
RUBIN, LENA 53-14-G-7-6 PINSKER KARLINER LGE 4/10/1960
RUBIN, LOUIS 53-14-G-13-6/7 PINSKER KARLINER LGE 5/14/1933
RUBIN, MICHAEL 53-14-G-7-7 PINSKER KARLINER LGE 4/10/1944
RUBIN, NATHAN 4-13-G-5-5 EZRAS ACHIM BNEI PINSK 2/14/1959
RUBIN, RACHEL 4-13-G-5-4 EZRAS ACHIM BNEI PINSK 4/25/2005
RUBIN, REBECCA 53-14-G-9-5 PINSKER KARLINER LGE 2/17/1985
RUTES, MARIE 114-18-3-6 EZRAS ACHIM BNEI PINSK 8/10/1964
RUTES, SAMUEL 114-18-3-1 EZRAS ACHIM BNEI PINSK 9/22/1968
SANDLER, FANNIE 53-14-G-5-5 PINSKER KARLINER LGE 8/13/1926
SAVER, GERSON 4-13-G-2-3 EZRAS ACHIM BNEI PINSK 3/9/1916
SAVER, JEANETTE 4-13-G-1-7 EZRAS ACHIM BNEI PINSK 2/14/1917
SAVER, ROSE 4-13-G-1-8 EZRAS ACHIM BNEI PINSK 6/23/1911
SCHEINER, ELAINE 53-14-G-1/2-3 PINSKER KARLINER LGE 2/27/1953
SCHEINER, PHILIP 53-14-G-1/2-4 PINSKER KARLINER LGE 6/19/1952
SCHLACKMAN, HILDA 4-13-G-6-4 EZRAS ACHIM BNEI PINSK 11/11/2002
SCHLACKMAN, IDA 4-13-G-8-4 EZRAS ACHIM BNEI PINSK 10/13/1980
SCHLACKMAN, JACOB 4-13-G-6-3 EZRAS ACHIM BNEI PINSK 3/1/1960
SCHLACKMAN, JENNIE 4-13-G-4-8 EZRAS ACHIM BNEI PINSK 3/26/1949
SCHLACKMAN, REBECCA 4-13-G-1-4 EZRAS ACHIM BNEI PINSK 11/13/1918
SCHLACKMAN, REUBEN 4-13-G-8-5 EZRAS ACHIM BNEI PINSK 11/24/1989
SCHNEE, S/B 114-18-A-16 EZRAS ACHIM BNEI PINSK 11/21/1970
SCHOENBAUM, IRVING 4-13-G-11-16 EZRAS ACHIM BNEI PINSK 11/13/1950
SCHOENBAUM, JEANE 4-13-G-11-15 EZRAS ACHIM BNEI PINSK 12/21/1987
SCHWARTZ, DOROTHY 114-18-10-13 EZRAS ACHIM BNEI PINSK 8/17/1990
SCHWARTZ, SAMUEL 114-18-10-12 EZRAS ACHIM BNEI PINSK 12/22/1989
SEGALEWITZ, ESTHER 4-13-G-1-14 EZRAS ACHIM BNEI PINSK 12/18/1915
SEIGERMAN, BEATRICE 114-18-9-13 EZRAS ACHIM BNEI PINSK 7/9/1964
SHANOCK, GABRIEL 4-13-G-6-10 EZRAS ACHIM BNEI PINSK 3/25/1962
SHANOCK, RAQUEL 4-13-G-6-11 EZRAS ACHIM BNEI PINSK 8/1/1991
SHAPIRO, JANICE 114-18-7-6 EZRAS ACHIM BNEI PINSK 9/6/1985
SHEINMAN, BEN 114-18-2-4 EZRAS ACHIM BNEI PINSK 6/22/1990
SHEINMAN, LUCILLE 114-18-2-3 EZRAS ACHIM BNEI PINSK 2/16/2002
SHEINMAN, SAMUEL 4-13-G-6-8 EZRAS ACHIM BNEI PINSK 12/22/1968
SHERMAN, HARRY 4-13-G-5-16 EZRAS ACHIM BNEI PINSK 7/26/1964
SHERMAN, SARAH 4-13-G-5-15 EZRAS ACHIM BNEI PINSK 11/15/1968
SHNAYDER, MISHA 53-14-G-8-14 PINSKER KARLINER LGE 10/7/1993
SIDEMAN, RUTH 114-18-9-11 EZRAS ACHIM BNEI PINSK 1/22/2002
SIDEMAN, SAM 114-18-9-10 EZRAS ACHIM BNEI PINSK 6/14/1997
SIEGEL, JOSEPH 114-18-2-5 EZRAS ACHIM BNEI PINSK 7/15/1952
SILBERMAN, ESTER 4-13-G-1-9 EZRAS ACHIM BNEI PINSK 7/26/1912
SILBERMAN, NATHAN 4-13-G-1-10 EZRAS ACHIM BNEI PINSK 3/25/1913
SILVER, HANNAH 4-13-G-12-2 EZRAS ACHIM BNEI PINSK 4/13/1993
SILVER, JOSEPH 4-13-G-12-1 EZRAS ACHIM BNEI PINSK 5/28/1962
SILVER, MONROE 4-13-G-12-3 EZRAS ACHIM BNEI PINSK 11/19/1978
SIMON, MOSES 114-18-12-4 EZRAS ACHIM BNEI PINSK 8/24/1980
SIMON, REBECCA 114-18-12-3 EZRAS ACHIM BNEI PINSK 2/22/1982
SINGER, ELIAS 114-18-2-9 EZRAS ACHIM BNEI PINSK 10/8/1990
SINGER, LILLIAN 114-18-2-11 EZRAS ACHIM BNEI PINSK 11/22/1984
SINGER, PHILIP 114-18-2-10 EZRAS ACHIM BNEI PINSK 10/18/1973
SINGER, RACHEL 114-18-1-11 EZRAS ACHIM BNEI PINSK 4/5/1956
SINGER, SIGMUND 114-18-1-10 EZRAS ACHIM BNEI PINSK 12/26/1949
SISSELMAN, IRVING 4-13-G-7-12 EZRAS ACHIM BNEI PINSK 12/25/1988
SISSELMAN, MOSES 4-13-G-4-12 EZRAS ACHIM BNEI PINSK 6/25/1931
SISSELMAN, SONIA 4-13-G-5-2 EZRAS ACHIM BNEI PINSK 8/22/1953
SLACKMAN, MORRIS 4-13-G-2-13 EZRAS ACHIM BNEI PINSK 11/15/1914
SLATKOFF, BELLE 114-18-3-11 EZRAS ACHIM BNEI PINSK 4/22/1967
SLATKOFF, JACK 114-18-3-10 EZRAS ACHIM BNEI PINSK 1/29/1977
SLOTKIN, BERT 4-13-G-7-16 EZRAS ACHIM BNEI PINSK 11/7/1973
SLOTKIN, CHARLOTTE 4-13-G-7-15 EZRAS ACHIM BNEI PINSK 3/3/1981
SLOTKIN, HARRY 4-13-G-4-3 EZRAS ACHIM BNEI PINSK 7/6/1948
SLOTKIN, JULIA 4-13-G-6-2 EZRAS ACHIM BNEI PINSK 3/29/1968
SOMMER, BESSIE 53-14-G-4-13 PINSKER KARLINER LGE 9/27/1923
SOMMER, ISRAEL 53-14-G-4-14 PINSKER KARLINER LGE 1/22/1930
SPILBERG, ALEX 4-13-G-5-12 EZRAS ACHIM BNEI PINSK 4/21/1963
SPILBERG, MARTHA 4-13-G-5-13 EZRAS ACHIM BNEI PINSK 9/27/1972
STEIGMAN, SARAH 4-13-G-6-7 EZRAS ACHIM BNEI PINSK 1/2/1963
STEINBERG, ADOLPH 53-14-G-9-2 PINSKER KARLINER LGE 9/19/1943
STEINBERG, TILLIE 53-14-G-9-1 PINSKER KARLINER LGE 11/3/1931
STONE, CLAUDIA 53-14-G-3-D PINSKER KARLINER LGE 11/26/1952
SUCHOW, BABY 4-13-G-A-4 EZRAS ACHIM BNEI PINSK 1/20/1945
SUCHOW, ISAAC 114-18-1-1 EZRAS ACHIM BNEI PINSK 3/24/1952
SUCKOW, JENNIE 114-18-1-2 EZRAS ACHIM BNEI PINSK 12/22/1949
TODOR, ESTEVAM 53-14-G-10-12 PINSKER KARLINER LGE 9/18/1993
TODOR, HELENA 53-14-G-10-13 PINSKER KARLINER LGE 11/10/2006
TROSHINSKY, ABRAHAM 114-18-13-10 EZRAS ACHIM BNEI PINSK 7/12/1960
TROSHINSKY, CARRIE 114-18-13-11 EZRAS ACHIM BNEI PINSK 8/28/1969
TROSHINSKY, FANNIE 114-18-11-10 EZRAS ACHIM BNEI PINSK 3/8/1975
TRUGMAN, AARON 114-18-11-5 EZRAS ACHIM BNEI PINSK 11/3/1983
TRUGMAN, ANN 114-18-11-6 EZRAS ACHIM BNEI PINSK 12/30/1997
TRUGMAN, BECKIE 114-18-4-6 EZRAS ACHIM BNEI PINSK 11/7/1965
TRUGMAN, DAVID 114-18-12-1 EZRAS ACHIM BNEI PINSK 12/16/1985
TRUGMAN, FANNIE 114-18-9-9 EZRAS ACHIM BNEI PINSK 9/27/1983
TRUGMAN, HARRY 114-18-10-9 EZRAS ACHIM BNEI PINSK 6/28/2008
TRUGMAN, HELEN 114-18-8-6 EZRAS ACHIM BNEI PINSK 5/11/1995
TRUGMAN, JACK 114-18-9-8 EZRAS ACHIM BNEI PINSK 1/9/1970
TRUGMAN, LILLIAN 114-18-11-1 EZRAS ACHIM BNEI PINSK 5/16/1945
TRUGMAN, MAX 114-18-12-5 EZRAS ACHIM BNEI PINSK 3/18/1994
TRUGMAN, MOLLIE 114-18-12-2 EZRAS ACHIM BNEI PINSK 11/4/1997
TRUGMAN, MORRIS 114-18-13-12 EZRAS ACHIM BNEI PINSK 10/2/1966
TRUGMAN, PHILIP 114-18-11-4 EZRAS ACHIM BNEI PINSK 7/10/1952
TRUGMAN, REBECCA 114-18-14-12 EZRAS ACHIM BNEI PINSK 7/28/1955
TRUGMAN, ROSALYN 114-18-11-2 EZRAS ACHIM BNEI PINSK 3/12/1944
TRUGMAN, SEYMOUR 114-18-8-5 EZRAS ACHIM BNEI PINSK 10/11/1999
TRUGMAN, SOPHIE 114-18-11-3 EZRAS ACHIM BNEI PINSK 7/1/1959
UMAN, ELEANOR 53-14-G-11-7 PINSKER KARLINER LGE 3/5/1954
WARSHAWSKY, HARRY 114-18-8-1 EZRAS ACHIM BNEI PINSK 8/30/1968
WEBMAN, CHARLOTTE 4-13-G-12-5 EZRAS ACHIM BNEI PINSK 2/5/1994
WEBMAN, MAURICE 4-13-G-12-4 EZRAS ACHIM BNEI PINSK 6/7/1987
WEINERMAN, HAROLD 114-18-8-10 EZRAS ACHIM BNEI PINSK 5/19/1987
WEINSTEIN, NATHAN 53-14-G-5-1 PINSKER KARLINER LGE 7/19/1922
WEINSTOCK, SARAH 114-18-14-13 EZRAS ACHIM BNEI PINSK 3/3/1951
WEINTHAL, JOSEPH 4-13-G-8-11 EZRAS ACHIM BNEI PINSK 1/23/1986
WEINTHAL, LAURA 4-13-G-8-10 EZRAS ACHIM BNEI PINSK 11/10/1984
WEISBERGER, SHIRLEY 114-18-9-4 EZRAS ACHIM BNEI PINSK 1/9/1990
WEISS, ESTHER 53-14-G-1/2-5 PINSKER KARLINER LGE 6/28/1966
WEITZ, ADA 114-18-10-5 EZRAS ACHIM BNEI PINSK 12/16/2005
WEITZ, NATHAN 114-18-10-6 EZRAS ACHIM BNEI PINSK 5/31/1958
WOLF, HANNAH 53-14-G-11-2 PINSKER KARLINER LGE 5/26/1978
WOLF, HILDA 53-14-G-2-1 PINSKER KARLINER LGE 5/13/1933
WOLF, JOSEPH 53-14-G-11-3 PINSKER KARLINER LGE 11/8/1962
WOLKIN, CELIA 53-14-G-3-5 PINSKER KARLINER LGE 12/6/1922
WOLKIN, ISAAC 53-14-G-3-4 PINSKER KARLINER LGE 3/17/1922
ZAGLIN, FLORENCE 114-18-6-10 EZRAS ACHIM BNEI PINSK 1/25/1993
ZAGLIN, HANNAH 114-18-6-11 EZRAS ACHIM BNEI PINSK 7/10/1998
ZAGLIN, KAYNON 114-18-6-12 EZRAS ACHIM BNEI PINSK 12/27/1984
ZAGLIN, RAY 114-18-4-2 EZRAS ACHIM BNEI PINSK 5/4/1974
ZAGLIN, SAUL 114-18-4-1 EZRAS ACHIM BNEI PINSK 12/5/1965
ZEILENGOLD, SAMUEL 114-18-1-9 EZRAS ACHIM BNEI PINSK 5/27/1943
ZEITLEN, ALFRED 114-18-1-13 EZRAS ACHIM BNEI PINSK 10/17/1937
ZEITLIN, GUSSIE 114-18-1-12 EZRAS ACHIM BNEI PINSK 10/7/1940
ZIMMERMAN, FANNIE 4-13-G-1-13 EZRAS ACHIM BNEI PINSK 9/23/1914
--