Relatives of Danny ( from Los Angeles)
His mother ( came to Israel before the war) was the daughter of Michael Golub and Dishka (daughter of Yehoshua Kur) of Vileika. she was a relative of Nachemia Kur and Breina ( Kur) Rabinovitz.
Golub Sara

Sara Golub was born in Wilejka to Mikhael and Dishka. She was a pupil and single. Prior to WWII she lived in Wilejka, Poland. During the war she was in Wilejka, Poland. Sara perished in 1942 in Wilejka, Poland at the age of 16. This information is based on a Page of Testimony (displayed on left) submitted on 20-Jul-1999 by her cousin Braeina ( nee Kur) Rabinovitz , a Shoah survivor
---------------------------------------------------
Golub Mikhael

Mikhael Golub was born in Wilejka. He was a tailor and married to Dishka and they had 8 children. Prior to WWII he lived in Wilejka, Poland. During the war he was in Wilejka, Poland. Mikhael perished in 1942 in the Shoah at the age of 60. This information is based on a Page of Testimony (displayed on left) submitted on 20-Jul-1999 by his niece Braeina ( nee Kur) Rabinovitz, a Shoah survivor
------------------------------------------
Mordekhai Golub was born in Wilejka to Mikhael and Dishka. He was a waggoner and married to a woman from Volozhin. Prior to WWII he lived in Wolozin, Poland. During the war he was in Wilejka, Poland. Mordekhai perished in 1942 in Wilejka, Poland at the age of 35. This information is based on a Page of Testimony (displayed on left) submitted on 20-Jul-1999 by his cousin Braeina ( nee Kur) Rabinovitz , a Shoah survivor
-----------------------
Golub Nachman

Nachman Golub was born in Wilejka in 1908 to Mikhal and Dusia. He was a house painter and married. Prior to WWII he lived in Wilejka, Poland. During the war he was in Wilejka, Poland. Nachman perished in 1941 in Wilejka, Ghetto. This information is based on a Page of Testimony found in the Pages of Testimony by Nechemia Kur.
Golub Disia

Disia Golub was born in Wilejka in 1896 to Yehoshua and Chaia Sara. She was a housewife and married to Mikhal. Prior to WWII she lived in Wilejka, Poland. During the war she was in Wilejka, Poland. Disia perished in 1941 in Wilejka, Poland. This information is based on a Page of Testimony (displayed on left) submitted on 14-Oct-1957 by her relative Nechemia Kur
Golub Nachman

Nachman Golub was born in Wilejka in 1908 to Mikhal and Dusia. He was a house painter and married. Prior to WWII he lived in Wilejka, Poland. During the war he was in Wilejka, Poland. Nachman perished in 1941 in Wilejka, Ghetto. This information is based on a Page of Testimony found in the Pages of Testimony
Golub Michael

Michael Golub was born in Wilejka in 1900 to Batia. He was a mechanic and married to Gitel nee Norman. Prior to WWII he lived in Wilejka, Poland. During the war he was in Wilejka, Poland. Michael perished in Wilejka, Poland. This information is based on a Page of Testimony (displayed on left) submitted on 16-Dec-1956 by his sister-in-law
Yehoshua Golub was born to Mikhael
Rivka Golub was born to Mikhael
Rachel Golub was born to Mikhael
Maltzer Mariasha

Mariasha Maltzer nee Golub was born to Mikhael. She was married to Yosef. Prior to WWII she lived in Wilejka, Poland. Mariasha perished in the Shoah. This information is based on a List of victims from Yizkor books found in the COMMUNITY OF VILEIKA (HEB, YID, ENG), TEL AVIV, 1972 page 315.
Miriam

Miriam nee Golub was born in Wilejka in 1917 to Mikhael and Dishka. She was a painter (artist) and married to Yehuda. Prior to WWII she lived in Wilejka, Poland. During the war she was in Wilejka, Poland. Miriam perished in 1942 in Wilejka, Poland. This information is based on a Page of Testimony (displayed on left) submitted on 20-Jul-1999 by her cousin Braeina ( nee Kur) Rabinovitz , a Shoah survivor
Lea

Lea ??????? nee Golub was born in Lebedove to Yehoshua and Miriam. She was married to Kalman. Prior to WWII she lived in Kornitz, Poland. During the war she was in Kornitz, Poland. Lea perished in Kornitz, Poland at the age of 45. This information is based on a Page of Testimony (displayed on left) submitted on 20-Apr-1999 by her daughter Chaia Sheingut, a Shoah survivor
--------------------
Kopelevich Bodana

Bodana Kopelevich nee Golub was born in Wilejka in 1902 to Isaak and Masha. She was a housewife. Prior to WWII she lived in Wilejka, Poland. During the war she was in Wilejka, Poland. Bodana perished in 1942 in Wilejka, Poland. This information is based on a Page of Testimony (displayed on left) submitted on 20-Jan-1999 by her son. More Details...
Kopelovich Badana

Badana Kopelovich nee Golub was born in Wilejka to Masha. She was a shoemaker and married. Prior to WWII she lived in Wilejka, Poland. During the war she was in Poland. Badana perished in 1942 in Wilejka, Poland at the age of 45. This information is based on a Page of Testimony (displayed on left) submitted on 06-May-1956 by her uncle Menachem Adir
Yshaya Golub was born in Wilejka to Mikhael and Dishka. He was a pupil and a teenager. Prior to WWII he lived in Wilejka, Poland. During the war he was in Wilejka, Poland. He perished in 1942 in Wilejka, Poland at the age of 13. This information is based on a Page of Testimony (displayed on left) submitted on 20-Jul-1999 by his cousin, a Shoah survivor.
Golub Yankel

Yankel Golub was born in Wilejka to Mikhael and Dishka. He was a tailor and single. Prior to WWII he lived in Wilejka, Poland. During the war he was in Wilejka, Poland. Yankel perished in 1942 in Wilejka, Poland at the age of 35. This information is based on a Page of Testimony (displayed on left) submitted on 20-Jul-1999 by his cousin, a Shoah survivor
Golub Miriam/ Mariashka

Miriam Golub was born to Mikhael and Dishka. She was married. Prior to WWII she lived in Vilieka,. During the war she was in Vilieka, . Mariam perished in 1942 in the Shoah at the age of 25. This information is based on a Page of Testimony (displayed on left) submitted on 20-Jul-1999 by her cousin, a Shoah survivor
Golub Masha

Masha Golub nee Rudnicki was born in Wileiko in 1874 to Yisrael and Sara. She was married. During the war she was in Poland. Masha perished in 1942 in Wileiko, Poland. This information is based on a Page of Testimony (displayed on left) submitted on 06-May-1956 by her brother.
Yakob Golub was born in Wilejka in 1906 to Mikhal and Disa. He was a tailor and married. Prior to WWII he lived in Wilejka, Poland. ring the war he was in Wilejka, Poland. Yakob perished in 1941 in Wilejka, Poland. This information is based on a Page of Testimony (displayed on left) submitted on 14-Jul-1956 by Nekhemia Kur.
Breines' father was Mordechai Kur who's' father was a well-respected scribe (writer of Torah books) in Vileyka; (Yehoshua Koor). Rabbi yakov Landu Z"L ABD Bnai Brak wrote about Yehoshua Kur in the Yizkor book for Kurenets; '…Amongst the shoemakers I must tell about Moshe the Shoemaker from Dolhinov Street. He was a spiritual Jew and would read with excitement from the Torah. HE was also a Kaidanov Hasid. His father was Reb Yoshua, the writer from Vileyka. The son of Moshe, Shlomo Chaim studied Torah in our minyan, and when he arrived at the age where he would be taken to the army, he escaped and went to London. His last name was Koor and from what I heard he became a Hazan in one of the synagogues in London, where he later passed away…"*
I received emails form other members of the family;
Dear Eilat
Wonderful to hear Breines story
My grandfather - Shlomo Hayim, son of Moshe and cousin of Breine had family both in England and in Russia
Shlomo Hayim had 4 children
Marie - married name Coleman - Stephen's mother
Henry- my father
Hanna - married name Mather
Lily/Leah- married name Broza
I moved to Israel from England about 25 years ago. I live in Efrat about 20 minutes from Jerusalem but work in Jerusalem and commute every day. I have an elder brother Shlomo who lives in Petach Tikva near Tel Aviv and a younger brother Jonathan who lives with my mother in Netanya. My parents came to Israel in 1983 to retire. My father passed away in 1988.
Danny Koor
Eilat
My cousin Danny Koor has been in contact with you, and has sent me all the details he has received from you so far.
We share the same grandfather Shlomo Chayim, or Solomon Koor as he was known in England. My late mother Marie, and Danny's late father Henry were brother and sister, together with 2 surviving sisters Hannah and Lily.
The family lived initially in the East End of London, moving to Notting Hill in the 1920's, where
my grandfather eventually became minister of Notting Hill Synagogue until he died in May 1946.

Stephen Coleman
Avraham Tory nee Golub

In This Photo:
Pnina Sheinzon Tory f , Avraham Tory nee Golub. Pnina is the daughter Arie Shmuel Leib Uspiz Aushpiz Aushpitz? andTzila Uspiz Aushpiz Aushpitz
Wife of Avraham Tory and Pinkhas Sheinzon ( first husband perished in the holocaust)
Mother of Alina Tory Zila Tzila? Magdassi and Shulamit
Sister of Shoshana Grab; Shlomo Uspiz Aushpiz Aushpitz; Avraham Uspiz Aushpiz Aushpitz?; Binyamin Uspiz Aushpiz Aushpitz?? and Moshe Uspiz Aushpiz Aushpit?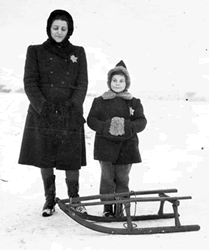 Kaunas, Lithuania, Pnina Shinzon Tory with her daughter Shlomit in the ghetto
Avraham Tory nee Golub, 92, Whose Diary Told the World of Nazi Crimes
By KATHLEEN CARROLL
Published: March 18, 2002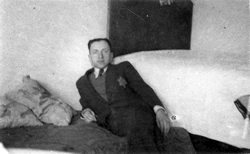 Avraham Tory ( son of Sara Leah and Zerach Golub) , a Lithuanian Jew whose meticulous diary chronicled three years of murderous Nazi rule and was later included as evidence in war crimes trials, died on Feb. 24 at his home in Tel Aviv. He was 92.
In the Jewish ghetto in Kovno, in central Lithuania, Mr. Tory, a lawyer, served as secretary of the Jewish Council of Elders, an administrative agency formed by the Nazis to carry out their orders. As secretary, he was allowed to leave the ghetto, and had access to a sea of paperwork that documented the horrors he was recording. In almost daily entries in Yiddish from June 1941 to January 1944, Mr. Tory detailed his meetings with Nazi officers and Jewish leaders.
Mr. Tory was helped by Pnina Sheinzon, who took dictation and hid the diary in her home. Few people knew about the diary, and the notebooks were buried underground in large crates as soon as Mr. Tory filled them.
In each, he included a note. ''I am hiding in this crate what I have written, noted and collected,'' he wrote, ''with thrill and anxiety, so that it may serve as material evidence -- 'corpus delicti' -- accusing testimony when the Day of Judgment comes.''
In 1944, he and Miss Sheinzon escaped the ghetto. They soon married, and moved to Israel in 1947.
After the war, Mr. Tory recovered three of the five hidden crates. In the 1980's, he was a witness in the trials of Kovno's former mayor and several Nazi war criminals.
In 1990, an English translation of the diary was published. In 1997, ''Surviving the Holocaust: The Kovno Ghetto Diary'' formed the basis for a two-year exhibit at the United States Holocaust Memorial Museum in Washington. The diary's importance is in its ''relentless details,'' said Sara Bloomfield, director of the museum.
At the exhibit's opening, Mr. Tory said: ''I felt an irresistible compulsion to keep a record of what was happening. Even if some people would survive, nobody would believe what happened to us.''
The diary was also the subject of a documentary film, ''Kovno Ghetto: A Buried History.'' The original documents are housed at Yad Vashem in Jerusalem, a museum dedicated to the Holocaust. A Lithuanian translation was published in 2000.
Avraham Tory was born Avraham Golub in Lazdijai, Lithuania, in 1909. He competed as a gymnast in the first Maccabiah Games in Tel Aviv in 1932, and studied law at the University of Pittsburgh and at the University of Kovno.
In addition to his wife, Mr. Tory is survived by three daughters, also in Israel, Shulamit Karbi, Alina Tory, and Tzila Magdassi, and by 6 grandchildren and 12 great-grandchildren.
http://collections.ushmm.org/search/catalog/irn504724Oral History
Interview Summary:
Pnina Tory (née Oshpitz), born in 1913 in Lazdijai, Lithuania, describes her family; moving to and living in Kaunas when the war began, at which point her entire family was taken to jail for three days; the death of her first husband, Pinchas Sheinzon, at the Seventh Fort; entering the Kaunas ghetto with her daughter, Shulamit; assisting Avraham Tory, who was keeping a diary of life in the ghetto, by hiding the pages of the diary and taking dictation from him when he was too tired to write; Escaping from the Gehtto in March 1944. marrying Avraham on August 10, 1944 after kaunas was liberated; leaving the Soviet Union with her daughter and husband in March 1945 and settling in Budapest, Hungary; sneaking into Italy, where she stayed for two years, with the help of a Palestinian Jewish Brigade; and immigrating to Palestine with Avraham and Shulamit on October 17, 1947.