I have just come across your fabulous family archive
web site. I am particularly intrigued by Michael Castrol's lengthy
essay about New Haven, where I am from, and the Milford and Rosenbaum
Tutoring Schools. The Rosenbaums were my Uncles, and my Father is
mentioned in his essay. Can you put me in touch with him??
I would be most grateful. David W. Cugell.
--
David W. Cugell, MD
Northwestern University
mymble@nwu.edu

At the turn of the 20th century, New Haven was filled with hundreds of immigrant families, all with hopes and dreams to be fulfilled by a new world. The aspirations of these newcomers rested with their children, whose opportunities for a better life were not to be surpassed by their vision and flexibility to acclimate to their new surroundings. The Jewish immigrants were especially diadvantaged because they still needed to overcome the pitafalls of a new society as well as the prejudices they had hoped to escape. Two of these families that provided so much to New Haven academia were the Cugells and the Rosenbaums. These two families were so closely intertwined that they seemed to be one family unit.
Samuel Barnell Rosenbaum was born in Russia, on December 28, 1885, the son of Solomon and Rebecca Rosenbaum. As a Freshman at Yale he received honorary mention in Mathematics. He graduated from the Yale Sheffield Scientific School as a civil engineer, in 1907. In 1913 he married Florence Ruth Cherkoss in Denver, Colorado. After her death, he married the former Helen Binenstock, from Philadelphia. After a lifelong career as director of the Milford School, he retired from active participation in 1942, and returned to Philadelphia with his wife, where he died on October 27, 1945. Once, the pillars of academic society, Sam and his cousin, Abel G. Cugell, now rest side-by-side, within the walls of the Ferncliff Crematory, in Ardsley, New York.
Harris Rosenbaum was born in Russia on December 28, 1886. He first saw American shores when he came here, with his family, in 1895. They settled in New Haven, where other relatives had come a few years earlier. After matriculating at New Haven High School, he followed his brother, Sam, to Yale, where he graduated from Sheffield Scientific School as a civil engineer with the Class of 1908.
It was while they attended Yale, that Sam and Harris Rosenbaum found their niche in life. In order to defer school expenses and keep the home front afloat, Sam and Harris filled a much needed gap, by offering to tutor some of the star athletes on campus, whose province it was not to be scholastic geniuses. Gradually, they earned themselves a reputation, and these two budding engineers found themselves trading in their slide rules for the more lucrative business of teaching. In 1908, they opened the Rosenbaum Tutoring School. They found themselves an indespensable commodity, as the need for their tutoring skills were very much in demand. The school was first established at 84 Wall Street, then next door, at 88 Wall Street. It closed its doors there in 1920, when it found a more permanent location at 262 York Street.
In 1913, the brothers added a preparatory department, which grew so rapidly that by 1916 it required all of their time. Un 1916, they established the Rosenbaum School, on the old William S. Pond Estate, located on Gulf Street near New Haven Avenue in Milford. The name was officially changed to Milford School by 1920. This new school was founded as a peperatory academy, while the New Haven institution continued its primary function as a tutoring school. The Milford location proivided the proper steadfastness to continue operating Rosenbaum School in New Haven; Harris, however, spent most of his time at Milford School. Although the brothers maintained two campuses, they still shared the same clerical and teaching staff. The office staff worked out of Milford, but the teaching staff had to keep their sneakers and cleats handy, because they always seemed to be teaching classes back-to-back, the two different campuses, and were constantly on the move.
Meanwhile, the potential for growth increases as more family members entered the educational field. Another cousin, Harry J. Kugel, was the owner of the Kohur School, in Harrison, New York; his sister Bertha, and cousin Jennie Kugel taught in New Haven schools. His sister, Gertrude, was the librarian at Barnard School in New Haven. Other family members were scholarly Yale alumni. After a while, the terms Rosenbaum and Yale became synonymous. The Rosenbaum Tutoring School, however, remained independent, stalking its sovereignty to anyone who beckoned. Yet there remained and unspoken partnership between Rosenbaum and Yale. Yale professors started sending their students to the Rosenbaum brothers for tutoring, avoiding the need to avail themselves to their students after hours. So, the professors had a tutorial service, and the Rosenbaums had themselves a full-time occupation. Simply stated, the Rosenbaums Tutoring School was founded to fill avoid existing at Yale.
Time magazine (December 14, 1936) referred to Sam and Harris Rosenbaum as 'Yales leading tutors'. The tutoring school was the only one of its kind around, although the Hopkins Grammar School, Hamden Hall, and the Day School, also maintained long-standing high reputations. There was also the Collegiate School which taught not only college preparatory courses, but art and secretarial skills. It was operated by Headmaster Samuel H. Pite, the beginnings of which paralell those of the Rosenbaum Tutoring School. These schools, however, did not enjoy a relationship with Yale, as was the good fortune of Rosenbaum.
Predicated on the philosophy that students learn best in small groups, the Milford Academy still maintains unerring principle. The Rosenbaums built a legacy that would be known to generations that followed. Some of the more famous students include: Vincent Price, Efram Zimbalist Jr., famous hollywood actors, and California SenatorGworge Murphy, Pillsbury Mills Executive Phillip Pillsbury, Henry Ringling North, and former U.N. Ambassador to Norway Phillip Kingsland Crowe are famous graduates.

Provided in
Association with
1930 United States Federal Census about Arthur G Cugell
Name: Arthur G Cugell
Gender: Male
Birth Year: abt 1893
Birthplace: Connecticut
Race: White
Home in 1930: New Haven, New Haven, Connecticut
View Map
Marital Status: Married
Relation to Head of House: Head
Spouse's Name: Rose W Cugell
Father's Birthplace: Russia
Mother's Birthplace: Russia
Occupation:
Education:
Military Service:
Rent/home value:
Age at first marriage:
Parents' birthplace:
View image
Neighbors: View others on page
Household Members:
Name Age
Arthur G Cugell 37
Rose W Cugell 35
David W Cugell 6
Connecticut Death Index, 1949-2001 about Rose Cugell
Name: Rose Cugell
Father's Surname: Weiss
Death Date: 1 Jul 1986
Death Place: Hamden, Connecticut
Age: 92 Years
Birth Place: Connecticut
Birth Date: 30 Jan 1894
Marital Status: Widowed
Spouse: Abel
State File #: 14734
Occupation: HOUSEWIFE
Residence : Hamden, Connecticut
Address: 200 Leeder Hill Rd 06517
Race: White
1920 United States Federal Census about Abel G Cugell
Name: Abel G Cugell
Age: 26
Birth Year: abt 1894
Birthplace: Connecticut
Home in 1920: New Haven Ward 8, New Haven, Connecticut
Race: White
Gender: Male
Relation to Head of House: Son-in-law
Marital Status: Married
Spouse's Name: Rose Cugell
Father's Birthplace: Poland
Mother's Birthplace: Poland
Able to read: Yes
Able to Write: Yes
Neighbors: View others on page
Household Members:
Name Age
Samuel S Weiss 58
[55]
Anna Weiss 53
Ray Weiss 30
Rose Cugell 24
Abel G Cugell 26
Mathews Strut 64
Lotta Wergberg 31
View
Original
Record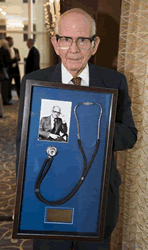 A 57-Year Legacy of Service: David W. Cugell, MD
"He exemplifies all good things that academic medicine has to teach us—a commitment to learn and understand." These words, spoken by Jacob I. Sznajder, MD, Ernest S. Bazley Professor of Asthma and Related Disorders and chief of the Division of Pulmonary and Critical Care Medicine, are truly fitting of recent honoree David W. Cugell, MD, professor emeritus. At a reception on September 19—which also happened to be his 89th birthday—Dr. Cugell was lauded by his colleagues for his 57 years of service to Northwestern University Feinberg School of Medicine.
A true pioneer in his field, Dr. Cugell was recruited to Northwestern in 1955 as the third full-time faculty member in the Department of Medicine. Four years later, he established the Pulmonary Function Laboratory at Northwestern Memorial Hospital—the first of its kind in the Chicago area. In 1965, Dr. Cugell was named the first chief of the Division of Pulmonary Medicine, a position he held with distinction for 17 years. He also established the first fellowship program in pulmonary medicine at Northwestern. In 1992, in recognition and honor of his myriad contributions to the division, the David W. Cugell, MD, Pulmonary and Critical Care Medicine Fellowship Fund was created at Northwestern. This endowed fund is used to train the next generation of outstanding pulmonary and critical care physicians.
Eric G. Neilson, MD, vice president for medical affairs and Lewis Landsberg Dean of the Feinberg School, hosted the evening in Dr. Cugell's honor and introduced distinguished colleagues who shared their impressions of Dr. Cugell and his excellent, longstanding career. Jeff Glassroth, MD, professor of pulmonary medicine, reminisced about a man he's "known and respected for over 30 years." He shared, "David treated everyone he worked with as partners in the great adventure. He has an insatiable curiosity and incredible intelligence—there is nothing he couldn't add value to." He addressed Dr. Cugell and his wife Christina Enroth-Cugell, MD, who served on the faculty in the Department of Biomedical Engineering at Northwestern's Robert R. McCormick School of Engineering and Applied Science for many years, in closing and said, "It has been a privilege to know you both and to be a part of your illustrious career, David."
To commemorate his profound effect on the Division of Pulmonary and Critical Care Medicine, a photo of Dr. Cugell as well as his original stethoscope in a shadowbox will hang in the division's offices. Dr. Cugell's remarks were brief and humble: "I am extremely grateful for all the kindness and verbal expression. If I have anything to say about what I've done and where I've gone, I have to thank all those who helped me. Few make it by themselves."
He went on to thank his wife, sharing "I can't thank you all individually, except for one. Christina has led me through the academic wilderness. I have great pride in her and have tried to keep up with her career to no avail."
Following a heartfelt standing ovation, Douglas E. Vaughan, MD, Irving S. Cutter Professor of Medicine and chair of the Department of Medicine, took the podium to thank Dr. Cugell for the great impact he has had on the division. "The values and culture that you cultivated are manifest in the division today and are a tribute to your great leadership. Thank you for letting us share this day with you—happy birthday!