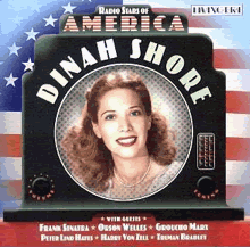 Dinah Shore (born Frances Rose Shore; February 29, 1916 – February 24, 1994) was an American singer, actress, and television personality. She was most popular during the Big Band era of the 1940s and 1950s.
After failing singing auditions for the bands of Benny Goodman and both Jimmy Dorsey and his brother Tommy Dorsey, Shore struck out on her own to become the first singer of her era to achieve huge solo success. She had a string of 80 charted popular hits, lasting from 1940 into the late '50s, and after appearing in a handful of films went on to a four-decade career in American television, starring in her own music and variety shows in the '50s and '60s and hosting two talk shows in the '70s. TV Guide magazine ranked her at #16 on their list of the top fifty television stars of all time. Stylistically, Dinah Shore was compared to two singers who followed her in the mid-to-late '40s and early '50s, Doris Day and Patti Page.
Dinah Shore: 1920 census
Shore
Shase

Self (

Male

White

45

Married

Wife

Female

White

29

Married

Daughter

Female

White

11

Single

Daughter

Female

White

3 and 10 months

Single

Tennessee

Russia

Russia
Name: Soluman Q Shase
[Solomon Shore]
Home in 1920: Winchester, Franklin, Tennessee
Age: 45
Estimated birth year: abt 1875
Birthplace: Russia (Hebrew)
Relation to Head of House: Self (Head)
[Head]
Spouse's name: Annie
Father's Birth Place: Russia
Mother's Birth Place: Russia
Marital Status: Married
Race: White
Sex: Male
Home owned: Rent
Year of Immigration: 1908
[1903]
Able to read: Yes
Able to Write: Yes
Born to Solomon and Anna Stein Shore, Jewish immigrants from Russia, young Frances Rose lived in Winchester, Tennessee. When she was two years old, she was stricken with polio (infantile paralysis), a disease that was not preventable at the time, and for which treatment was limited to bedrest. Her parents provided intensive care for her and she recovered. She continued, however, to have a deformed foot and limp, which did not physically impede her. As a small child she loved to sing, encouraged by her mother, a contralto with operatic aspirations. Her father would often take her to his store where she would perform impromptu songs for the customers.[1] She had a childhood recollection of her normally restrained father's exasperated reaction one evening when the Ku Klux Klan paraded in Winchester; despite the hoods the marchers were wearing, Solomon Shore, a dry goods merchant, recognized some of his customers by their shoes and gaits.[2] In 1924 the Shore family (which included Dinah's only sibling, older sister Bessie) moved to McMinnville, Tennessee, where her father had opened a department store. Although shy because of her limp, she became actively involved in sports and was a cheerleader at Hume-Fogg High School and involved in other activities. At 14, Shore debuted as a torch singer at a Nashville night club only to find her parents sitting ringside, having been tipped off to their daughter's performance ahead of time. They allowed her to finish, but put her professional career on hold. She was paid $10.
When Shore was 16, her mother died unexpectedly of a heart attack, and Shore decided to pursue her education. She went to Vanderbilt University, where she participated in many events and activities, including the Chi chapter of the Alpha Epsilon Phi Sorority. She graduated from the university in 1938 with a degree in sociology. She also visited the Grand Ole Opry and made her radio debut on Nashville's WSM (AM) radio station in these years. She decided to return to pursuing her career in singing, so she went to New York City to audition for orchestras and radio stations, first on a summer break from Vanderbilt, and after graduation, for good. In many of her auditions, she sang the popular song "Dinah." When disc jockey Martin Block could not remember her name, he called her the "Dinah girl," and soon after the name stuck, becoming her stage name. She eventually was hired as a vocalist at radio station WNEW, where she sang with Frank Sinatra. She recorded and performed with the Xavier Cugat orchestra. She signed a recording contract with RCA Victor records in 1940.
[] The 1940s and 1950s
In March 1939, Shore debuted on national radio on the Sunday afternoon CBS radio program, Ben Bernie's Orchestra. In February 1940, she became a featured vocalist on the NBC Radio program The Chamber Music Society of Lower Basin Street, a showcase for traditional Dixieland and Blues songs. With Shore, the program became so popular that it was moved from 4:30 Sunday afternoon to a 9:00 Monday night time slot in September. In her prime-time debut for "the music of the Three Bs, Barrelhouse, Boogie-woogie and the Blues", she was introduced as "Mademoiselle Dinah 'Diva' Shore, who starts a fire by rubbing two notes together!"[3] She recorded with the two Basin Street bands for RCA Victor; one of her records was the eponymous "Dinah's Blues."
Shore's singing came to the attention of Eddie Cantor. He signed her as a regular on his radio show, Time to Smile, in 1940. Shore credits him for teaching her self-confidence, comedic timing, and the ways of connecting with an audience.[4] Cantor bought the rights to an adapted Ukrainian folk song with new lyrics by Jack Lawrence for Shore to record for RCA Victor's Bluebird label. This song, "Yes, My Darling Daughter," became her first major hit, selling 500,000 copies in weeks, which was unusual for that time.
Shore soon became a successful singing star with her own radio show in 1943, Call to Music. Also in 1943, she appeared in her first movie, Thank Your Lucky Stars, starring Cantor. She soon went to another radio show, Paul Whiteman Presents. During this time, the United States was involved in World War II and Shore became a favorite with the troops. She had hits, including "Blues In the Night", "Jim", "You'd Be So Nice To Come Home To", and "I'll Walk Alone", the first of her number-one hits. To support the troops overseas, she participated in USO tours to Europe. She met George Montgomery, a young actor ready to go into military service. They married on December 3, 1943, shortly before he went into service. When he returned, they settled in San Fernando, California. In 1948, their first child was born, a daughter named Melissa Ann, and they adopted a son in 1954 named John David before moving to Beverly Hills.
Shore continued appearing in radio shows throughout the 1940s, including Birds Eye-Open House and Ford Radio Show. In early 1946, she moved to another label, Columbia Records. At Columbia, Shore enjoyed the greatest commercial success of her recording career, starting with her first Columbia single release, "Shoo Fly Pie And Apple Pan Dowdy", and peaking with the most popular song of 1948, "Buttons and Bows", which was number one for ten weeks. Other number one hits at Columbia included "The Gypsy" and "The Anniversary Song". One of her most popular recordings was the holiday perennial "Baby, It's Cold Outside" with Buddy Clark from 1949. The song was covered by many other artists, Ella Fitzgerald, for example. Other hits during her four years at Columbia included "Laughing on the Outside (Crying on the Inside)", "I Wish I Didn't Love You So", "I Love You (For Sentimental Reasons)", "Doin' What Comes Naturally", and "Dear Hearts And Gentle People". She was a regular with Jack Smith on his quarter-hour radio show on CBS. Shore acted in films such as Follow the Boys and Up in Arms (both in 1944), Belle of the Yukon (1945), and Till the Clouds Roll By (1946). She lent her musical voice to two Disney films: Make Mine Music (1946) and Fun and Fancy Free (1947). Her last starring film role was for Paramount Pictures in Aaron Slick from Punkin Crick (1952), co-starring Alan Young and Metropolitan Opera star Robert Merrill.
In 1950, Shore went back to RCA with a deal to record 100 sides for $1,000,000. The hits kept coming, but with less frequency, and were not charting as high as in the '40s. Dinah's biggest hits of this era were "My Heart Cries for You" and "Sweet Violets", both peaking at number three in 1951. Several duets with Tony Martin did well, with "A Penny A Kiss" being the most popular, reaching number eight. "Blue Canary" was a 1953 hit and her covers of "Changing Partners" and "If I Give My Heart To You" were popular top twenty hits. "Love and Marriage" and "Whatever Lola Wants" were top twenty hits from 1955. "Chantez, Chantez" was her last top twenty hit, staying on the charts for over twenty weeks in 1957. Shore stayed with RCA until 1959, and during that time released albums including Bouquet of Blues, Once in a While, and Vivacious, which were collections of singles with different orchestras and conductors such as Frank DeVol and Hugo Winterhalter. Moments Like These, a studio album from 1958, recorded in stereo, with orchestra under the musical direction of Harry Zimmerman, who performed the same duties on The Dinah Shore Chevy Show, being the exception.
[] Recording career after the 1950s
In 1959 Dinah was wooed from RCA by Capitol Records. She recorded only one "almost" hit for her new label, I Ain't Down Yet, which "bubbled under the hot 100" on Billboard's pop chart, peaking at 102 in 1960. However, she recorded six albums which remain her strongest recording legacy. These were carefully considered "theme albums" that paired Dinah with arranger Nelson Riddle (Dinah, Yes Indeed!) conductor and accompanist Andre Previn (Somebody Loves Me and Dinah Sings, Previn Plays) and jazz's Red Norvo (Dinah Sings Some Blues With Red). Her final two albums for Capitol at this time were Dinah, Down Home and The Fabulous Hits (Newly Recorded).
Shore left Capitol in 1962 and recorded only a handful of albums over the next two decades, including Lower Basin Street Revisited for friend Frank Sinatra's Reprise label in 1965,Songs For Sometime Losers (Project 3, 1967), Country Feelin' (Decca, 1969), and Once Upon A Summertime (Stanyan, 1975). Her final studio album was released in 1979, Dinah! Visits Sesame Street, for the Children's Television Workshop. In 2006, DRG released For The Good Times, a CD reissue of "DINAH!," an album recorded for Capitol that had a limited Reader's Digest release in 1976. Shore recorded this album at the height of her talk show fame, and it featured her take on contemporary hits such as 50 Ways To Leave Your Lover, The Hungry Years, and Do You Know Where You're Going To (Theme from "Mahogany").
[] Early television career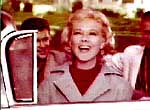 Dinah Shore singing "See the U.S.A. in Your Chevrolet" in a television advertisement.
Soon after she arrived in New York in 1937, Shore made her first television appearances on experimental broadcasts for NBC. Twelve years later, In 1949 she made her official television show debut on the Ed Wynn Show and also made a guest appearance on Bob Hope's first television show in 1950. After being on many other people's television shows, she got her own, The Dinah Shore Show in 1951. Vic Schoen was her musical director from 1951-54, and also arranged music for her on the Colgate Comedy Hour (1954). She did two 15-minute shows a week for NBC. She won her first of many Emmy awards for the show in 1955. The show was sponsored by Chevrolet. The sponsor's theme song ("See the U.S.A. in Your Chevrolet") became the singer's signature piece.
In 1956 she hosted a monthly series of one-hour full-color spectaculars as part of NBC's "Chevy Show" series. These proved so popular that the show was renamed "The Dinah Shore Chevy Show" the following season, with Dinah becoming the full-time host, helming three out of four weeks in the month. Broadcast live and in NBC's famous "Living Color," this variety show was one of the most popular of the 1950s and early 1960s and featured the television debuts of stars of the era, such as Yves Montand and Maureen O'Hara, and featured Dinah in performances alongside Ella Fitzgerald, Mahalia Jackson, Peggy Lee, Frank Sinatra and Pearl Bailey. "The Dinah Shore Chevy Show" ran through the 1960-61 season, after which Chevrolet dropped sponsorship and the show continued for two more seasons as a series of monthly broadcasts sponsored by "The American Dairy Association" and "Green Stamps." Simply called "The Dinah Shore Show," Dinah's guests included Nat "King" Cole, Bing Crosby, Jack Lemmon, and a very young Barbra Streisand. Over twelve seasons, from 1951 to 1963, Dinah Shore made 125 hour-long programs and 444 fifteen-minute shows.
Shore ended her televised programs by throwing an enthusiastic kiss directly to the cameras (and viewers) and exclaiming "MWAH!" to the audience. It was said by Frank Sinatra that "Dinah blows the best kisses!"[citation needed]
[] Later television career
From 1970 through 1980, Shore hosted two daytime programs, Dinah's Place (1970–1974) on NBC and Dinah! (later Dinah and Friends) in syndication from 1974 through 1980 and a third cable program from 1989–1992.
"Dinah's Place", primarily sponsored by Colgate-Palmolive (which later sponsored her women's golf tournament), was a 30-minute Monday through Friday program broadcast at 10:00am(et) over NBC, her network home since 1939. Shore described this show as a "Do-Show" as opposed to a chat show because she would have her guests demonstrate an unexpected skill, for example Frank Sinatra sharing his spaghetti sauce recipe, Spiro Agnew playing keyboard accompanying Dinah on "Sophisticated Lady", or Ginger Rogers showing Shore how to throw a clay pot on a potter's wheel. Though "Dinah's Place" featured famous guest stars, often Shore grilled lesser-known lifestyle experts on nutrition, exercise or homemaking. Despite being one of the more popular programs in NBC's morning lineup, this show left the air in 1974 after NBC sent a telegram to Dinah congratulating her on her Emmy win — at the same time informing her the show was canceled, because it broke up a "game show programming block". Thus ended the network's 35-year association with Shore.
She returned that fall with "Dinah!" a syndicated 90 minute daily talk show (also seen in a 60 minute version on some stations) that put the focus on top guest stars and entertainment. This show was competition for Mike Douglas and Merv Griffin, whose shows had been on the air for 10 years when "Dinah!" debuted. Frequent guests included show-biz Lucille Ball, Bob Hope and James Stewart as well as regular contributors including lifestyle guru Dr. Wayne Dyer. There were unexpected rock music performances, among them David Bowie and Iggy Pop. Shore had the misfortune of interviewing the comedian Andy Kaufman in his Tony Clifton guise on this show. He took deliberate offense at her questions and eventually tipped a pan of eggs over her head. This program was taped live in front of a studio audience and the "Egg" segment was never aired; it is believed that the offending footage was destroyed. Shore's producers superimposed titles such as "This is a put on" over the footage that was eventually aired, including an uncomfortable duet between Shore and a belligerent Tony of "Anything You Can Do", and his solo of "On The Street Where You Live." Shooting was stopped and Kaufman was escorted out of the studio.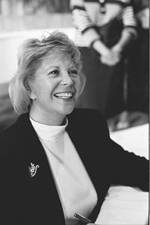 Dinah Shore at the Miami Book Fair International of 1990
Shore, with her Dixie drawl and demure manner, was identified with the South, and guests on her shows often commented on it. She spoofed this image by playing Melanie in Went with the Wind, the famous Gone with the Wind parody for The Carol Burnett Show. In the summer of 1976, Shore hosted "Dinah and her New Best Friends", an eight-week summer replacement series for The Carol Burnett Show that featured a cast of young hopefuls such as Diana Canova and Gary Muledeer along with guests such as CBS stars Jean Stapleton and Linda Lavin.
Shore guest starred on Pee-wee's Playhouse Christmas Special, calling Pee-wee on his picturephone and singing The 12 Days of Christmas. Throughout the special, Pee-wee walks past the picturephone, only to hear her going past the original 12 days ("...on the 500th day of Christmas...")
Shore finished her television career hosting "A Conversation with Dinah" from 1989–1992 on the cable network TNN (The Nashville Network). This half-hour show consisted of one-on-one interviews with (Bob Hope), former boyfriends (Burt Reynolds in a special one-hour episode) and political figures (President Gerald Ford and his wife, Betty.) In a coup, Dinah got former First Lady Nancy Reagan's first post-White House interview for this show. At around this time, she gained a contract as television spokeswoman for Holly Farms chicken. Her last television special, "Dinah Comes Home," (TNN 1991) brought Dinah Shore's career full circle, taking her back to the stage of the Grand Ole Opry, which she first visited some 60 years earlier.
Shore won nine Emmys, a Peabody Award and a Golden Globe.
[] Romantic life
In her early career, while in New York, Dinah Shore was briefly involved with drummer Gene Krupa. After Dinah relocated to Hollywood she became involved with James Stewart and it was rumored that a Las Vegas, Nevada, elopement was aborted en route. Shore's flirtation with General George Patton was commented on when he escorted her for a portion of her tour to entertain the troops in England and France during World War II.
Shore was married to actor George Montgomery from 1943 to 1962. Shore gave birth to daughter Melissa Ann, now known as Melissa Montgomery-Hime, in January 1948. She later adopted her son, John "Jody" David Montgomery.[5] In the book "Mr. S," the author, Frank Sinatra's longtime valet George Jacobs, alleged that Dinah Shore and Frank Sinatra had a long-standing affair in the 1950s. After her divorce from Montgomery, she briefly married Maurice Smith. Romances of the later 1960s involved comedian Dick Martin, singer Eddie Fisher, and actor Rod Taylor.
In the early 1970s, Shore had a long and happy public romance with actor Burt Reynolds, who was 20 years her junior. The relationship gave Shore an updated, sexy image, and took some of the pressure off Reynolds in maintaining his image as a ladies' man. The couple was featured in the tabloids and after the relationship cooled, the tabloids paired Shore with other younger men, from Wayne Rogers, Andy Williams, and "Tarzan" Ron Ely, to others such as novelist Sidney Sheldon, Dean Martin, and former New York Governor Hugh Carey.
[] Golf
Shore, who played golf herself, was a longtime supporter of women's professional golf. In 1972, she helped found the Colgate Dinah Shore golf tournament, which today, now known as the Kraft Nabisco Championship, remains as one of the four major golf tournaments on the LPGA Tour. The tournament is held each spring near Shore's former home in Rancho Mirage, California.
Shore was the first female member of the famed Hillcrest Country Club in Los Angeles.
In acknowledgment of her contributions to golf, Shore was made an honorary member of the World Golf Hall of Fame in 1994. She also received the 1993 Old Tom Morris Award from the Golf Course Superintendents Association of America, GCSAA's highest honor.
[] Death and legacy
Dinah Shore died February 24, 1994, in Beverly Hills, California, of ovarian cancer five days before her 78th birthday. Her ashes were divided and she has two burial sites. Half were interred in the Hillside Memorial Park Cemetery in Culver City, California, and the other half interred at Forest Lawn Cemetery (Cathedral City) near her beloved second home in Palm Springs, California.
Shore has a legacy posthumously, with a 1998 album featuring the arrangement skills of Andre Previn combined with the re-releasing of some of her recordings like April in Paris, and My Funny Valentine, garnering moderate success.
Dinah's daughter, Melissa Montgomery, is the owner of the rights to most of Shore's television series. In March 2003, PBS presented "MWAH! The Best of The Dinah Shore Show 1956–1963," an hour-long special of early color videotape footage of Dinah in duets with guests Ella Fitzgerald, Jack Lemmon, Frank Sinatra, Bing Crosby, Pearl Bailey, George Burns, Groucho Marx, Peggy Lee, and Mahalia Jackson.
In Cathedral City, CA, near Palm Springs there is a street named after her.
In her birthplace of Winchester, TN, Dinah Shore Boulevard is named after her.
[] Hit recordings
Year

Single

Chart positions

1940

"The Breeze and I"(with Xavier Cugat)

13

-

"You Can't Brush Me Off"(with Dick Todd)

24

-

"Whatever Happened To You?"(with Xavier Cugat)

22

-

"The Rumba-Cardi"(with Xavier Cugat)

19

-

"Yes, My Darling Daughter"

10

-

1941

"My Man"

23

-

"I Hear a Rhapsody"

9

-

"I Do, Do You?"

22

-

"Do You Care?"

21

-

"Quierme Mucho"(with Xavier Cugat)

16

-

"Jim"

5

-

1942

"Blues In the Night"

4

-

"Miss You"

8

-

"I Don't Want To Walk Without You"

12

-

"Goodnight, Captain Curly-Head"

23

-

"Skylark"

5

-

"One Dozen Roses"

8

-

"Sleepy Lagoon"

12

-

"He Wears a Pair of Silver Wings"

16

-

"Mad About Him, Sad Without Him, How Can I Be Glad Without Him Blues"

18

-

"He's My Guy"

20

-

"Dearly Beloved"

10

-

1943

"(As Long As You're Not In Love With Anyone Else) Why Don't You Fall In Love With Me?"

3

-

"You'd Be So Nice To Come Home To"

3

10

"Murder He Says"

5

-

"Something To Remember You By"

18

-

1944

"I'll Walk Alone"

1

10

"Together"

19

-

1945

"Sleigh Ride In July"

8

-

"Candy"

5

-

"He's Home For a Little While"

11

-

"Along the Navajo Trail"

7

-

"But I Did"

16

-

"My Guy's Come Back"

14

-

1946

"Personality"

10

-

"Shoo Fly Pie and Apple Pan Dowdy"

6

-

"Laughing On the Outside (Crying On the Inside)"

3

-

"The Gypsy"

1

-

"All That Glitters Is Not Gold"

9

-

"Doin' What Comes Natur'lly"

3

-

"You Keep Coming Back Like a Song"

5

-

1947

"(I Love You) For Sentimental Reasons"

2

-

"The Anniversary Song"

1

-

"The Egg and I"

16

-

"When Am I Gonna Kiss You Good Morning?"

23

-

"Tallahassee"(with Woody Herman)

15

-

"I Wish I Didn't Love You So"

2

-

"You Do"

4

-

"It Takes a Long, Long Train With a Red Caboose (To Carry My Blues Away)"

23

-

"Golden Earrings"

25

-

"How Soon (Will I Be Seeing You)"

8

-

"At the Candlelight Cafe"

24

-

1948

"The Best Things In Life Are Free"

18

-

"Little White Lies"

11

-

"Buttons and Bows"

1

-

"Lavender Blue (Dilly Dilly)"

9

-

1949

"Far Away Places"

14

-

"So In Love"

20

-

"Forever and Ever"

12

-

"Baby, It's Cold Outside"(with Buddy Clark)

4

-

"A Wonderful Guy"

22

-

"Dear Hearts and Gentle People"

2

-

1950

"Bibbidi-Bobbidi-Boo"

25

-

"It's So Nice To Have a Man Around the House"

20

-

"Can Anyone Explain? (No! No! No!)"

29

-

"My Heart Cries For You"

3

-

"Nobody's Chasing Me"

18

-

1951

"A Penny a Kiss"(with Tony Martin)

8

-

"In Your Arms"(with Tony Martin)

24

-

"Sweet Violets"

3

-

"The Musicians"(with Tony Martin, Betty Hutton & Phil Harris)

18

-

1952

"Delicado"

28

-

"Blues In Advance"

20

-

1953

"Salomee (With Her Seven Veils)"

22

-

"Sweet Thing"

27

-

"Blue Canary"

11

-

1954

"Changing Partners"

12

-

"Pass the Jam, Sam"

28

-

"If I Give My Heart To You"

28

-

1955

"Whatever Lola Wants (Lola Gets)"

12

-

"Love and Marriage"

20

-

1956

"Stolen Love"

73

-

"I Could Have Danced All Night"

93

-

1957

"Chantez-Chantez"

19

-

"The Cattle Call"

92

-

"Fascination"

15

-

"I'll Never Say Never Again Again"

24

-

1960

"I Ain't Down Yet"

103

-
[] Albums (partial list)
[edit] Filmography
[] Television
[] References
Moses Schorr, Polish: Moj?esz Schorr (May 10, 1874 — July 8, 1941) was a Rabbi, Polish historian, politician, Bible scholar, assyriologist and orientalist. Schorr was one of the top experts in the scientific life of Galician and Polish Jewry. He was also the first Jewish researcher of Polish archives, historical sources and pinkasim, a noted Assyriologist, the president of the 13th district Bna'i Brith Poland, a humanist and reform rabbi who ministered the central synagogue of Poland during its last years before the Nazi annihilation.
The range of Moses Schorr's interdisciplinary scholarship is astonishing. Schorr was the first historian who undertook the systematic study of Jewish history in Poland, and Galicia in particular. He made discoveries after finding and translating Babylonian, Assyrian and Hittite legislative annals. As a scholar of the jurisprudence and civilizations of the Ancient Middle East, Schorr can be considered a legal philosopher and sociologist of Ancient Middle Eastern societies. Schorr was personally appointed to the Polish Senate by Polish president Ignacy Mo?cicki (1926–1939). Schorr did not belong to any political party, although he was inclined to Zionism. He was active in the social, public and religious life of Polish Jews, and was often chosen by them to head public organisations and represent Polish Jewry to Polish and international powers, though he never sought this role for himself.
Moses Schorr was born on May 10, 1874, in the town of Przemy?l in Galicia, then a kreis town within Austro-Hungarian empire. Moses was the oldest son of Osjasz Schorr, the director of the Jewish cooperative bank in Przemy?l and of Esther Schorr (née Friedman). He had two brothers, Adolf and Samuel, who both became lawyers in Lwów and Jaros?aw, respectively. Moses started his education at the local Przemy?l gymnasium where he completed his studies in 1893. At gymnasium he acquired the basics of Judaic lore, along with the instruction of his father and private teachers. Among his teachers was the grandfather of an outstanding Slavist, Moshe Altbauer, who instructed Moses in the Bible and Talmud.
[] Rabbinical and philosophical studies
To continue his education Schorr moved to imperial Vienna where he embarked upon the study of theology at the Jewish Theological Institute / Israelitisch – Theologische Lehranstalt from 1893 to 1900. The institute, founded in October 1893 with the assistance of Albert von Rothschild, trained reform rabbis. It had 26 students preparing for the rabbinate and 11 for teachers of religion at that time. Among Schorr's teachers were such celebrities as Adolf Schwarz in Talmud and religious-ritual codes, David Heinrich Müller in Biblical exegesis and Semitic linguistics, Adolf Bücher in Jewish history and Meir Friedman in Midrash studies. Simultaneously, Schorr studied philosophy at Vienna and Lwów Universities, between 1893 and 1898. During his studies in Vienna, Schorr devoted a great deal of time and effort learning Hebrew and other oriental languages, showing particular interest in Egyptian mythology and psychology.
In 1898 Schorr attained the degree of Doctor of Philosophy and Medieval Studies at Lwów University of Jan Kazimierz. In spring 1900 he received the diploma of rabbi in Vienna, being among the first dozen graduates of Rothschild's seminary.
[] Lecturing in Lwów
Soon after graduation, in November 1899 he became a lecturer at the Jewish Teachers Seminary and the Teachers Gymnasium in Lwów, working there until 1923, while he also engaged in educational and social work. Schorr did not feel motivated to work as a gymnasium / seminary teacher. Of his time teaching in Lwów he wrote to Polish sociologist Ludwik Gumplowicz:
... For a long time I have not written to you of my old intentions to continue studying aiming at a dozent position. Besides, that "spirit" of semitology ... has not left me for a moment, haunting me as a shadow at every step. I have not lost contact with orientalistics, not for a bit. I have used every free minute to get acquainted with the ever growing literature, but unfortunately these free moments are quite rare. Professional work takes a lot of my time and causes a painful conflict between a forced, often mechanical work which I lack internal vocation for, and the results of my [oriental] studies ... On one hand, I do not want to be a charlatan in the profession, I even know that I have a certain mission as the religion teacher in Galicia and could even attain the "laurels" of the reformer in this subject. But I lack this specific ambition or enthusiasm. On the other hand, I am becoming convinced that I would have to study at least a year at the university (Berlin or Leipzig) so that I could independently work with Assyriology here. I have to admit for a moment that I have become a personality here, and everywhere they try to involve me in a friendly, humanitarian and scientific life ... and every day the circle of my "social virtues" widens itself — popular meetings, ceremonial speeches, committees, collectives etc., etc., — all this distracts me from my work, as I see myself suddenly thrown into the whirl of life when I would like to remain still unknown among my co-confessors. As an unripened apple I am plucked from the tree and I still miss my tree — knowledge. As for the altruistic impulses, I think that I still have enough time to realize them ... Lviv, January, 1901
At that time, the rabbi of Lwów, Jecheskiel Caro, offered Schorr a deputy post at the Reform Synagogue "Templum", namely to preach, to give marriages, and make burial speeches during the absence of Rabbi Caro. However, Schorr did not accept the offer as being the state teacher he preferred to be completely independent from the "kahal" as he said. Meanwhile Schorr corresponded with a number of intellectuals of that time, including Ludwik Gumplowicz, to whom he wrote at least 46 letters, while Simon Dubnow was writing to Schorr from Odessa. His correspondence with Dubnow has not been studied yet. Schorr's letters to Gumplowicz were published by R. ?ebrowski.
[] Studies in Semitic languages
Schorr managed to realize his plans. Having received a scholarship from the Austrian Ministry of Education, he went to Berlin for two years where he studied Semitic languages, Assyriology and the history of the Ancient Orient under the guidance of famous scholars, including Delitsch, Winkler, Bart, Sachaua, Leman-Haupt and Schtreck. In 1905 - 1906, he broaded his knowledge in the field by studying Arabic philology in Vienna under the guidance of the remarkable semitologist David Heinrich Müller. The latter scholar exerted a strong influence on Schorr, who can be considered as his disciple. Müller himself was a Galician Jew, born in Buczacz and this may have strengthened the link between teacher and disciple during Schorr's studies in Vienna. Müller first taught Schorr Biblical criticism and Semitology at the Seminary, and a decade later, Arabic linguistics. Müller advanced a novel theory on the structure and form of the Biblical Psalms, which Schorr later developed in a series of articles.
[] Professor at Lwów University
In 1904 Schorr was appointed a lecturer (as Privat Dozent) and in March 1910, associate professor of Semitic languages and history of the Ancient Orient at Lwów University, a chair which he later held in Warsaw.
[] Relation to Zionism
Being inclined to the Zionist movement, Schorr took part in the 7th Zionist Congress of 1910 in Basel. The Congress and three weeks stay in Switzerland made an impression on Schorr as he writes to Gumplowicz from hotel "Habsburg" in Basel:
There is no need to stress how strong an impression I got from the wonderful views of Swiss nature. I will stay here in Basel for 14 days for the whole duration of the 7th Zionist Congress, which is going to start on Thursday. Already today there are several hundred guests, most from Russia, among them the outstanding Jewish figures, and many ladies, as well. Already today, the Congress seems to me to be the most powerful manifestation of Jewish solidarity around the world. During the entire course of Jewish history, there was no such movement that would so deeply enter the consciousness of all the Jews with such an enthusiasm. But already nowadays various groups with different tendencies are being formed, away from the main fundamental idea.
According to the stenographic protocols of the Congress, Schorr took part in it but did not make any public speech, just following the event. His attitude towards Zionism can be defined as "liberal skeptic of reserved opinion". He was not particularly fond of the movement, which seemed to him inadequate and tendentious to a certain extent. Being a liberal Jewish historian and orientalist of broad intellect and outlook, he did not see the Zionist claims to be convincing enough for such a political step, as he writes:
As for the Zionist movement ... I am noting in advance, that in my opinion the historical proofs can not be decisive for the present. After all, Professor Winkler proved that the Jews had never been to Egypt but does this mean that the Jewish religion, that is based on the fact of the Exodus of the Jews from Egypt and its consequences, should disappear from history?
?ebrowski presumes, that Schorr's participation in the Congress was perhaps one of the reasons that a rich merchant from Wilno, a banker and fervent Zionist, chose him to marry his daughter Tamara, who was rather disappointed by her father's choice but nevertheless married (under chupa) father's appointee Schorr in the synagogue of Prussian Königsberg (modern Kaliningrad) on 31 October 1905. The marriage was successful, and thanks to her support the scholar was capable to surmount the pressures and stress from the great number of duties he had to perform. The boulevard rumours claimed his wife and daughters were among the most beautiful ladies of Warsaw in the inter-war period.
] Professor in Semitic languages
In April 1916 M. Schorr received the degree of merited professor of Lwów University in the field of Semitic languages and Ancient Oriental history, combining this post with other certain duties at the same university until 1923. In 1912 he participated in the international congress of orientalists in Athens, where the scholar was assigned the functions of one of the secretaries of the semitology section and presented a lecture entitled Sumerian and Semitic beginnings of the Ancient Babylonian law, which was published later in the Paris edition of Revue Semitique. In 1918 he became a member of Oriental committee at the Cracow Academy, and in 1920 a member of the Polish Scientific Society in Lwów, and finally one of the founders of the Polish Oriental Society in the same city, which was founded in 1923 calling him to its work.
[] Transfer to Warsaw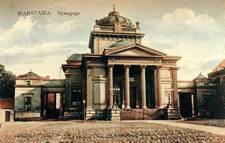 Great Warsaw Synagogue, where M. Schorr preached.
Moses Schorr, moved from his house in Lwów in 1923 to Warsaw, never to return there. He was invited to Warsaw to succeed the well-known Samuel Pozna?ski as preacher at the moderate Reform Synagogue on T?omackie street, designed to seat 1.100, then the largest synagogue and community in Europe and second largest in the world, behind only to New York. Never suspecting that he came to be its last minister, exactly 20 years before it was blown up in retaliation for Jewish ghetto uprising in 1943. Warsaw Judaic Community numbered then 352.659 Jews (1931 census), and to head its religious life on the eve of the coming Holocaust and growing antisemitism was a great responsibility and challenge entrusted to Moses Schorr. In the same rabbinical capacity he became a member of Warsaw rabbinical council, one of the top Jewish religious authorities in Poland. Some of his preachings were published. He was also elected to the position of inter-regional rabbi whose main duties and functions were to represent the Jewish community in front of the state and administrative authorities. Schorr was also appointed a member of city and regional School Councils by Jewish community board.
[] Warsaw University and Polish parliament
In 1926 Schorr became the professor of Warsaw University. Later on, in 1935 he was elected to the Polish parliament.
At the Warsaw University Schorr headed the Institute of Semitic languages and history of the Ancient Orient. While working at the Institute of Judaic Sciences Schorr headed the department of Bible Studies and Hebrew theology, and during 1928-1930 he was its rector. In 1933, he took this position the second time, being at this post just one year until 1934. In 1933-1934 he was elected the member of the Polish Academy of Sciences (PAU), and in 1935 member of the Finnish Oriental Society in Helsinki. In 1937 Schorr received the title of merited doctor from the Jewish Theological Seminary in New York.
In 1927 he initiated the creation of the Committee for setting up the Jewish Library at the Great Synagogue in Warsaw and became its head. This library was finally completed in 1936. Today the library building houses the Jewish Historical Institute in Poland.
[edit] Institute of Judaic Sciences in Warsaw
In February 1928 Schorr together with M. Balaban, Tohn and Braud, founded the Institute of Judaic Sciences, for the research of Judaic sciences and Judaism, in particular the Biblical subjects, philosophy, religion, Talmud, sociology, Semitic languages and Hebrew literature. It was located on the site of the present-day Jewish Historical Institute, side by side with the Great T?omacka Street Synagogue, that did not survive the war, where the impressive Bl?kitny Wie?owiec (the Blue Skyscraper) at "Bankowy plac" stands now. It functioned on the strength of a state budget, receiving help also from foreign Jewish institutions. The Institute retained the library which numbered over 35 thousand books, documents and magazines. Professor Schorr became the first rector of the newly created institution.
[] State Examination Committee for Jewish teachers
In 1924 he became the head of the State Examination Committee for Jewish teachers of religion and Judaic subjects in secondary schools, and a member of the Ministerial Commission for the evaluation of the school handbooks in the field of Judaica.
He was also the member of the State Council of Education of Poland and many other social institutions.
[] Social and charitable activities
Speaking about the social-educational and cultural activity of M. Schorr, we should turn back for a few years and note that in 1904- 1905 he headed the Toynbeehali, the Society for the promotion of education among Jews in Lwów. At the same time he was also one of the founders and long-term members of Opieka (Care), a society to support the Jewish Youth of the secondary schools. During his stay in Lwów, M. Schorr became one of the founders and the first head of the "Society of the teachers of Moses religion of the people's secondary schools of Galicia" and at the same time he led the first teachers' congress in 1904 in Lwów. Since the moment of the foundation of the Jewish Community Library in Lwów, he was a member of its board and later on its head.
[] Jewish Rescue Committee
In 1917-1918 he headed the Jewish Rescue Committee in Lwów, and from 1916 on Schorr was also a member of the central committee over the Jewish orphans in Lwów. The Society of Jewish national and secondary school, which was established at the beginning of 1919, had chosen him its first head, and in 1920 entitled him a merited member of the society.
[] Schorr and Bnai Brith
From 1901 on, Schorr was a member of the humanitarian society B'nei Brith Leopolis in Lwów, where during a few years he led the library. From 1921 Schorr was the president of the Lwów branch of B'nei Brith in Galicia, part of the royal Austro-Hungarian Empire within the 12th district of B'nai Brith Austria. The B'nai Brith "Leopolis" was founded in 1889 and since 1932 had its own building at 3 Maja street, 10. The archival documentation of B'nai Brith "Leopolis" has been partially preserved. These are the acts of great historical value for possible research and Schorr's speeches and papers delivered at B'nai Brith "Leopolis" are still to be studied. The same relates to the papers of such lodge members and fellows of Schorr in Lwów as: Dr Michael Ringer, Victor Chajes, Dr Levi Freund, Dr Alexander Mayer and Max Schaff. From 1922 Leopolis was incorporated into the 13th district of Poland and numbered 217 persons, being the most numerous lodge in Poland.
Since the creation of the great lodge of the 13th district of B'nei Brith in Poland (on 22-23.10.1922 Cracow session), Schorr was elected the vice president of the Polish district, while the presidency was entrusted to lawyer Dr Adolf Ader from Cracow. From 1924 he was also the president of the lodge Braterstwo (Brotherhood) in Warsaw. This lodge numbered 85 members, including 32 merchants, 14 physicians, 13 engineers, 8 lawyers, 8 industrialists, 6 bankers, 1 writer, 3 Senators (eng. Moses Koerner, Schorr himself and banker Rafael Szereszowski), 1 deputy (lawyer Dr Apolinary Hartgas) and two professors — Schorr and his close colleague, historian and friend Meir Balaban. The lodge reached its highest membership in 1931, when it had 130 members. After Schorr's resignation from its presidency, his role was taken over by Meir Balaban and consequently the lodge was headed by lawyer Maurycy Edelman, merchant Maurycy Meyzel, Seminary director Meir Tauber and lawyer Ignacy Bamberg.
The headquarters of Warsaw Braterstwo lodge were located at Rymarska 8 street. In the years of his presidency, Schorr organised many initiatives, undertakings and cultural events, managed the meetings of so called "speaking diaries" with the participation of renown personalities, writers and publicists. He took part in the creation of Auxilium Academicum Judaicum, an organisation formed for the erection of the Jewish Academic House in Warsaw. Schorr's brotherhood played an important role in the founding of the already noted Reform Institute of Judaic Sciences and the publishing society Menora, that in its turn published Miesi?cznik ?ydowski (Jewish Monthly, 1930–1935), which remained under the influence of B'nei Brith. Through the Warsaw lodge, Schorr co-organised and supported the Relief Committee for the Jewish victims of the economic crisis, continuing his role in the religious affairs of the nomination of rabbis and Orthodox influences. While heading Warsaw lodge, Schorr took the initiative of setting up a special literary award for an outstanding writer of Jewish origin. In 1932, Schorr intervened with the president of the Polish organisation, Dr Leon Ader, as well as to the "Concordia" lodge in Katowice in the employment of Rabbi Dr M. Vogelman, though the matter was not solved.
In the revived charity activity rich members of the lodge played an important role, not sparing generous offerings; among them was a friend of Schorr, renown wood merchant Horacy Heller, who assigned for social activities 20.000 dollars. Significant sums were donated by his colleagues, banker Szereszowski (one of two Jewish colleagues in the Polish Senate with him), Dr. Joseph Landau, industrialist Maurycy Raabe, and others. In the years 1937–1938, a violent anti-Masonic campaign took place in Poland and led to the special decree of 1938 that dissolved any sort of free Masonic societies, including B'nei Brith.
Moses Schorr performed the functions of vice president of the B'nai Brith Lodge Solidano?? (Solidarity) in Cracow. There are dozens of letters written by M. Schorr (on a range of different matters) preserved in the B'nai B'rith collection of the State Archives in Cracow. During his presidency Schorr corresponded with a number of BB officials, including the Secretary of the Great Conventional Lodge in Chicago. Schorr's BB letters are still to be studied. In this matter, in 1993, Polish historian Dr Bogus?awa Czajecka delivered a paper "Moses Schorr as social activist in the light of B'nai B'rith documents (1922–1938) " during the scientific session on Schorr at Polish Academy of Arts in Cracow.
Schorr's views on Bnai-Brith's goals and their practical application in terms of social activities are expressed in his work (Polish) "Ideals of the Order B'nei B'rith and their application towards real life conditions." The essence of B'nai Brith M. Schorr describes as following:
... The union of Bnai Brith, as an international organization (...) is characterized by two fundamental principles: the idea of solidarity of all the Jews in the entire world (...), the idea of universalism of humanity, the brotherhood of all the peoples and nations (...). These two ideas I consider for the highest goal of our spiritual and intellectual program ...
Besides other accomplishments within the B'nai Brith, Schorr's initiative was the creation of the lodge Montefiory in ?ód?, then the second largest Jewish urban community in Poland (222.497 Jews). In 1928 lodges "Montefiore" and "Braterstwo" took up the discussion concerning the official name of the organisation, arguing between B'nai B'riss" and B'nei B'brith formulations. Schorr's suggestion "...taking into consideration the scientific and practical views, the name of the order should be written "B'nei B'rith" was adopted unanimously.
Schorr authored the appeal of the information bureau of the lodge Braterstwo about the situation of the Jews in Germany and other countries after 1933. Schorr was a member of the committee which managed the bureau. His goal in the activity of B'nei Brith was to unify the principle of national solidarity among the Jews with the ideas of universalism.
[] Schorr and political life
In political life, Schorr didn't take an active part. He clearly defined his political position regarding the Polish Jewish question in the questionary campaign arranged in February 1919 by the Governmental Commission, where Schorr participated as a scientific expert. The protocols of the campaign were published in a separate book, W sprawie polsko-?ydowskiej. Ankieta (Concerning the Polish-Jewish question. Questionnary).
Schorr concentrated mainly on scientific work, teaching and social activities, rather than politics. In 1935, the president of Poland, Ignacy Mo?cicki named him Senator in the parliament. In his parliamentary speeches, along with articles in the Jewish press, such as Nasz Przegl?d and Chwila, Schorr expressed his concern about the growth of antisemitic feelings and actions in Poland and the passive conduct of the authorities in this regard. He led the Jewish immigration and colonial committee, which aimed to make possible the Jewish immigration from Poland to countries other than Palestine. In July 1938 he participated in the international summit in Evian, France on the problem faced by 500,000 Jewish refugees from Germany and Austria with the advent of the Nazi regime and after the "Anschluss" of Austria. The Évian Conference, held in Evian-les-Bains, on the French shore of Lake Geneva, was convened at the initiative of US President Franklin D. Roosevelt, who invited European, American, and Australian delegates for an open discussion on organising the resettlement and immigration of those who experienced persecution on the basis of religion or race. Schorr was one of the key speakers in Évian and was highly involved as many Jews fled Germany for Poland. Golda Meir represented Palestine, but only as an observer.
[] Last years
After the beginning of the Second World War, M. Schorr entered the Jewish Civil Committee and on 6 or 7 September he left Warsaw. He knew that the Nazis would not spare him, as he was an active Jewish social leader who often spoke against fascism in the parliament. These fears forced him and his wife, Tamara, to escape eastwards. His daughter Felicia, with her 3 children (two her own and 1 of her sister Sonia) lived in the town of Ostróg near Równe. Moses and Tamara Schorr reached Ostróg on 27 September.
[] Arrest by NKVD
The appearance of Schorr was quickly noted by Soviet securities in the town. Two days after his arrival, Schorr was arrested by Ostróg NKVD branch, being kept in custody in local prison for a week. Later he was transferred to the nearby regional administrative center of ?uck, where he spent another week in ?uck prison.
[] Confinement and questioning
On the 24 of September he transferred to Lwów (back to his native town where he had studied, worked and lived until he moved to Warsaw in 1923). This time he arrived there as a prisoner, not coming home but on his way to jail. The psychological associations and pressure the scholar was undergoing must have been intolerable. In confinement, Schorr was forced to fill in a questionnaire, was photographed, had his personal belongings taken off: the golden watch, pen, scissors, organiser, a file of photos and a comb with a cover-box. The first questioning most likely had taken place in Ostróg [citation needed]. The scholar was asked when, by whom and why was he appointed for the Senator's position, when did he become a rabbi, and to which party did he belong. Schorr was answering that president Mo?cicki appointed him to the Polish Senate in the capacity of Rabbi of Warsaw and that he did not belong to any political party. The prosecutor noted down only his words concerning the rabbinical functions and the account of marriage of Schorr's daughter Sophia (residing in Paris) with the official of Polish Ministry of Justice. After his arrest, Schorr's wife and daughter Felicia moved to Lwów, where the latter worked as a waitress.
[] Imprisonment at Lubyanka
On the February 3, the newly appointed Russian prosecutor of the Lwów branch of NKVD, Lopunov, received an order from the Deputy of the Peoples Committee of the Ministry of Internal Affairs of the USSR V.N. Merkulov, sending him to Moscow for a continuation of the investigation. Schorr was sent in convoy to the First Special Department of Soviet NKVD. In the documentation which was sent along, the mark "healthy" was noted.
In Moscow he was held in Lubyanka prison, being kept in the same cell with the Bund activist Viktor Alter, the poet Wladislaw Broniewski and the Polish Senator of the National Party - Stronnictwa narodowego / SN professor Stanis?aw Gl?bi?ski. The Polish nationalist later recollected: We became such close friends that we slept together at one bench. In one of the accounts of cell inmate Mrs. Wisia Wagner from 10 August 1943 we read:
Cell no. 21 was little. It housed 30 persons. Among them the main rabbi of Warsaw, renowned scientist, professor of Warsaw University Dr Moses Schorr, the activist of Bund Victor Alter, Senator professor Stanis?aw Gl?bi?ski – the leader of Polish National Democrats and other personalities, who formed the intellectual elite of Poland. I spent a few days together with Prof Schorr. Despite his elderly age, he was constantly taken for torturing questioning and beaten. He was awakened in the middle of the night, led away for many hours and only in the morning returned. As he told us in the cell, he was accused of belonging to the protagonists of the bourgeois government. I spent 10 days with Prof Schorr and was astonished by his spiritual posture, despite the sufferings, he did not allow himself to get broken and after questioning was coming back calm and full of dignity. By chance he happened to share his cell with the leader of "endecja" [Polish Nationalist Party pursuing the policy of tough assimilation of the minorities]. The representative of Jewish people and former antisemite went into so friendly a relationship that they slept on the same cell bed. After 10 days Prof Schorr was driven off from our prison and I have not seen him ever since.[citation needed]
[] Liberation attempts
The attempts to liberate Schorr, which were undertaken by the Polish government in exile with the mediation of the Vatican and the U.S. State Department did not succeed. In February 1940, Cordell Hull, as Secretary of the State of the USA during the presidency of Franklin D. Roosevelt, appealed to the Soviet powers through the mediation of international organisations to find Schorr and rescue him from Soviet prisons. However, this did not produce any results. At the same time the President of the Council of Ministers of the Polish government in exile, W?adys?aw Sikorski applied to the Minister of Foreign Affairs of his government with the following letter:
I ask you Sir minister about the entreatment of our Ambassador in the Vatican with the intervention, aimed to free Professor Schorr, arrested by the Bolshevik powers in Lwów. I consider the diplomatic means through Vatican to be the most advisable solution of this matter. After release, I ask you to direct Prof. Schorr to France. Head of the Council of Ministers – gen. div. Sikorski.
[] Concentration camp and death
On 17 April 1941 Schorr was assigned to 5 years of mandatory prison labour in the Central Asian deserts of the Soviet Uzbeki Republic. He was taken to the NKVD's 5th concentration camp in Posty, Uzbekistan, where he got sick and died in a camp hospital on 8 July 1941. He was buried in grave no. C-30 on the grounds of the same hospital. Polish authorities [who?] learned of his death only on the eve of 1942, after diplomatic relations were established between the Polish London government and USSR's government. The Polish government tried to liberate him a second time, planning to appoint him to the post of the main Rabbi of the Anders Army, which was forming at that time, but it was too late.
At that time A. Sztibel, renown Jewish publisher, wrote of M. Schorr the following lines:
At every ship arriving in America from Europe, nearly every Polish Jew claims to be the leader of the Jews of Poland. These are the people, whose names I never heard, despite the fact that I was born and brought up in Poland. In the meanwhile professor Schorr, a real authority of Polish Jewry, is kept in Bolshevik prisons and no one makes the slightest effort to rescue him ... (A. Sztibel, letter to Cyrus Adler)
[] Schorr's Family
After the outbreak of the Soviet German War, Schorr's wife Tamara and her daughter Felicia, with her grandchildren, left Lwów for Warsaw. Having endured internment in the Warsaw ghetto, by virtue of obtaining Costa-Rican and Nicaraguan passports (from the daughter Sonia), they were next interned at Warsaw's "Pawiak prison" on 19 June 1942 as citizens of a neutral state. After several months, they were transferred to the French town of Vittel (170 km west of Strasbourg) in Alsace, where they arrived on the October 20, 1943, to be exchanged for German prisoners of war. In Vittel, they (and 300 other Jews with foreign passports) were kept in a special hotel guarded by Gestapo.
After more than a year of waiting, it became clear that the next day they would all be deported to the transitional camp Drancy (from where detainees normally were transported to Auschwitz). Tamara Schorr and her daughter Felicia Kon decided to commit suicide on 17 April in 1944 in Vittel so that Felicia's children, as orphans, could avoid transfer. The wife of Professor Schorr finally died after consuming poison. Her daughter Felicia was wounded, after jumping out the window, and got to the hospital. Her other daughter, Sonia, managed to reach New York (together with husband Arthur Miller) toward the end of 1940.
[] Children
Schorr was married in 1905 to Tamara Ben Jacob, the daughter of a publisher, Zionist, banker and bibliographer Yitzhak Ben Jacob (1858–1926) from Wilno. He had six children with her:
[] Awards and remembrances
Schorr was awarded Poland's Golden Cross of Merit. His name is listed on the memorial next to the Polish Parliament, a monument erected recently in memory of the Senators of the II Polish Republic who perished at the hands of the NKVD and the Nazis.
A scientific meeting was devoted to M. Schorr. In 1993 a similar meeting took place at the Polish Academy of Sciences in Kraków. In 2001 an Educational Center named in honor of Prof. Moses Schorr was established in Warsaw, aimed at the education of the Jewish community remaining in Poland. Schorr Center was founded as one of the projects of Ronald Lauders Foundation to cultivate Jewish literacy, culture and history among Jews all over Poland.
[] Streets in Israel named after Schorr
There are streets named after Schorr in Jerusalem, Tel Aviv and Holon.
[] Scientific legacy
The scientific heritage of M. Schorr is undoubtedly large and worthy of attention. Two main trends can be defined in his works. The first stream of his scientific activity deals with the history of Polish Jews. Schorr's historiographic approach and view upon the methodology applied to the study of the history of Polish Jewry, can be aptly summarized in his own writing:
The major defect of the methods of research of Jewish history in Poland is that the general issues were studied before the details had been exposed. There was attempt to present the history of the Jews in entire Poland, before this history had been reviewed in specific cities. The historical entireness was treated, before the elemental processes had been exposed. Therefore, also today's general works on the history of Polish Jewry, and they are few after all, are characterised by the dilettante forms, lacking integrity, accurateness and clarity in subject presentation. Their material used is meager and not sufficient to encompass the entirety of the history of Polish Jewry, neither in the political-economic sphere nor in the cultural developments. An appropriate solid basis for such a general task can only be constructed by virtue of the archival material, which is so abundantly accumulated in different archives and partially the libraries. The fundamental, scientific presentation of the entire history will only be possible when the factual historical, economic and cultural developments in the major cities will be multilaterally studied on the basis of archival sources. Publication and analysis of the archival documents should be the first task preceding the general studies." — M. Schorr. Lwów, October 1902
The techniques and methods Schorr used in historical studies were far ahead of his young age (28) and the time in which he worked. He began his scientific work in this field as an auditor in Vienna University as early as 1897, writing his first serious work entitled "Zur Geschichte des Don Josef Nasi" (Concerning the history of Don Joseph Nasi), which was published in Monatschrift fur die Wiessenschaft des Judenstum. In this work, the author analyses the relations of Joseph Nasi with the Polish king, Sigismund August, in light of the situation of Jews in Poland at that time. Joseph Nasi was the Portuguese born marrano, the Antwerp banker, the duke of the Ottoman islands of Naxos and the Cyclades, Lord of Tiberias, one of the first "proto-Zionists" and an influential Ottoman statesman during the reign of Salim (1566–1574). Schorr analysed the relations of Joseph Nasi with Poland. Being a 20-year-old student at that time, he managed to correct the fundamental error of Graetz, a leading historian of the time, who claimed that Sigismund August acknowledged a number of commercial privileges for the Polish Jews by virtue of the services of Joseph Nasi to Polish diplomacy at the Ottoman court. On the basis of sources found by Schorr in the historical city archives of Lwów, Shorr, as a young student, came to the conclusion that Joseph Nasi was not guided by altruism in this situation; Nasi only wanted the privileges for himself to trade in Lwów, and according to his wishes he got them.
[] Doctoral dissertation
The doctoral dissertation of M. Schorr, entitled Organizacja ?ydów w Polsce (The Organisation of Jews in Poland), first appeared in Lwów's leading historical quarterly, Kwartalnik historyczny, in 1899, and was later translated into Russian in the Russian scientific monthly Voskhod. In 1903 Schorr was awarded the Wawelberg Prize (provided by the famous Polish-Russian banker and philanthropist) for his work ?ydzi w Przemy?lu do roku 1772 (Jews in Przemy?l until 1772) . It was republished in 1991 in Jerusalem with an introduction by Jakub Goldberg and an epilogue by his last surviving son, Joshua Otton Schorr. The former study, Organisation of Jews in Poland is a serious attempt to summarise the data about the kahal organisation of the central institutions of Jewish self-administration - the vaads and the brotherhoods of Jewish craftsmen. As for his dissertation and its subject, Schorr expressed the following opinion, writing to Ludwik Gumplowicz from Vienna in October, 1897:
... the organization of Jews in Poland is thus one of the most important and the most interesting parts of Jewish culture in Poland; I will only note the huge importance "the council of four lands" had directing the life of Polish Jews for 200 years. In general, my intention is to devote myself to the study of Jewish history in Poland. For the next task of mine I consider the publication of the most important archival documents concerning the Jews — the way Bershadsky began that already. During my search of the City Historical Archives in Lwów, I became convinced that there are real treasures for the history of Polish Jews. I am staying all the time in Vienna, except holidays. I still have 1½ years until finishing my theological studies. I doubt very much that I will be following the profession of a preacher [rabbi] in practice. I am more fond of scientific work. I repeat that your interest in my historical works is a good stimulus for me; that motivates me even more to my intended research ....
[] Monograph "Jews in Przemy?l"
Another work, the monograph about the Jews in Przemy?l, is precious not only for its concise examination of the history of this remarkable community but also for the numerous Polish, Latin and Hebrew documents from the 16-18th centuries concerning the history of Przemy?l Jewish community, which are added at the end of the book: nearly half of the work. Schorr starts his historical account from the early 15th century, when the first Jews began to appear sporadically in significant numbers in the major cities of Czerwona Rus' Red Ruthenia: Lwów, Halicz, Przemy?l and Sanok, with the first historical mention of Jews in Przemy?l from 1466, following with the reviews of the privileges of Sigismund II August (1548–1572), statute ad bonum ordinem of Stephan Batory (1576–1586) and other privileges, contracts, antisemitic assaults and internal Jewish organisation. The last chapter deals with the Jewish professional brotherhoods (Jewish artisan and tailor fraternities), their emergence, organisation and their role played. The author also notes Jewish religious societies, such as the Society of Psalms Readers (whose task was gathering in synagogue each day before sunrise to recite the psalms), or Chevrah Kadisha (Holy society) with the purpose of burying the dead, whose members were divided into "seniors" and "juniors" being obliged to perform certain functions and accompany every burial in ceremonial order. Schorr explores the pinkasim of the brotherhoods and having found the pinkas of the Przemy?l guild of Jewish artisans that existed there in the 17th and 18th centuries, he was the first to claim the existence of Jewish artisan brotherhoods in that period. The wide usage of pinkasim in this scholar's historical studies was innovational for that time.
Among the wide range of sources presented in the second part of the book we find the first fundamental privilege given by king Sigismund II August to the Jews of Przemy?l in 1559, allowing them to live in Przemy?l with the same rights and freedoms as other townsmen (no. 1); the Order of Sigismund August to Przemy?l mayor and counselors regarding the attack on the Jews in 1561 (no. 2); the contract of 1595 between the town hall and Jewish elders on the matter of Jewish participation in the fortification of the city (no. 20); the protest of town pharmacists against the Jewish elders for the production of medical items by the Jews in 1677 (no. 121); the order of the governor of Rus' lands Jab?onowski allowing a free election of rabbi after the ardent requests of "unfaithful" Jewish elders and the whole synagogue of Przemy?l (no. 130). Several Polish sources from 1759 published in this edition (nos. 143 – 144) deal with the charges in the supposed ritual Easter murder against the Jews of Stupnica, their tortures and refusal of the charges and the consequent execution of the accused. A similar Polish document (no. 76) is from the year 1646 and deals with the same ritual child murder charges against Przemy?l Jews Berko, Mendl, Jelenia, Ryfka, goldsmith Lewko, synagogue sexton Tobiasz, tanner Boruch, stall-keeper Izak, Jakòb ?elaznik, certain Stryjska with her sons and Jelonka who have been freed from the charges by the royal decree, while the accuser, certain Sienko got punished. Schorr preserves the archaic form of the old Polish language in the documents which gives a special taste of the those times to the documentary accounts.
[] Work on Jewish laws and privileges
Schorr published also The Cracow code of Jewish laws and privileges in Poland having written another article about its significance and contradictory questions regarding the main privileges.
Schorr is the author of a large article about the Hebrew language in the Encyklopedja Polska (Polish Encyclopedia, vol. III, 1915). One of his last works in the field of Jewish history in Poland, is Rechtsstellung und innere Verfassung der Juden in Polen (The legal situation and internal organisation of Jews in Poland), research published in German in Berlin and Vienna in 1917.
[edit] Schorr as Orientalist
The second major stream of Schorr's scientific activity concerns primarily Bible studies (in particular the researches of Biblical Law), Assyriology and the history of the Ancient Orient in general. Starting from 1904 onwards, all of Schorr's works are mainly focused on these subjects. Schorr's switch to Oriental studies was caused also by professional circumstances. Polish historian Krzysztof Pilarczyk notes that Schorr could not be assured of a professorship in the field of Jewish history in Poland. Because of that, after completing his historical-philosophical studies and the defence of his doctoral dissertation, "Organisation of Jews in Poland from the earliest times until 1772", and his years of work as a gymnasium teacher in Lwów, in 1902 Schorr became interested in the newly discovered Hammurabi Code and thus in the laws of Ancient Babylon and Assyria. Schorr's interest was rooted in his religious beliefs and came through his early fascination with the Bible, and Oriental and Egyptian mythology; as well as his gymnasium and university studies, when he thoroughly studied Hebrew, Assyrian and Babylonian languages.
The first works in this field of Oriental studies were published early as he began studying the Hammurabi Code. One of the first was a paper on the Tell-Amarna findings and excavations (1900), followed by the investigation of "Staro?ytno?ci biblijne w swietle archiwum egipskiego" (Biblical antiquities in the light of the Egyptian archive). This was published in the magazine Przewodnik naukowy i literacki in 1901 and separately as well. In 1903 Schorr commented extensively on a respected and famous book by his former German tutor Friedrich Delitsch, Babel und Bibel (Babylon and Bible). Schorr's commentary is named "Kultura Babilo?ska a starohebrajska" (Babylonian and Hebrew culture), which appeared first in Lwów's Kwartalnik historyczny, and later in a separate edition. Kwartalnik Historyczny was the major forum of Lwów historians at that time and Schorr was one of its regular contributors.
As noted earlier, some of Schorr's works were written and published in German, his second native language; German was then the official Habsburg language in Eastern Galicia along with Polish and Ukrainian. One such study is "Die Kohler-Peiserische Hammurabi Übersetzung" (The Peiser-Kohler translation of the Hammurabi Code), in which Schorr gives detailed analyses of the translation.
[] Research on Babylonian history
Schorr dedicated himself to the study of Babylonian history, as well. His main work on this subject is Pa?stwo i spo?ecze?stwo babilo??ke w kresie t.zw. dynastyi Hammurabiego (The Babylonian state and society at the time of the Hammurabi dynasty); this first appeared in a separate edition in 1906 in Lwów and afterwards was published also in Kwartalnik historyczny. Another highly respected work by Schorr is Eine Babylonische Seisachtie aus dem Anfang der Kassitenzeit, ende XVIII vorchristl. Jahrhunderts (The Babylonian Seisachtie of the times of the Kassites dynasty, the end of 18th century B.C.). In this research Schorr discusses and presents one of the newly discovered old Babylonian texts, which were published and investigated by Oxford Assyriologist Langdon.
He also conducted research on the history of the social and commercial life of the Ancient Orient, and particularly the trade movement in the ancient Babylon. The work's title is Ruch handlowy w Satoro?ytnej Babilonii (The trade movement in old Babylon). It was published in 1911 in a commemorative book while celebrating the 25th anniversary of the founding of Lviv University.
Schorr had also translated and systematised the old Babylonian legal documents, having written an extensive commentary. This work, entitled Altbabylonische Rechtsurkunden aus der Zeit der I -ste Babylonische Dynastie (Old Babylonian legal documents from the First Babylonian dynasty). The legal issues and the legal history of the laws were the main subjects of Schorr's research. That is not surprising, since the scholar was a rabbi himself. He did significant research in the comparative studies of the legal systems of Babylon and the surrounding cultures of that time, in particular the Hebrew legal system.
Among them: Kodeks Hammurabiego a ówczesna praktyka prawna (The Hammurabi Code and ancient oriental legal practices) which first appeared in Rozprawy (Studies) of the historical department of Cracow Academy of Sciences; in 1907 this was published separately.
Schorr's Urkunden des altbabylonische Zivil- und Prozessrechts (The documents of the Old Babylonian civil and criminal law) is considered to be his greatest scholarly achievement in the oriental field. This is an edition of sources with extensive comments by Schorr.
[] Publications in Zionist daily "Chwila"
For a long time Schorr actively cooperated with Lwów Zionist newspaper Chwila (the wave), published in Lwów in the inter-war period. In his numerous publications he popularised his old and initiated the new themes and ideas. Those articles in their larger part, were neither examined nor included in his bibliography. The set of newspapers for 1918-1939 had been reviewed, which is kept in the Scientific Library of Lwów University. The most important among them are: Palestyna a Babylon w ?wietle najnowszych wykopalisk (Palestine and Babylon in the light of recent archaeological excavations, 1923); Samuel Hirsch Margulies (1922), which is dedicated to the outstanding personality of Italian Jewry, a native of Galicia Samuel Hirsch Margulies (1858–1922), who became later the leader of Italian Jewry. This publication is in commemoration of the scholar due to his death in the same year. In his obituary, Schorr writes:
"Italian Jewry has undergone a great loss in the death of the Rabbi of Florence and rector of local rabbinical seminary Dr. Samuel Hirsch Margulies (died on March 12), who had been the Rabbi for more than three decades leaving a strong footprint on a life and culture of the Jews of whole Italy. Margulies was of Polish origin...In 1890 he was called for the position of the Rabbi of Florence, where he managed to became the leader of whole Italian Jewry. He became the spiritual leader in all the spheres of the civic life, on account of his deep Judaic knowledge, organisational abilities and personal favourite pursuits in the subjects of spirit and heart. Thanks to him the indifferent religious life of Italian Jews started to be a live artery filled with strong native Jewish traditions and culture. He also initiated the centralized unification of all Jewish communities which created a new Collegio rabbinico italiano...in Florence...This seminary produced an array of young Rabbis, who started the spiritual renaissance of Italian Jewry."
Schorr's interest in spiritual subjects and religious life was his distinct trait and attribute, for he himself was the main Rabbi of Warsaw and the first rector of the Institute of Jewish Sciences (Rabbinical seminary), deeply sympathising the personality of his friend S. Hirsch Margulies, so alike to his own.
Schorr's broadest article in Chwila is extensive "Prawo Moj?esza na tle poròwnawczem prawodawst Staro?ytnego Wschodu" (The Moses' law in the comparative perspective with the laws of the Ancient Orient). This is the large series of articles in several newspaper issues, where Schorr continues and develops his previous studies drawing comparisons between the Biblical and Babylonian laws in the first part of the publication, following with the comparison with the Assyrian and Hettite legislatures in the second and third sections. Here Schorr is also referring to his previous work about the Hettites Problem Chettòw (The Hettites' problem), published seven years before in Kwartalnik historyczny.
Furthermore, a few others newly discovered publications of Schorr should be mentioned. Some of them deal with the history of the Polish Jewry as: "Kwestya ?ydowska w dobie Sejmu Wiekiego" (The Jewish question at the time of the Great Sejm).
Some are of the reliogious and teaching content like "Radosna Chwila" (The joyful moment) and Pesach Micarim - Pesach le Atid on the occasion of the Easter celebration. The latter one is the series of articles of the religious – historical character, where the author talks about the Haggadah and the Exodus of Jews from Egypt, through the prism of this legendary collection of the legends and tales of the Jewish people. He starts it with the words from Mishna (Pesach X.5) : In every generation and age a man must be considered as a member of the Exodus from Egypt... - the sublime flash in the mind of deep historiosopher, who as intuitively grasped the greatness of this episode on the eve of Israel's history...continues Schorr. Summarising the biography and the scientific legacy of Schorr, we may surely talk about him as the outstanding personality and famous historian, the person of wide outlook and versatile interests, whose scientific heritage is deserving the most serious attention and study.
[] Bibliography
The Wikipedia article on Moses Schorr had been entirely and interest free contributed by the editor and author Roman Zacharij and is based on editor's paper: "Moses Schorr: Galician Jewish historian, orientalist, politician and rabbi in the vanguard of Poland's Jewry"(written in 2004 at S. Dubnow Institute, Leipzig)
[] Publications by M. Schorr
Prof Dr. M. Schorr na nowej placówce pracy (Prof. Dr. M. Schorr at the new place of work). Chwila, 18 November 1923.
Schorr, M. Kwestya ?ydowska w dobie Sejmu Wielkiego, (Jewish question at the time of the Great Seim). Chwila, 13–24 July 1920.
Schorr, M. Palestyna a Babylon w ?wietlie najnowszych wykopalisk, (Palestine and Babylon in the light of new archeological excavations,) Chwila, 27, 28, 30 January1922; 1–6 February 1922.
Schorr, M. Prawo Moj?esza na tle porównawczem prawodawstw Staro?ytnego Wschodu (Moses' Law in comparative perspective with the legislatures of the Ancient Middle East: Assyrian, Babylonian and Hittite) Chwila, 3-7, 13, 17, 19-22, 24–29 November 1923.
Schorr, M. Radosna Chwila (Joyful moment,) Chwila, 9 December 1923;
Schorr, M. Pesach Micraim - Pesach le-atid. Haggadah do u?ytku Chwili (Haggadah for the use of Chwila) Chwila, 14, 15, 17 April 1922;
Schorr, M. Samuel Hirsch Margulies, 1858–1922, (Samuel Hirsch Margulies, 1858–1922). Chwila, 13 May 1922.
Schorr, M. Archiwum ?ydowskiej kolonii wojskowej w Egipcie z V w. (Archive of Jewish military colony in Egypt of 5 th century). Lwów, 1912.
Schorr, M. Aus der Geschichte der Juden in Przemy?l (History of Jews in Przemy?l). Vienna: Verlag von R. Lövit, 1915, 28 p.
Schorr, M. ?ydzi w Przemy?lu do ko?ca XVIII wieku (Jews in Przemy?l until the end of the 18th century). Lwów, 1903. VIII + 294 pp.
Schorr, M. ?ydzi w Przemy?lu do ko?ca XVIII wieku. Jerusalem: Israeli Academy of Sciences – Art-Plus, 1991.
Schorr, M. Pomnik prawa staroassyryjskiego z XII w. przed Chr. (Monument of Old Assyrian Law of 12 th century B.C.). Lwów: Archiwum Towarzystwa Naukowego we Lwowie, 1922.
Schorr, M. Problem Chettytów z powodu najnowszego odkrycia lingwistyczno-historycznego (Problem of the Hittites due to the newest linguistic-historical discovery) in Kwartalnik Historyczny, Lwów, 1916.
Schorr, M. Przyczynki do frazeologii psalmów biblijnych a babilo?skich (Articles concerning the phraseology of Biblical and Psalms), in Rocznik Orientalistyczny, Cracow, 1914 -1915.
Schorr, M. J?zyk hebrajski w Polsce (Hebrew language in Poland), Encycopedya Polska (Polish encyclopaedia), Vol. 3 (1915).
Schorr, M. Kultura babilo?ska a starohebrajska (Babylonian and Hebrew culture). Lwów, 1903, 28 pp.
Schorr, M. Pa?stwo i spolecze?stwo babilo?ske w okresie t. zw. dynastyi Hamurabiego oko?o 2500 - 2000 pr. Chr. (Babylonian state and society in times of Hammurabi dynasty of 2500 - 2000 B.C.). Lwów: Drukarnia Ludowa, 1906.
Schorr, M. Organizacja ?ydów w Polsce od najdawniejszych czasów do r. 1772 (Organisation of Jews in Poland since the earliest times till 1772). Kwartalnik Historyczny (1899).
Schorr M. Kazanie inagauracyjne wyg?oszone w Wielkiej Synagodze na T?omackiem dn. 7. 12. 1923. (Inaugurative speech presented at the Great Tlomacka Synagogue on 2.12.1923). Warsaw: Druk. Kupenztocha i Kramaria, 1923, 28 p.
Schorr M. Kodeks Hamurabiego a ówczesna praktyka prawna (Hammurabi Code and the Ancient Middle Eastern legal practice). Cracow, 1907;
Schorr, M. Die Kohler-Peisersche Hammurabi Übersetzung (Kohler-Peiser's translation of the Hammurabi Code) Vienna, 1907;
Schorr, M. Wa?niejsze kwestyi z historyi semickiego Wschodu (The Important Issues on the History of the Semitic Orient) Lwów: Druk. Zwi?zkowa, 1907, 60 p.
Schorr, M. Staro?ytnosci biblijne w ?wietlie archiwum egipskiego z XIV w. przed Chrystusem (Biblical Antiquities in the Light of Egyptian Archive of 17th cen. B.C.) Lwów: Druk. Zwi?zkowa, 1901, 34 pp.
Schorr, M. Tell-Amarna. in Welt, October,1900.
Schorr, M. Ruch handlowy w Staro?ytnej Babilonii (The trade movement in the Ancient Babylon) in "Ksi?ga pami?tkowa ku uczczeniu za?o?enia Uniw. Lwowskiego", Lwów, 1911;
Schorr, M. Urkunden des albabylonischen Zivil- und Prozessrechts (Documents of Old Babylonian civil and criminal law) Leipzig: Vor der Asiatischen Bibliothek, 1913;
Schorr, M. Zur Geschichte des Don Josef Nasi in Monatschrift für Geschichte und Wissenschaft des Judenthums, 1897, p. 169 – 237.
Schorr, M. Krakovskiy Svod evreyskikh statutov i privilegiy (Cracow Collection of Jewish statutes and privileges) in Evreyskaya Starina, 1909, vol. III, No. 1. pp 247 – 264 and No. 2, pp. 76 – 94, 223 – 245.
Schorr, M. Hauptprivilegien der polnischen Judenschaft in "Festschrift Adolf Schwartz zu siebzigsten Geburtstage 15. Juli 1916", Berlin – Vienna, 1917pp. 519 – 538.
Schorr, M. Rechtsstellung und innere Verfassung der Juden in Polen – Ein geschichtlicher Rundblick in "Der Jude", 1917, No. II (Reprint), pp. 1 – 36.
Schorr, M. "Staatsseher und Statslehrer – Ein Beitrag zu Biographie Theodor Herzls" in Festschrift zu Simon Dubnows siebzigsten Geburtstag, Berlin, 1930, pp. 262 – 265.
Schorr, M. Prof. Dr. Majer Balaban – Z powodu 60-lecia Jego urodzin, 20 lutego 1877 r. (Prof Dr Majer Balaban – on the occasion of the 60th anniversary of his birth) in Nasz Przegl?d 21.2.1937.
Schorr, M. Ideally Zakonu B'nei B'rith, a dostosowanie ich do realnych warunków ?ycia (Ideals of the Order B'nai Brith and their application in real life conditions). Typescript. Archiwum Pa?stwowy w Krakowie / Polish State Archives in Cracow, B'nai Brith 351.
[edit] Bibliography on M. Schorr
Goldberg, Jacob. Moses Schorr – Pionier Bada? Dziejów ?ydów Polskich in re-edition of Schorr's ?ydzi w Przemy?lu do ko?ca XVIII wieku (Jews in Przemy?l until the end of the 18th century). Jerusalem: Israeli Academy of Sciences – Art-Plus, 1991.
Czajecka, Boguslawa. Moj?esz Schorr jako dzia?acz spo?eczny w ?wietle akt B'nei B'rith (1922–1938). (Moses Schorr as social activist in the light of B'nai B'rith documents in 1922 - 1938) Scientific Session dedicated to Prof Dr Moses Schorr. Cracow: Polish Academy of Arts. 16.11.1993.
Balaban, M. Wa?niejsze prace naukowe prof. Mojzesza Schorra (Major scientific works of Prof. M. Schorr) in M. Schorr: Kazanie inauguracyjne w Wielkiej Synagodze na T?omackiem...dn. 7 grudnia 1923 (M.Schorr: Inaugurative speech at the Great Tlomacka Synagogue on Dec. 7th, 1923). Warsaw, 1924.
Balaban, M. Prace naukowe Prof. Moj?esza Schorra (Scientific Works of Prof. M. Schorr) in Ksi?ga Jubileuszowa ku czci prof. Moj?esza Schorra (Anniversary book in memory of Prof. M. Schorr). Warsaw, 1935.
Almanach szkolnictwa ?ydowskiego w Polsce (Almanac of Jewish scholarship in Poland), Warsaw: Wyd. Renesans, 1938.
Ostersetzer, Israel. Prof. Moj?esz Schorr: W 60-lecie urodzin (Prof. M. Schorr: on the occasion of the 60th jubilee of his birthday) in Miesi?cznik ?ydowski, 1934.
Pilarczyk, Krzysztof. Szkic bio-bibliograficzny of prof. Dr. Mojzeszu Schorrze. Paper delivered at the Scientific Session dedicated to Moses Schorr. Cracow: Polish Academy of Arts. 16.11.1993
Beizer, Michael. Case of Rabbi, Scholar and Public Figure Moses Schorr", Vestnik evreiskogo universiteta, (in print), Co-author – Israel Bartal, [A newly published document with an introduction] (in Russian, in print)
Bartal, Israel; Beizer, Michael. Case of Rabbi, Scholar and Public Figure Moses Schorr. Conference on Jewish Studies, Kyiv, September, 2003.
Weiss, Abraham. "Moses Schorr" in Studies in Memory of Moses Schorr (in Hebrew). Edited by Louis Ginzburg and Abraham Weiss. New York: The Professor Schorr Memorial Committee / Shulsinger Bros. Linotyping and Publishing Co., 1944. pp. IX – XIII.
?ebrowski, Rafa?. Moj?esz Schorr i jego listy do Ludwika Gumplowicza (Moses Schorr and his letters to Ludwik Gumplowicz). Warsaw: Jewish Historical Institute, 1994.
?ebrowski, Rafa?. Moj?esz Schorr – w 60 rocznice ?mierci (Moses Schorr - on the occasion of the 60 year of death) in S?owo ?ydowskie, IX. 2002. Warsaw, 2002.
Daniel Louis Schorr (born August 31, 1916) is an American journalist who has covered the world for more than 60 years. He is now a Senior News Analyst for National Public Radio (NPR). Schorr has won three Emmy Awards for his television journalism.
Daniel Louis Schorr (born August 31, 1916) is an American journalist who has covered the world for more than 60 years. He is now a Senior News Analyst for National Public Radio (NPR). Schorr has won three Emmy Awards for his television journalism.
Schorr was born in the Bronx, New York City, the son of Russian Jewish immigrants Tillie Godiner and Gedaliah Tchornemoretz.[1] He began his journalism career at the age of twelve, when he came upon a woman who had jumped or fallen from the roof of his apartment building. After calling the police, he phoned the Bronx Home News and was paid $5 for his information.[2]
He attended DeWitt Clinton High School in the West Bronx, where he worked on the Clinton News, the school paper. He graduated from City College of New York in 1939 while working for the Jewish Daily Bulletin. During World War II, Schorr served in Army Intelligence at Fort Polk, Louisiana, and at Fort Sam Houston, Texas.
In January 1967, he married Lisbeth Bamberger, a graduate of the University of California, Berkeley
Following several years as a stringer, in 1953 he joined CBS News as one of the recruits of Edward R. Murrow (becoming part of the later generation of Murrow's Boys). In 1955, with the post-Stalin thaw in the Soviet Union, he received accreditation to open a CBS bureau in Moscow. In June 1957, he obtained an exclusive interview with Nikita Khrushchev, the Soviet Communist party chief. It aired on CBS's Face the Nation, Schorr's first television interview. Schorr left the Soviet Union later that year, because of Soviet censorship laws. When he applied for a new visa, it was denied by the Soviets.[2]
In January 1962, he aired the first examination of everyday life under communism in East Germany, The Land Beyond the Wall: Three Weeks in a German City, which The New York Times called a "journalistic coup". After agreeing not to foster "propaganda" for the United States, Schorr was granted the rights to conduct the interviews in the city of Rostock. By airing everyday life, Schorr painted a picture of the necessity for a Communist state to seal itself off from the West in order to survive.
CBS executives were not amused when Schorr reported—incorrectly—that Barry Goldwater was said to "travel to Germany to join-up with the right-wing there," and visit "Hitler's one-time stomping ground" in Berchtesgaden, immediately after he became the Republican nominee for president[citation needed]. For obvious reasons, this did not fare well with Goldwater, who demanded an apology for the "CBS conspiracy" against his campaign for president.[2]
Schorr took a close journalistic interest in the career of Vice President of the United States Hubert Humphrey.
Schorr attracted the anger of the Nixon White House. In 1971, after a dispute with White House aides, Schorr's friends, neighbors, and co-workers were questioned by the FBI about his habits. They were told that Schorr was under consideration for a high-level position in the environmental area. Schorr knew nothing about it. Later, during the Watergate hearings, it was revealed that Nixon aides had drawn up what became known as Nixon's Enemies List, and Daniel Schorr was on that list. Famously, Schorr read the list aloud on live TV, surprised to be reading his own name in that context.[3] Schorr won Emmys for news reporting in 1972, 1973, and 1974.
Schorr provoked intense controversy in 1976 when he received and made public the contents of the secret Pike Committee report on illegal CIA and FBI activities. Called to testify before Congress, he refused to identify his source on First Amendment grounds, risking imprisonment. This did not mollify CBS executives, and Schorr ultimately resigned from his position at CBS in September 1976.
On May 14, 2006, on NPR's Weekend Edition, Schorr mentioned a meeting at the White House that took place with colleague A. M. Rosenthal and president Gerald Ford. Ford mentioned that the Rockefeller Commission had access to various CIA documents, including those referring to political assassinations.[4] Although scolded at first for his television report by former CIA director Richard Helms,[5] Schorr was vindicated by the text of the Pike Committee, which he obtained from an undisclosed source and leaked to The Village Voice.[2]
[edit] Career as an elder statesman of journalism
In 1979, Schorr was among the first hired by Ted Turner and Reese Schoenfeld to deliver commentary and news analysis on the fledgling Cable News Network (CNN). His contract was not renewed in 1985, one of the two times he stated he was "fired".[6] He then took the position that he currently holds, as Senior News Analyst at NPR. In that position, he regularly comments on current events for programs including All Things Considered and Weekend Edition. He also wrote a column for the Christian Science Monitor for several decades.
In 1994, Schorr narrated the TV miniseries, Watergate. In the late 1990s, he appeared briefly as a newscaster in three Hollywood movies; The Game, The Net, and The Siege. In the 1997 film The Game starring Michael Douglas, Schorr spoke to the main character through his television. On NPR when asked if the media were biased to liberals and to Democrats, he said,"We only give the public what they want to hear!"
Though by no means a fan of rock music, Schorr became friends with composer Frank Zappa after the latter contacted him, asking for help with a voter-registration drive. Schorr made an appearance with Zappa on February 10, 1988, where he sang "It Ain't Necessarily So" and "Summertime". Schorr delivered the eulogy on NPR after Zappa's death on December 4, 1993; he professed not to understand Zappa's lengthy discourses on music theory, but he found a kindred spirit—a serious man with a commitment to free speech.
When Schorr met Richard Nixon several years after his illegal investigation, Nixon responded to Schorr's introduction by saying, "Dan Schorr, damn near hired you once!"
Schorr was elected to the American Academy of Arts and Sciences in 2002.
Awards
Emmy Award for "for outstanding achievement within a regularly scheduled news program," 1972, 1973, and 1974.
George Polk Award for Radio Commentary, for his work on NPR, 1993.
Alfred I. duPont-Columbia University "Golden Baton" for "Exceptional Contributions to Radio and Television Reporting and Commentary", 1996.
Edward R. Murrow Award for Lifetime Achievement in Broadcasting, 2002.[7]
[] Books by Daniel Schorr
[] References
[] Multimedia
Sarah Shor, a painter, graphic artist and theater designer, was born on March 30, 1897 in Dubno (Ukraine), the daughter of Marc Shor, a merchant of modest means. While studying at the Dubno gymnasium, she took her first professional lessons in painting and drawing with Afanasiy Rudchenko, a student at the St. Petersburg Academy of Fine Arts, who lived in exile in Dubno and taught in the gymnasium. In 1911 she joined the painting class of the Kiev School of Fine Arts where she became friendly with a group of young Jewish artists (Isaac Rabinovich [1894–1961], Issachar Ber Rybak [1897–1935], Alexander Tyshler [1898–1980] and others), who were enthusiastic about modern art trends and kept in touch with a group of modernist Yiddish writers in Kiev. In the winter of 1914 Sarah Shor participated in an exhibition called "The Ring," which was organized in Kiev by prominent Russian avant-garde painters Alexandra Exter (1882–1949) and Alexander Bogomazov (1880–1930).
After graduating from the School of Fine Arts in 1915, Sarah Shor was admitted into the St. Petersburg Academy of Fine Arts where her teachers were the renowned painters Hugo Zaleman (1859–1919) and Vladimir Makovsky (1846–1920).
In the summer of 1917, Sarah Shor spent a vacation in Alexandropol, a Russian town in Transcaucasia, where she was forced to live for an entire year because the transport system collapsed following the revolutionary chaos. Only in the spring of 1918 was she finally able to reach Khodorkov (Ukraine), where her parents were then living. At the beginning of 1919, her family miraculously escaped a bloody anti-Jewish pogrom; in the summer of the same year, Sarah Shor arrived in Kiev, which was one of the most important centers of Ukrainian-Russian and Jewish culture and art. Here an eminent role was played by the Kultur-Lige, a powerful Yiddish-speaking organization that aspired to the creation of a modern national culture in Yiddish. From her very first days in Kiev, Sarah Shor took part in the activities of the "Art Section" of the Kultur-Lige, which at the time brought together the most outstanding and active Jewish artists, including her schoolfellows from the Kiev School of Fine Arts.
The notion of the creating of "modern Jewish art" and the spirit of experimental innovation which infused the "Art Section" had a radical influence on Sarah Shor's artistic evolution. Whereas her early works (1912–1919) combine the influence of art nouveau and classical European art, the works of the Kiev period reveal her decisive adoption of Cubist-Futurist and Expressionist methods. Sarah Shor painted a number of works in this style, in which the optimistic ambiance of the "new world" being born co-existed with the tragedy and horror of the pogrom experience she herself had undergone.
From 1919 to 1923, Sarah Shor created designs for a number of plays in Ukrainian and Russian avant-garde theaters and also made scenery sketches for a play at the Theater Studio in Kultur-Lige (Bar-Kokhba by Abraham Goldfaden; producer Efraim Loiter; 1923–1924; not staged). She also collaborated actively with Kiev publishing houses, most of them Jewish, and illustrated several books in Yiddish.
In November 1923 Sarah Shor moved to Moscow and entered the graphics studio of Alexey Kravchenko (1889–1940), to study etching technique. In 1925 she joined "The 4 Arts" society and participated in almost all its exhibitions. By the end of the 1920s, the artistic language of Sarah Shor's works had become more moderate and she adopted a free, impressionist painting style. During the 1930s, she worked in almost all fields of artistic production: as a painter, a stage designer in the Moscow theaters and a manufacturing designer (sketches for textile and embroidery). Yet she finally focused on illustration. Books with her illustrations, published by the leading publishing houses in Moscow and Leningrad, won numerous awards both in the USSR and at international book exhibitions. In 1932, Sarah Shor became a permanent contributor to the Academia publishing house (at the time one of the best in polygraphic and aesthetic design), for which she designed a number of books. Combining a wide variety of book page design methods and techniques, Sarah Shor succeeded in avoiding literal depiction and instead created a convincing visual interpretation of a text.
Sarah Shor's only solo exhibition was organized in Moscow in June 1945. During the years of the ideological persecution of the Jewish Anti-Fascist Committee and the "fight against the Cosmopolites" campaign (1948–1951), Sarah Shor was exposed to administrative repressions and compelled to earn a living by making visual aids for schools. Though she was never again able to participate fully in artistic life, she continued to work in her home studio, producing a series of self-portraits, landscapes and still-life etchings. A significant place in her oeuvre is occupied by works on "Jewish motifs" which she addressed, in one form or another, until her last days. Sarah Shor was married three times but for the last thirty years of her life, she was alone.
Sarah Shor died in Moscow on October 10, 1981.
http://genforum.genealogy.com/shore/