September 27, 2004
I called artist Alexander Bogen/ Katzenbogen in Israel and told him about my translation of his chapter "The Onset of the Partisan Units in the Forest of Naroch"
From With Proud Bearing, 1939-1945: Chapters in the History of Jewish Fighting in the Naroch Forests
Edited by Moshe Kalcheim
Alexander asked me to include some text and pictures from the book "Revolt"
Revolt
Author Bogen, Alexander
Edition
Publication Name Beit Lohamei Haghetaot
Year 1989
Language English Hebrew
Description
4`, unnumbered pages, hardcover, dust jacket, ill., in good++ condition
Price $115.00
Cat. Number Kg 25 42 From the Internet;
"---In addition to all his other obligations and tasks at the time, Alexander Bogen, a fighter and partisan commander, did not forget that he was an artist, and documented and drew his partisan comrades.
During World War II, Bogen was the commander of a partisan brigade in the Naroch forest in Belorus and infiltrated into the Vilna ghetto at the most difficult period, when many of the public activists were in despair over the certain destruction
In the framework of the F.PO. (United Partisan Organization),
he organized groups of Jewish youth and led them to the forest, and the Nekama (Vengeance) partisan brigade, which afterwards became famous for its fighting.
The artist was born in Vilna (Vilnius) in 1916, to the Katzenbogen family, who were doctors, and he was the grandson of Rabbi Tuvia of Wolkowisk. While still a youth, Bogen studies painting and sculpture at the faculty of Art in the University of Vilna, and when the war was over he returned to his studies there. In 1947 he completed his studies magna cum laude, was appointed a professor in the advanced school of Art in Lodz, and became famous in Poland as an artist and sculpture, set designer and book illustrator. In 1951 he immigrated to Israelâ€■"---Dr. Pnina Rosenberg, Curator
From the catalogue, the Ghetto Fighters' House, 2001)
In the Ghetto Fighters' House Museum art collection, there are many works by the artist Alexander Bogen, which were produced during World War II and immediately thereafter (1943-1949).
This exhibition focuses on Alexander Bogen's work in Israel, which, fifty years after the events, is ichonographically connected to the work done during the Holocaust period.
Bogen's drawings, especially those that survived from the fighting of the partisans in the forests, are a first-hand testimony. He creates a gallery of characters, of types, of situations, of a people fighting for its life, which constitute the basis of the myth of the revolt and the renascence.
The exhibition presents drawings for poems by two Yiddish poets, Gebirtig and Sutzkever. Bogen's drawings that accompany the poems of Gebirtig have been published before (1997), but the drawings for Sutzkever's poems were done just now, or, more accurately, have been collected and linked to the poems for this exhibition. The two groups of poems are representative of Bogen's works, some of which were done in the past five years, but in terms of theme, the drawings are connected with the period of the Holocaust and the Revolt, and thus constitute a kind of closing of a circle in his oeuvre. The exhibition thus presents the more graphic aspect of Bogen's art - works that accompany literary texts in Yiddish, poems and prose - which constitutes one of the two main axes in his oeuvre.
Â
 Curator of the exhibition: Sorin Heller

Alexander Bogen
Attack by Partisan Cavalry
no date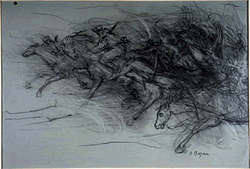 choose  © Beit Lohamei Haghetaot
Pencil on grey paper, 46.7 x 66.7 cmSigned, lower right: A Bogen© Beit Lohamei Haghetaot, Museum Number 741.
Donated by the artist
Portrait of Sidiakin, a Partisan Commander
Narocz Forest 10 February 1944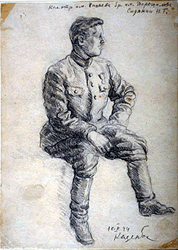 Pencil on paper, 28.2 x 20.2 cm
Inscribed (in Russian), upper right: Commisar of the Tsiapaiev unit of the Varoshilov brigade, N.T. Sidiakin. Signed and dated, lower right: Kazenbogen, 10.II.44
© Beit Lohamei Haghetaot, Museum Number 838.
Donated by the artistAlexander Bogen (1916-Â )
Group of Partisans in the Forest
Narocz Forests 1943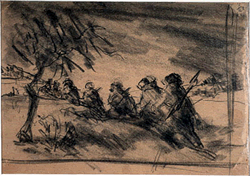 choose  © Beit Lohamei Haghetaot
Charcoal on paper, 18 x 25 cmSigned (in Cyrillic letters) and dated, on reverse, lower right: A. Bogen, 43, Narocz© Beit Lohamei Haghetaot, Museum Number 599.
Donated by the artist
Alexander Bogen (1916-Â )
Partisan Eating
Lithuania 1943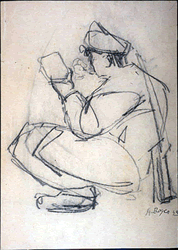 choose  © Beit Lohamei Haghetaot
Charcoal on paper, 48 x 34.5Signed and dated, lower right: A. Bogen, 43© Beit Lohamei Haghetaot, Museum Number 881.
Donated by the artist
Portrait of Vice Commander Osenyenko Wearing Russian Fur Hat and a Medal
Lithuania 3 January 1944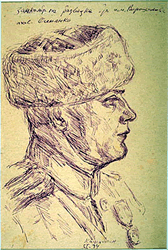 choose  © Beit Lohamei Haghetaot
Purple ink on paper, 24.6 x 16.8 cmInscribed (in Russian), upper part: Vice Commander of the patrol unit, of the Varoschilov brigade, Osenyenko. Signed (in Cyrillic letters) and dated, lower center: Kazenbogen, 3.I.44© Beit Lohamei Haghetaot, Museum Number 1437.
Donated by the artist
Alexander Bogen (1916-Â )
Two Partisans
Narocz Forests 1943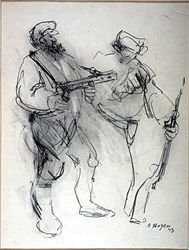 choose  © Beit Lohamei Haghetaot
Pencil on paper, 65 x 50 cmSigned and dated, lower right: A. Bogen, 43© Beit Lohamei Haghetaot, Museum Number 746.
Donated by the artist Youth
Vilna 1943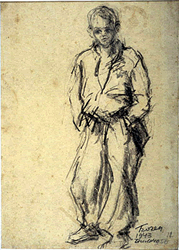 choose  © Beit Lohamei Haghetaot
Charcoal on paper, 27 x 20 cmSigned (in Cyrillic letters) and dated, lower right: Bogen, 1943, Vilnius© Beit Lohamei Haghetaot, Museum Number 594.
Donated by the artist
Bogen donated some of his works from the war period to the art collection of Beit Lohamei Haghetaot (the Ghetto Fighters' House Museum). He has spoken about the nature of his war works and the reasons he produced them:We saw forsaken children. We saw people being taken for slaughter. I could not let my pencil fall. An artist doomed to death recording and so preserving those doomed to death. Was this a purely aesthetic purpose? Was I at ease with my conscience when I took a bereft mother, a forsaken little girl or a dying old man as my models? As a partisan I recorded in telegram style, so to say, while on my way to some action, leaning over my rifle or standing tensely in ambush. I sketched the forest, my brothers-in-arms, the battle itself. There was no table. There were no paints. There was no paper. I found packing paper. I burnt dry branches and prepared charcoal for my sketches.A partisan newspaper was published by the Brigade. I made woodcuts with my pen-knife and prepared them for the mobile press. Wherever I found myself I collected scraps of paper and went on sketching.I asked myself why I was drawing, when I was fighting day and night. This is something similar to biological continuity. Every man, every people, is interested to continue his people, his family, to bring his creative children for the future - to leave this one thing. Another motivation was to bring information to the so-named free world about the actions, the cruel, cruel actions of the Germans - some documentation. To tell about this to a world that was uninformed - To be creative in the situation of the Holocaust, this is also a protest. Each man when he is standing face to face with cruel danger, with death, reacts in his way. The artist reacts with his means. This is his protest! This is my means! He reacts in an artistic way. This is his weapon. He must leave his mark as a mensch on mankind. This, it shows that the Germans could not break his spirit.[1]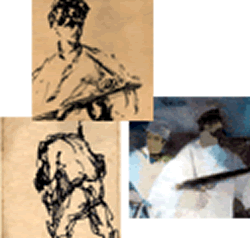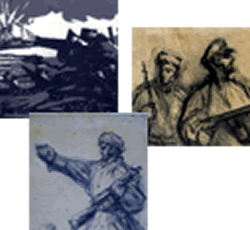 The Pen and the Sword:
Jewish Artist and Partisan, Alexander Bogen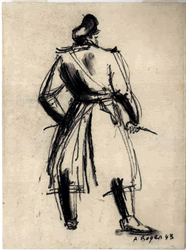 The "Ubermenschâ€? in the pose typical of the "Master Raceâ€?Oil crayon on paperGift of the artist,1943 Â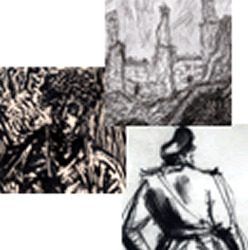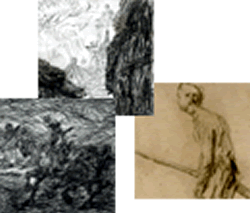 The first major look at the complex subject of Jewish efforts to fight back against the Nazis and their collaborators in Eastern Europe. Told by partisans themselves, without a narrator, and filmed in Lithuania, Poland and Israel, the film uses black and white imagery of the partisan forest hideouts, rare archival footage, historical photographs and original artwork by partisan fighter Alexander Bogen to document this little known history. Surviving partisans tell of the circumstances that enabled them to make a decision that not every Jew could - the decision to fight back.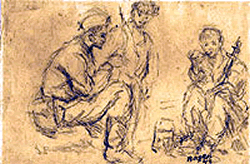 Alexander Bogen (b. 1916), A Fighters' Meal, 1943, pencil on paper
The Pen and the SwordÂ
Jewish Artist and Partisan, Alexander Bogenby Shachar Leven After infiltrating the Vilna ghetto on a precarious rescue mission only days before its final liquidation, Alexander Bogen—Jewish artist and partisan—was plagued by a reverberating question: "What motivates someone at the precipice of death to engage in artistic creation?â€?An artist and a native of Vilna, Bogen neither forsook his artistry nor ceased sketching the people, places, and events he encountered following the Nazi occupation of Lithuania. However, it was only after infiltrating the ghetto in September 1943 that he began considering the wartime function of innovation: to transform pen into sword, transcend the finite parameters of time and space, and retain a spark of humanity in the face of despair. These artistic objectives crystallized in his mind through encounters with ghetto residents, former friends, and colleagues: the fellow-artist who stood by his easel—half-naked and starving—yet oblivious to his condition having captured the elusive smile of his model on canvas; the all-around genius who wandered the streets past curfew heedless of his personal fate having solved an elaborate mathematics equation; the young orphan abandoned on a street corner who Bogen—an armed partisan—could not save, so sketched "out of helplessness, passivity, and the inability to offer up salvation.â€?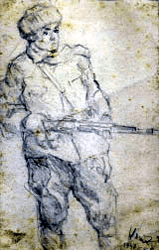 Alexander Bogen (b.1916), A Jewish Partisan in the Voroshilov Brigade, 1943, Pencil on paper. Donated by the artist
Aside from reinforcing his personal devotion to art, Bogen's mission in the ghetto helped facilitate the successful rescue of members of the United Partisan Organization (FPÖ)—a Jewish underground movement active in the ghetto. After breaching the ghetto walls armed with a pistol and two hand grenades, Bogen—along with two fellow partisans—reached FPÖ head, Abba Kovner's headquarters. Bogen presented him with a letter from Fyodor Markov, commander of the partisan division in Belarussia's Narocz Forest."From the beginning, Kovner's intention had been to launch a full-scale armed revolt in the ghetto to sanctify God's name and foster pride in the Jews even in their moment of defeat,â€? recalls Bogen. "It was a noble conception, but not practical in my opinion. We couldn't fight the Nazis in the narrow alleyways of the ghetto with our few, primitive weapons. We would have zero chance.â€?With the end in sight, Kovner did not abandon his plans for revolt, however acceded to the partisans' request to smuggle ghetto residents (including members of the FPÖ) to the forests.One hundred and fifty Jewish underground members were assembled and divided into five units which Bogen helped train: "I distributed primitive weapons and copies of my map of the forest. I taught them how to prepare for and fight the enemy, find food, read a compass, where to hide, and where and when to walk—all the tactical information one needs to become a partisan,â€? says Bogen. He assumed command of one the units, which included his wife, Rachel, and his mother-in-law. In the late night hours he helped secure the groups' escape from the ghetto; a few days later, all five units arrived safely in the forests where they joined the non-Jewish partisan ranks.With Markov's permission, Bogen retained command of his 30-person unit, which became the only all-Jewish partisan brigade—Nekama (Vengeance). The unit achieved many successes and was responsible for missions such as: mining railroad tracks and derailing trains, sabotaging German weapons banks and food rations that were being sent to the front, and disseminating information about the mass extermination and active resistance in the nearby ghettos, villages, and towns.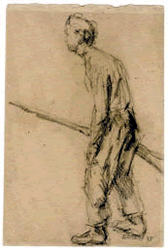 Alexander Bogen (b.1916), A Partisan on Alert, 1943, charcoal on paper
Partisan life was stark and grueling. Aside from risky reconnaissance missions and clashes with the enemy, fighters suffered from exposure to the elements, insufficient food, and illness. For Jewish partisans the conditions were even more dire: They had to face the residual "tragedy, mental torment, longing, and worry about the fate of loved ones left behind in the ghetto,â€? notes Bogen, as well as antisemitic treatment from non-Jewish partisans. "Jewish partisans—especially those who served in mixed units with Russians, Letts, and Belarussians—always had to prove they were willing to volunteer first for missions and risk the most,â€? says Bogen. "They were often sent poorly armed on "hopeless' operations that had little chance of success.â€?Even the Nekama Unit became problematic to the Soviet partisan leadership due to its all-Jewish character, despite its many achievements. The unit was disbanded after several months and Bogen (after a few other appointments in mixed units) was commissioned, alongside another partisan, to document partisan activities.Bogen captured his brothers-in-arms through the medium of art, sketching scenes of partisan battle, rest, ambush, dress, and diversion on random scraps of paper using charcoal made from burnt branches. "I would try to record the typical situations that we would encounter—a unit returning from its operationâ€■ its members sitting around a bonfire, playing cards, drinking Vodka, recounting the tales of what befell themâ€■â€? says Bogen. "In battle, at partisan headquartersâ€■ I would pull out my paper and sketch these things as they were happening, as a reaction to the events taking place.â€?"Ultimately, when I asked myself why I was drawing, when I was fighting day and nightâ€■ [I realized that it was] something similar to biological continuity. Every man, every people wishes to leave this one thingâ€■ To be creative during the Holocaust was also a protest. Each man when standing face to face with cruel danger, with death, reacts in his own way. The artist reacts in an artistic way. This is his weaponâ€■This is what shows that the Germans could not break his spirit.â€? Alexander Bogen has recently donated 37 of his works created during his days as a partisan to Yad Vashem's Art Museum. Several of these pieces will be exhibited in Yad Vashem's new Holocaust History Museum in the section dedicated to Jewish fighting. Related Links:Online Exhibition: The Pen and the SwordCopyright ©2004 Yad Vashem The Holocaust Martyrs' and Heroes' Remembrance Authority