Wrong Doing: Bank Mizrahi - Tefahot
https://www.mizrahi-tefahot.co.il/

Attorney Noa Medan http://benmaor.com/?page_id=9

Attorney Hagai Medan http://www.hbb.co.il/lawyers/15

Judge Vered Shavit Finkelstein http://elyon1.court.gov.il/heb/cv/fe_html_out/judges/k_hayim/77287046.htm

Judge Yaakov Shaked http://elyon1.court.gov.il/heb/cv/fe_html_out/judges/k_hayim/71913005.htm

Attorney Benjamin Kiryati http://keren-il.ybay.co.il/about.html

Attorney Saar Pauker http://www.hfn.co.il/lawyer/saar-pauker/main

Attorney Baruch Katzman http://www.hfn.co.il/lawyer/baruch-katzman/main

Judge Talia Kopelman Pardo http://www.nytimes.com/2012/10/15/world/middleeast/woman-must-relinquish-kafka-papers-judge-says.html?_r=0

In 2012 I suffered from brain hemorrhage and was in the ICU for five days. Sadly that was not the worst thing for me in the last years since. Bank Mizrahi - Tefahot, Attorney Noa Medan and her brother Hagai Medan, Judge Vered Shavit Finkelstein and judge Yaakov Shaked, Attorney Benjamin Kiryati, attorney Saar Pauker and attorney Baruch Katzman of HFN, destroyed the great love I had for my native country which I left 44 years ago. They made it clear to me that a few oligarch families and corrupt and greedy attorneys connected to them, control much in Israel. If by chance you are a victim of a crime committed by their privately owned bank, not only you would never see justice but they would destroy you in order to silence you and deplete your bank accounts.

It would be hard for you to believe my story without reading stories of others who were wronged by the bank. I will start then by telling the stories of just a few others, the first story is about the same branch of the bank that destroyed the last year and a half for my husband and I. While the Axelrods were blamed for ignoring the wrong doing of the bank regarding their accounts, I am blamed for libel for alerting one person in the same bank that money is missing from my husband's accounts! and I was found guilty for libel by judge Yaakov Shaked;
from the Israeli papers in Hebrew; http://www.eilatgordinlevitan.com/wrong_doing/wd_pix/1_5.41.27.jpg
Wrong Doing: Bank Mizrahi - Tefahot
The District Court in Tel Aviv
Another lawsuit against Bank Mizrahi - Tefahot Tel - Aviv was recently filed , alleging that they were negligent in managing their customers accounts.
This time it comes at the expense of especially wealthy client - Russian billionaire Mikhail Axelrod and his wife Ella. Axelrod, a resident of Moscow, is an owner of one of the leading companies in Russia; Gazprom, and his fortune was estimated in the past as more than a billion dollars. In recent years he bought an apartment on Hosea street, north Tel - Aviv and received Israeli citizenship.
Erroneous concept
Judge E Baker's court held that Mizrahi - Tefahot negligently allowed a huge embezzlement of Axelrods' entire account at branch Gan Hair in Tel - Aviv, and ordered the bank to pay the couple 9.6 million for negligence.
According to the Court, the Bank allowed a resident of Netanya, Michael Levitin, who has an account at the same branch, a financial transfers totaling more than 15 million, without the Axelrods consent.
Moreover, the court held that after learning the embezzlement of funds of Axelrod , Mizrahi - Tefahot chose to conduct an independent investigation of Levitin, did not report him to the authorities and allowed him to disappear.
In its decision the court criticized the conduct of the bank officials regarding the management expense of the couple Axelrod. The court ruled that the bank officials were blowing concept, that Levitin is a trusted partner of Axelrod, and ignored the fact that he lacks any mandate - the power to carry out their account, and the fact that the couple have stated to the bank that they had no additional benefit funds.
"Bank officials did not perform their job properly and in accordance with procedures regarding making money transfers," the judge wrote.
Did the bank make a deal with Mr. Livitin? 15 take away 9.6 they still made more then 5 million NIS. To read a more detailed story in Hebrew go to; http://www.eilatgordinlevitan.com/wrong_doing/wd_pix/1_5.41.27.jpg
for another case; http://www.eilatgordinlevitan.com/wrong_doing/wd_pix/1_5.42.10.jpg
Wrong Doing: Bank Mizrahi - Tefahot
The District Court in Tel Aviv
Another lawsuit against Bank Mizrahi - TEFAHOT Tel - Aviv was recently filed , alleging that they were negligent in managing their customers accounts.
This time it comes at the expense of especially wealthy client - Russian billionaire Mikhail Axelrod and his wife Ella. Axelrod, a resident of Moscow, is an owner of one of the leading companies in Russia; Gazprom, and his fortune was estimated in the past as more than a billion dollars. In recent years he bought an apartment on Hosea street, north Tel - Aviv and received Israeli citizenship.
Erroneous concept
Judge E Baker's court held that Mizrahi - TEFAHOT negligently allowed a huge embezzlement of Axelrods' entire account at branch Gan Hair in Tel - Aviv, and ordered the bank to pay the couple 9.6 million for negligence.
According to the Court, the Bank allowed a resident of Netanya, Michael Levitin, who has an account at the same branch, a financial transfers totaling more than 15 million, without the Axelrods consent.
Moreover, the court held that after learning the embezzlement of funds of Axelrod , Mizrahi - TEFAHOThe chose to conduct an independent investigation of Levitin, did not report him to the authorities and allowed him to disappear.
In its decision the court criticized the conduct of the bank officials regarding the management expense of the couple Axelrod. The court ruled that the bank officials were blowing concept, that Levitin is a trusted partner of Axelrod, and ignored the fact that he lacks any mandate - the power to carry out their account, and the fact that the couple have stated to the bank that they had no additional benefit funds.
"Bank officials did not perform their job properly and in accordance with procedures regarding making money transfers," the judge wrote. "

Former Mizrahi bank manager in L.A. indicted for aiding tax evasion

The indictment, which was filed last week, accuses B of referring customers of the Los Angeles branch to the bank's headquarters office in Tel Aviv, where they deposited unreported income in return for which they received back-to-back loans for the same amount in Los Angeles, Mizrahi Tefahot said in a statement to the Tel Aviv Stock Exchange. B is the second assistant manager at the Los Angeles branch to be indicted on such charges.
The indictment against his predecessor, Yossi R, was dropped in 2008 in a plea bargain in which the defendant admitted to assisting tax evasion and money laundering. Unlike R, who was in detention for an extended period, B. has not been arrested and as far as is known has not been barred from leaving the United States. According to the indictment, B helped the bank's clients hide the fact that they had received the loans in exchange for the deposits in Tel Aviv, which were allegedly transferred to Israel via Switzerland.

Exclusive: U.S. tax-evasion probe turns to Israeli banks

Reuters) - The U.S. pursuit of offshore tax evaders is widening to include Israel, where U.S. authorities are scrutinizing three of Israel's largest banks over suspicions their Swiss outposts helped American clients evade taxes, people briefed on the matter said.
The banks under scrutiny by the U.S. Justice Department's criminal tax division are Bank Hapoalim, Bank Leumi le-Israel BM and Mizrahi-Tefahot, the sources said.
shift to Israel from Switzerland, for years the main focus of the Justice Department's campaign against offshore private banking secrecy, signals the broadening of a landmark probe by the agency that began in 2007 with UBS AG, Switzerland's largest bank. Conduct costs are issued against Israeli banks as well.
Israeli Banks bear Conduct Costs as well
The Center for Banking Law, Netanya Academic College, Israel
Last week, Mizrahi Tefahot Bank, the third largest bank in Israel, included in its third quarter financial report, notice of a US investigation into the bank.
Two years ago, the US Internal Revenue Service (IRS) opened an investigation into several Swiss banks that they suspected were helping US residents evade taxes. The investigation included the Swiss branches of Mizrahi Tefahot Bank.
In contrast to other banks, which are participating in an arrangement between the Swiss and US governments that includes fines, Mizrahi Tefahot's Swiss branch was notified by the US authorities that it was not included in the arrangement, because an investigation had been opened into its business, and it was requested to provide additional statistics and information
The investigation into Mizrahi Tefahot Bank was transferred directly to the US authorities. Analysts claim this signifies that Mizrahi Tefahot Bank could be facing an extensive fine, if it turns out that it violated US regulations.
This story of Mizrahi Tefahot Bank is only one example of misconduct of Israeli banks that ends in Conduct Costs. Other Israeli banks have also been involved in similar affairs. But Israeli banks are not alone: Similar issues occur in other countries as well.
L. Ofer and Mozi Wertheim groups own Bank Mizrahi-Tefahot," she
noted. "Wertheim also has a direct holding in [Channel 2 television
franchisee] Keshet, while Ofer has a holding in [Channel 2 franchisee]
Reshet via Udi Angel [who was married to Liora Ofer].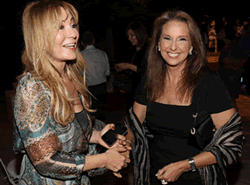 ...do the most powerful families in Israel affect your life? The people
who showed up at the conference the Social Economic Academy hosted
yesterday were wondering that very thing.
They were very different
from those who usually attend economic conferences. Not a single tie or
jacket was to be seen. The participants ranged from students to retirees
and everyone in between. They came in sandals. They were there to
understand how the economy's strongest families affect them personally,
how these families' iron grip on the economy impairs democracy, and what
they could do to heal Israeli democracy.
They learned that the
control wielded by the big families goes far beyond economic assets. It
disrupts the country's social, political and economic development.
They
learned that the families' control is already straining Israeli
democracy. They learned that 10 to 20 families have far more influence
over the government than do the citizens at large, who vote only every
three to four years.
In addition, the power these families have
accumulated gives them enormous influence over the country's social and
economic fabric. They control not only industrial and commercial
companies, but also media outlets. This disrupts the media's critical
faculties and the transparency crucial to a healthy society.
"The
concentration that needs to be addressed is when one person controls
several parts of the economy via an economic pyramid structure, because
at the top of every big concern ultimately sits one person," said Davida
Lachman-Messer, a former deputy attorney general. "Their economic power
is also social and political power, and this makes them Israel's real
centers of power. They weren't elected, but they decide who controls
this country, how it looks and where our children will work."
The
fact that these families also own media outlets means they can influence
what's reported about them. They can block unflattering stories and
promote stories that suit their interests. They thereby impair the
media's role as watchdog.
The families' interlocking holdings exacerbate this concentration and the problems it creates, Lachman-Messer continued.
"The
Idan Ofer and Mozi Wertheim groups own Bank Mizrahi-Tefahot," she
noted. "Wertheim also has a direct holding in [Channel 2 television
franchisee] Keshet, while Ofer has a holding in [Channel 2 franchisee]
Reshet via Udi Angel [who was married to his sister, Liora Ofer].
Strauss sold shares of the latter company, and Tshuva's daughter
received shares in Keshet. All these parties are big advertisers and
also the owners of media outlets. And they have partners or friends who
also own media outlets."
The big families are already influencing
democracy and undermining the process that's supposed to give every
citizen a vote, Lachman-Messer said: "The problem is already here. It's
not something off in the future, it's here. And it's major. It also
affects civil society [nonprofits and charities]. The large donors are
the same people we encounter in the business pages. Ultimately,
concentration - which is the existence of several people who control
most of the production facilities in several branches of the economy, as
well as the finance companies - is Israel's reality. I'm waiting for it
to damage the economy, because only things that damage the economy get
the government to take action.
"The Bank of Israel governor
understands that concentration is bad for the economy," she continued.
"It's bad for democracy, because a limited number of people can decide
what laws are passed, who will be elected and who donates to what party.
Israel has five million people who cannot compete against the
fund-raising that each party receives from corporations. I'm
pessimistic, but we need to keep fighting. If the economy is hurt
quickly, there's a chance democracy will be saved. Democracy apparently
isn't an important enough value for us."
Boring the public
Dror
Strum, a former antitrust commissioner, said the discussion about
concentration should be taken beyond the business pages, since this is a
social and political problem that will only grow if it isn't fixed.
"The existing legislative tools aren't enough to solve the problem," he
said. "What's happening right now is they're putting us to sleep with
this discussion of concentration. If I were to ask the public at large
which is worse, the flotilla incident or economic concentration, most
people would say the flotilla. Who understands what concentration is
doing to our lives?"
It's important to convince the public of the
need for legislation to fight the problem, he continued. Without public
backing, nothing will change.
"In order to convince the public that
concentration isn't just something in the business pages, we need to
take the matter and show how it affects our assets and our children,"
Strum said. "Because the meaning of concentration is that in another 20
to 40 years, our children and grandchildren won't be able to get by in
life if they don't go through one of five big families."
Evidence of
the concentrated economic power in Israel can be seen when major
international corporations try to enter the local market, he said.
Nestle, for instance, usually sets up its own factories when it enters a
new country. But in Israel, it was forced to use Osem as its
manufacturer. Unilever also entered Israel through a local company,
Strauss.
"There are two major measures of democracy," Strum said.
"One is quantitative - one vote per person. There's also a qualitative
aspect - how much the public can effect change, and whether big groups
change things more than citizens do."
Trampling on the workers
Hanoch
Livneh, who heads the tellers' union at the First International Bank of
Israel (Beinleumi ), said the big families don't think about the
workers, as they are primarily interested in making more money.
Beinleumi is controlled by Zadik Bino, who also controls Paz and the
Ashdod oil refinery.
"I work for one of these families, but I'm a
socialist," Livneh said. "Most of the employees who work for the big
families aren't unionized. They receive minimum wage and work under
slave conditions. The controlling shareholders undermine protected
positions whenever they can. You're working at a temple dedicated to
profit above all ... You're not worth anything.
"They're 20 families,
but they can't maintain control alone. They need a kind of intermediate
level. Thus, they take the regulators ... They're close with all of
them."
Citing examples of conflicts of interest created by
concentration, Livneh stated, "When Beinleumi leases assets from Paz,
who checks that the valuations are correct and whether a competitor has a
better offer? When we belonged to Safra, why did the workers get only
Cellcom phones? [The Safra family controlled Cellcom at the time].
"I
know that my cellular company is [owned by] Nochi Dankner, who is also
my flight abroad via Israir, as well as my insurance company and pension
fund, as well as the building I'll build and my grocery store chain.
What more do I need to understand the force of these things, and the
fear of what it will bring?"
'Why are you interfering?'
Knesset
Member Haim Oron (Meretz ) said that where money and politics mingle,
it's hard to protect the public from the effects of concentration. U.S.
Supreme Court justice Louis Brandeis' 100-year-old warnings about
concentration threatening democracy still apply today, he said.
He
cited the example of Nesher, a cement monopoly controlled by the IDB
Group, which in turn is controlled by Nochi Dankner. There have been
attempts to bring in competition through imports, but Nesher still
controls at least 90% of the cement market.
"When I brought up the
subject for public discussion, they told me, 'Why are you interfering?
Let the free market solve the problem,'" he recalled.
"It's not like
there's a marker that, if you can pass it, the problem will be solved -
that if you pass a law, the concentration will disappear," Oron said.
"You suddenly realize that Yitzhak Tshuva is involved in all the
desalination plants. You need to ask yourself if, when urban water
consumption is 80% desalinated, one party should be controlling all
this. You fight so that Mekorot [the state-owned water company] gets a
desalination plant. They tell you, 'They want another 30 cents.' You
need to say you're ready to pay more because you want a public body to
be involved in desalination."
http://www.businessw...99010761878.htm
The Controversy Over Israel's Business Elite
By Calev Ben-David and David Wainer on October 07, 2010
Israel's
economy is widely seen as a high-tech success story. Yet to many
Israelis the real players in their economy are not programmers or
venture capitalists. Rather, they are the 20 or so Israeli families who
control banks, supermarkets, telecoms, real estate, gas stations, and
utilities—businesses that underpin much of daily life.
Too much, says
Stanley Fischer, the governor of the Bank of Israel, who has sounded
the alarm over the power concentrated in the hands of these families.
Fischer, a world-renowned economist who mentored Ben Bernanke and who
has run Israel's central bank for five years, says the influence these
companies wield may undermine Israel's growth by undercutting
competition.
like the huge benefits Olmert wanted to give to Coca Cola (Mozi Verthaim). So he is unfortunately the next Israeli prime minister. But thanks to the elections he will need a social coalition, & I hope things will change for a better way.
Mozi Wertheim handed over his 22.3% controlling stake in the bank to his children, David and Drorit
Mozi Wertheim, 81, is believed to have started giving away his assets in an attempt to avoid an inheritance battle such as the one that broke out between Yuli Ofer's children after the billionaire's death last year. That battle has thrown the family's control of Bank Mizrahi-Tefahot into question.
The Ofers control the bank in partnership with Wertheim, who owns a 22.4% share. He reportedly intends to split that between his children, too.
Wertheim's children had not played an active role in his business activities over the years, raising speculation as to how they would succeed their father. Several months ago, Wertheim appointed the Central Bottling Company a board of directors where none had existed before, leading the market to speculate that he was preparing to hand over his shares.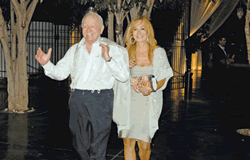 David and Drorit are among the company's directors. Wertheim first started divesting himself three years ago, when he handed over control of his holding company M. Wertheim. David received 61%, and Drorit received 26%. The remaining shares are owned by Gazit Rotenberg trusteeship Yuli Ofer's son seeks injunction on will
Late billionaire left behind two wills: First divides his financial empire equally between son Doron, daughter Liora; second, drawn up after he experienced health complications, names daughter sole beneficiary of family's holding company. Doron Ofer goes to court to try to revoke subsequent will
Golan Hazani, Calcalist
Published:
10.16.11, 13:43 / Israel Business

The plot of the estate of billionaire Yuli Ofer, who died last month, thickens: Ofer left behind two inconsistent wills – the first distributes his stake in Ofer Investments equally between son Doron and daughter Liora. The second, subsequent will disinherits Doron by naming Liora sole beneficiary of his stake in the company.

Calcalist has learned that both wills were notarized by family lawyer Zvi Ephrat of Gornitzki &Co. Sources with knowledge of the developments say that the drafting of the second will about a year ago was witnessed by Attorney Ephrat and a doctor who determined that Ofer was of sound mind when writing the will; this information, however, was not formally corroborated.

A legal source estimated that if indeed a doctor witnessed the signing of the will, there must have been speculations that the new will would lead to an inheritance dispute. The wills were drawn within several months of each other during which Yuli Ofer experienced serious health problems.

Doron Ofer not privy to new will
Doron Ofer hired attorney Alex Hartman and is planning to launch legal action, in which he will likely demand the invalidation of the second will. To begin with, Doron Ofer will likely file for an injunction on the transferring of Yuli Ofer's Ofer Investments stake to his sister Liora.

According to sources close to the issue, the court will be asked to probe the circumstances under which the second will was drawn up. In the meantime, an application for the appointment of temporary trustee to Yuli Ofer's estate was filed at the Tel Aviv Family Court.

Sources with knowledge of the affair told Calcalist that Liora was privy to the second will and knew of the changes in the will's provisions which were brought to her brother's attention only at a later stage.

According to the sources, Yuli Ofer wished to make amends with his daughter having put her brother at the forefront of his business activity and transferring him considerable assets while still alive. In the latter years of Yuli Ofer's life, Liora took over the management of his business with considerable success due to which Yuli Ofer changed his entire approach on the backdrop of his fallout with Doron.

The core asset in Yuli Ofer's estate is a 36.7% stake in Ofer Investments, which controls commercial property management firm Melisron and Bank Mizrahi Tefahot.

Ofer Investment holds a 19.7% stake in the bank and the family as a whole holds 25.44% of the bank's shares which are worth NIS 1.4 billion ($380 million), in addition to direct holdings through L.I.N. Holdings. Ofer Investments holds 71.5% of Melisron which are worth NIS 1.6 billion ($440 million).

So far, Ofer Investments holdings were distributed between father Yuli (36.7%) and each of his children – Doron and Liora (15% each). The remainder of the shares was held by Eyal Ofer, the son of Yuli's late brother Sammy.

As per the first will, Yuli's shares were to be divided in equal portions between Doron and Liora leaving each with 33.35% of the shares. The second will leaves all of the shares to Liora whereas Doron receives none. This would leave Liora with a 51.7% stake in the company while Doron remains with his previously held 15%.

Doron walked out – Liora stepped in
Yuli Ofer has always seen Doron as his successor to his business empire which is why Doron received considerable assets throughout the years, unlike his sister, including 33% of Ofer Shipping which he later sold to his cousin Idan Ofer and former brother-in-law Udi Angel.

Sources close to the family claim that Yuli was not able to witness his daughter's business skills as her ex-husband Udi Angel usually stood at the forefront of their business during their marriage.

However, in recent years the tables turned when in 2003, just before the Ofer brothers split their holdings, Doron Ofer stepped down from the management of Ofer Holdings, focusing instead on the management of his own real estate business.

Sources close to the family claimed at the time that Doron left the company on the backdrop of a fallout between him and his father; some sources even claimed that Yuli was upset over his son's less than satisfactory results which he covered up and decided to oust him from his position. Others claim it was Doron that decided to venture into his own independent business.

Following Doron's resignation, Liora took the reins of the family outfit in which she never held an executive position until that point. Liora is regarded as a more accomplished manager than her brother. One of her greatest successes is Melisron which under her management as vice chairwomen in her father's company, became one of Israel's leading commercial property management firm.

Not on speaking terms
While the personnel shuffle was underway, relations between the father and son and between the two siblings became strained. Doron and Liora are said not to be on speaking terms with each other despite living in close proximity.

On the backdrop of the fallout between the two, Yuli Ofer's funeral was held for only a small number of relatives and acquaintances and was closed to the press.

Two years ago, the dispute between the family members deepened when Doron objected to his sister's initiative to acquire Africa-Israel holdings in the Ramat Aviv and the Savyonim malls.

Sources close to the family claimed that Doron's objection deepened the chasm between Doron and his father who was in favor of the deal.

"Liora always made it a point to keep her father up to date on her business moves and to receive his approval in advance so Doron's opposition was blocked," a family acquaintance told Calcalist.

The day Yuli Ofer passed away, another family feud broke out after Doron refused to sign the formula for the separation of Ofer Investments' real and financial holdings.

"All in all, in dying, Yuli gave his daughter what he gave his son when alive, this is not a case of disinheritance," said a source with knowledge of the developments in recent days.

Other sources expressed their astonishment at the father's decision: "A decade ago Yuli and Sammy decided to separate their holdings which meant they were aiming to avoid inheritance disputes. They saw what happened to other wealthy families and decided to make sure it wouldn't happen to theirs.

"On the other hand, Yuli made a decision that inevitably would have a direct outcome of an inheritance dispute and it seemed this was clear to him. He must've had a good reason to do what he did."




Protecting Oligarchy
On Israeli conflict of interests with its own citizens
On February 21, 2012, Israel's Economic Concentration Committee delivered its decisions. Composed by PM Benjamin Netanyahu, Finance Minister Yuval Steinitz, Bank of Israel Governor Stanley Fischer, and committee chairman Haim Shani, the committee needed to decide which individuals and companies were too large for the Israeli market. These would need to choose between their finance or non-finance businesses in order to avoid conflict of interests. If one person owns both, then his finance companies could lend to the real ones while undeservedly offering comfortable interests; the State of Israel decided to deny such an opportunity. The committee's decisions included a list of names and industries. Some were spared, others not. Unsurprisingly, its criteria seem to be more political and Mossad-oriented than financial.
For a little humor in this obsessive one way "correspondent";
The population of the city of Chelm had expanded and there was a need to find a new location for the townspeople's eternal resting place. The wise men of Chelm decided to utilize the space which would be created by moving the mountain on the south.
The wise men said "we will all rise, all men of the town as one – united in spirit and body – and together we will move the mountain." The townspeople quickly accepted this "wise" advice. Quickly, all able bodied men – young and old, rushed to the mountain on the southern side of the city.
The men pushed and shoved and leaned and tried as hard as they could, but they could not move the mountain.
Again, they pushed and strained and shoved but could not move the mountain. At this point, the menfolk of Chelm were drenched in sweat and beginning to get uncomfortable. The men removed their shirts, depositing them on the side, in preparation for their next try.
As all the men struggled, a group of petty thieves watched the men in earnest. They quickly came with small carts and as the men of Chelm strained to move the mountain, the thieves stole all the shirts and quickly disappeared from the town.
the wise men discovered that their shirts were missing. "We must have been successful" they said. "We must have moved the mountain so far that we cannot even see the place where we left our shirts." Upon hearing the explanation, the people began to applaud, cheer and even break out into dance over their success.
Attorney Noa Medan, bank Mizrahi Tefahot and its very many legal
??????????? (attorneys and judges) have been fighting me, a 65 years old ????? ???????
I left Israel 44 years ago. I cared little about the Levitan's estate that was left to my husband in Israel before meeting Shmulik Zelikovitz (the accounts manager of the estate) at the bank on1-1- 2013. Why did I care little?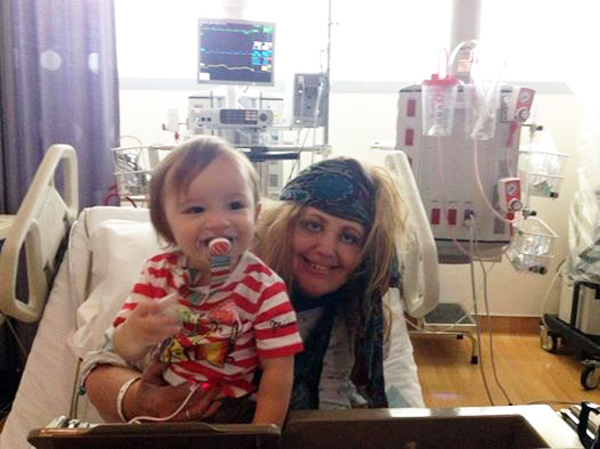 Here I am in 2012 ( with my grandson) in the ICU with brain hemorrhage just months before the visit to the bank.
We came to the bank on that day right after we met with the attorneys my husband hired to fight attorney Noa Medan, who demanded at that point more then a million NIS settlement, in order of letting go of her case against the Levitan brothers and the apotropos, who prevented her from being appointed as public trusty.
The attorneys informed us that not only attorney Noa Medan was at the wrong to take whatever she wished out of the accounts but also the bank that did not freeze the accounts of a man who died already a year before. So I (????? ???????)
and my husband ???? (An honest American who left Israel with his parents when he was 4) notified the bank that there are strange activities in the accounts ( money is missing) and that the accounts should be frozen. We left the bank feeling sure that the bank will investigate and correct the problems regarding the missing money which seem easy to fix at that point.
At the bank The wise men of Chelm???? ??? decide "we must move the mountain" . We must silence
????? ??????? and ????
One of the ways they "silenced " us for the world to see is by suing me for libel for alerting the bank.
Now when you google Attorney Noa Medan's name or the name of the bank manager of the accounts in Hebrew;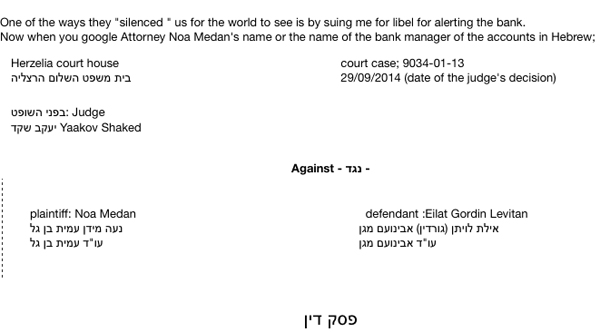 Lay in front of me a claim for the amount of ? 350,000 in respect of the defamation.
The plaintiff is a lawyer by profession since 1999, the defendant is the wife of one of the heirs of the late Ruven Levitan (hereinafter - deceased), whose assets the plaintiff managed at the relevant time.
The Plaintiff's statement here claims to tell of the two events in which the defendant said defamatory statements:
On 1.1.2013, when the defendant visited bank Mizrahi Tefahot Bank where the plaintiff manages a trust account of the deceased, in a meeting with the defendant and her husband, and bank employee Mr. Samuel Zelikovich, the defendant spoke about the plaintiff, to the ears of Mr. Zelikovich, and called her "liar ", arguing that the plaintiff had stolen money from the defendant or her family and can't be rely on or trusted (hereinafter - the first event).
On 01/02/2013, in a meeting at the bank where the account is held foregoing, where the plaintiff was present and Mr. Zelikovich, the defendant repeated the insults against the plaintiff, and called her several times, "liar", "cheat", "stupid", "Bitch" who defrauded her family (hereinafter - the second event).
The Plaintiff claims that these cases contained fifteenth defamatory words, during these meetings, and therefore requires the compensation claimed.
Content on this page is not complete, to view all content you must select one of the following options: Download file purchase identified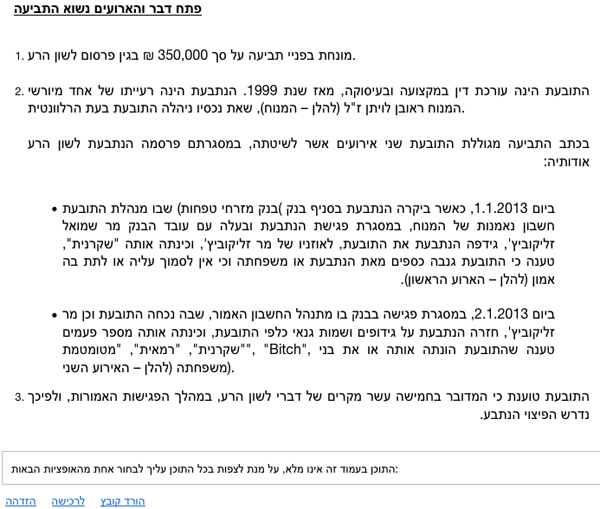 What I wrote to HFN before my husband hired them at the beginning of 2014;
Father Z"L was a Holocaust survivor and believed that the family should have a large sum of money hidden in case bad times would return. He refused to report the Israeli income and assets to the IRS, as required by US law. The Levitan family lived in America since 1956. He refused to listen to our pleas to create a corporation for shelter, and to act legally. Father's Israeli attorneys, the Medan family, gave very negligent advice. They convinced him to place his Israel bank accounts under their names as "Neemans", since they are Israeli citizens only.
Our grandparents from both our mother and father's side passed away in Israel ( 1960s- 1977). The inheritance includes stores, apartments, and agricultural lands.
At the time of fathers' death there were more then 12 million NIS in bank Mizrahi Tefahot Gan hair.
Father was very sick during the last 2 years of his life and had 2 caretakers living with him. One year before he passed away he came to Israel for the memorial to his wife, our mother Z"L. He traveled with our son and daughter in law. They slept in his hotel room because of his poor medical condition.

During that visit Attorneys Noa and Hagai Medan wrote a new will for father. Paragraph #4 was added and states that Noa or Hagai Medan will run the estate for 10 years and give "fruits" to the yorshim . The will was signed by attorney Hagai Medan stating that he is not benefiting from it.
According to seif 35 of Israeli law, a person benefiting from a will cannot write or sign it as a witness.. It is automatically rejected!
Shortly after our father died, we declared our inheritance in Israel as required by US law. We informed Noa Medan that we needed to make a partial USA inheritance tax payment of $2 million on the Israeli part of the estate by a specific date. Despite multiple requests from us and the executors in the USA, Noa Medan sent money to the USA executors three weeks late.This tardiness has caused penalties. The USA executors have repeatedly asked for information on the Israeli estate, so they can resolve the financial status of the entire estate in order to complete their obligations. Noa Medan refuses to cooperate with the USA executors.
Despite the fact that we have paid taxes on the Israel part of the estate, Noa Medan continues to refuse to give us any " fruits" from the estate while she took her 15% for 2012 ( she stopped working for the estate in 2013).
A year before my father passed away he made a deal with Yanuv ( a construction company.). He told us that he "sold" them the land in Hod Hasharon ( valued at 8.9 million shekels) and in return they would build an apartment building on the land on Hankin street which is owned by our estate. The builders would pay for architect, Heitel Hashbacha and other taxes and all building costs for the Hankin property which includes 10 apartments ( it is written in 14.1 in the Hankin contract). No money should be exchanged between the Levitans and Yanuv directly. After Tofes 4, Yanuv should get the land in Hod Hasharon free and clear. Yet 10 days before father passed away Noa made a deal with Yanuv who put cell phone towers on the land and NEVER TOLD US!
On November 7, 2012 Noa Medan wrote to us that she took 1.1 million NIS from the estate to pay for Heiitel Hashbacha and the architect. We then knew that something was very wrong since the builder was paying it.
Two months ago the building received tofes 4 but it is empty of renters or buyers. Noa Medan refuses to sign for completion of the Hod Hasharon land sale to Yanuv,despite the fact that she took an exorbitant commission from the estate for both transactions.In addition, taxes were paid for the sale of HodHasharon.Yanuv states that they refuse to" hand over the keys" to the new building until they receive the Hod Hasharon land. Noa Medan refuses to cooperate with closing the HodHasharon sale unless we give her a large settlement amount, and sign that we will never sue her and the bank.
We have made a deal with 3 tentative buyers of Hankin apartments at the end of 2013 in order to be exempted from Mas Shevach.
On January 2, 2013 my husband and I, his brother and his wife came to the bank for a meeting with Noa Medan. Prior to the meeting, she promised to transfer the estate bank accounts to the Levitan brothers. She refused to honor her promise. She claimed that there was no money to give them. This claim is outrageous, since the balance in one of the accounts was 2.3 million NIS.
In addition, the balance was 2.8 million NIS in November, 2012 in the main account. .Noa Medan declines to explain how the bank balance dropped by more then 560,000 NIS less then 2 months later..
My husband and I expressed our dissatisfaction with the fact that Noa ( who is suing my husband and his brothers for millions) has full control of our bank accounts and some money is missing from the accounts. We only said it to one person beside Noa. It was the manager of the account (Shmulik Zelikovitz). Subsequently Noa Medan sued me for libel!
Back in 2012, the family court judge Vered Shavit asked my husband and his bothers what they wished. They wrote that they do not want Noa Medan to have control of our estate. The judge refused to give her the executor position, and my husband and his brothers were certified as the only inheritors. Noa Medan sued them and the apotropos immediately after this decision. .It is important to note that Noa previously promised to transfer the accounts to the brothers and to nullify the 10 year clause.
Noa never notified the bank that father passed away and the bank ignore our phone pleas ( from Los Angeles) telling them that the accounts should be frozen and she should not have control over them.
The Levitan brothers all have graduate degrees and own real estate in the USA.
The Levitan brothers get along vey well, and agree about the handling of their inheritance. They agreed on a way to split the inheritance between the 3 of them so we could pass much of it to the next generation in our lifetime.
We would like you to represent us in the following order of priority.
1. The 3 Levitan brothers are the sole inheritors of the estate, and should have the right to control it. We do not understand how judge Vered Shavit can decide about the estate more then a year after she declared my husband and his brothers the only Yorshim. We need to totally disassociate ourselves from Noa Medan. She told all the store owners to not pay rent since march of 2013 and never reported it to us. She did not file for taxes in Israel in 2011 and in 2012. Zav kiyum zavaha was received in October of 2012, without appointing Noa Medan as anything. The 3 Levitan brother ( or their true representatives), are prevented from collecting rents from the stores owners, selling or leasing apartments and receiving any information
needed for filing for taxes in Israel and in the US . No one was appointed as executor by the court but attorney Noa Medan sued the Apotropos and the Levitan brothers in November of 2012, after the apotropos wrote that it should be a private trustee. She asked the judge to be appointed an executor for ten years (or pay her as if) despite the very strong objections of the Levitan brothers. Because of bureaucracy, all actions have been frozen unless extortion money was paid to Ms. Medan. The judge Vered Shavit has thus far ignored all requests by the Levitan brothers for permitting rent collection and leasing or selling ( what legal rights does she have over our estate to do it?). The next court date is scheduled for February 26,2014. we would like you to handle the case..
2. The 3 Levitan brothers would like you to go to the civil court in Lod and ask for release of our bank accounts in bank Mizrahi Tfahot Gan Hair and transfer them to their names.
3. After the bank accounts are released and studied, and all other damages to the estate are evaluated, The 3 Levitan brothers would like to sue Ms. Medan.
4. The 3 Levitan brothers are considering a lawsuit against the bank. The bank took more then a year to freeze the account despite the fact that my husband told them that father passed away and that there are suspicious activities in the accounts. The 3 Levitan brothers told them that Noa is preventing us for complying with US law. The 3 Levitan brothers need copies of bank statements to determine how much additional USA taxes are due. The bank still refuses to cooperate.
-------------------------------------------------------
My statment to the court of Judge Yaakov Shaked;
On January 2, 2013, I had a conversation with Ms. Noa Medan at the bank. Although Ms. Medan later took my statements as attacking her character, the context of the conversation makes it clear that I was merely critiquing the actual mistakes she had made in the course of handling my husband's inheritance. Throughout our talk, I remained compassionate and my focus was to point out to Ms. Medan how she could improve her professional relationship. I have tried to provide an objective perspective on our interaction so that the court can decide for itself what was said.
The following statements detail my conversation with Ms. Medan:
• "You had the 3 biggest sabonim (credulous) as clients! They would have paid your fee of 15% a year to manage their business for ten years without complaint, if only you had stayed transparent and ethical."
• "You were supposed to help them keep everything legal and honest in both Israel and the United States. The secretive and illegal ways you handled the accounts so far just did not work."
• "You totally misunderstood what your clients wanted: Honesty and legality is their highest priority! With the help of your family, their own parents kept the inheritance a secret for decades so that no one would tell the United States' Internal Revenue Service (IRS)."
• "Your clients made it clear to you right away that they want no part in such plot."
? "They declared the inheritance to the IRS as they are required by American law and they have already paid $2,000,000 as part of their inheritance tax in the US."
? "They have to pay 35% of the value of Israeli inheritance in tax as well as a yearly tax on the income."
? "They were not able to do it in a timely manner because you did not give them the documents and the information needed! Due to your mismanagement, they will now have to pay penalties!"
• "One of your biggest mistakes was what you told our husbands during your first meeting with them after their father passed away.
? After my brother in law told you that he could not trust you (because he had just found out that you and your brother Hagi had lied to him about the value of the properties for years, which meant there were false statements on his American tax return), he said 'how do I know that you will not lie to me again?'
? Ms. Medan answered: "Your father made me lie to you. So now, if your wives comes asking questions, I will lie for you as well."
• "Did you think that our husbands would not tell us what you said? You think that your relationship with our husbands is better than ours with them? You unnecessarily made three women truly resent you on that day!"
• "I do not think that you are a bad person. I think that you truly care what people think of you. Your mistake is that you listen to your brother Hagi and he gives you very bad advice."
? "Hagi simply has bad judgment. For example, a few minutes after I met him for the first time, he asked me if I knew his prior girlfriend from my hometown (I do know her well). He then said, 'I made the mistake of letting her go to marry my current wife, who has turned religious and makes my life miserable.' That is how he speaks of the mother of his kids to a person he just met."
? "Your brother fooled Dr. Ruven Levitan into sign an illegal will you wrote giving you and him control of the money for ten years. This document was written by the two of you and then signed by Hagi as a witness saying that he is not benefiting from the will. That is a clear lie!"
I had the conversation with Ms. Medan after being extremely aggravated by the Levitans' bank accounts manager Mr. Shmulik Zelikovitz.
• Mr. Zelikovitz treated my husband Dr. Levitan with utter disrespect as if my husband were brain damaged! At one point, he asked my husband what he does for living, My husband replied in Hebrew: rofe (medical doctor). Shmulik repeated after him in a superior condescending tone: ofe (baker) since he felt that a brain damaged person was sitting in front of him (most likely because of Noas' explanation of why they'll get away with not freezing the accounts and taking out any amount she wishes regardless of the fact that she was appointed for nothing by the court and the brothers are declared as the only yorshim.)
• Mr. Zelikovitz refused to talk to my husband, saying the account belongs to Ms. Medan only. He said this even after he admitted that he knew my father-in-law had passed away and that my husband and his brothers are the sole beneficiaries of the will and Noa was appointed for nothing by the court.
• My husband explained to him that he was seeking access to the accounts to prevent Ms. Medan from continuing a plan of tax evasion. The accounts were indeed under Ms. Medan's name as manager for his fatherly, but since his father passed away, all the funds had been declared and made legal. If the bank continued to help Ms. Medan hide the accounts, it would get in trouble with the United States government. Also the attorneys he hired to fight Noa said that the accounts should have been frozen immediately after his father passed away. It has been already a year since he passed!
• Mr. Zelikovitz continued to insist on only speaking with Ms. Medan and that whatever she decided would be what the bank would do.
• When Ms. Medan arrived, she said, "I took my monthly 15% fee up until October 2012, but now there is no more money left for me to give you for your 2012 fruits."
? Ms. Medan told us that after Shmulik had just told her that there is more than two million shekels in the accounts! ( which was 562,000 NIS less then on November 2012 and Noa never explained where the missing money went!)
? I said, "The will clearly states that my husband and his brothers will get the fruits of their inheritance. We clearly know that you are lying when you say that there is no money in the accounts."
? Ms. Medan replied that "the money is needed for the Raanana project.''
? I told her that "this was another fib! The Raanana project is paid by the land in Hod Hasharon. beside that why did she write on November 7th, 2012 that she took more then a million shekels for architect and Mas Hashbacha? it clearly says in the building contract that the builder pays for it!
There was a woman sitting at the bank near us waiting for Mr. Zelikovitz. I could see that she was listening and feeling bad for us.
• I apologized to this woman and explained some of the situation to her: "I am sorry, but my husband's father passed away a year ago. Ms. Medan, who manages the estate, refuses to give my husband and his brothers even a shekel from the fruits of their inheritance and the bank is helping her!"
• Ms, Medan said to my husband "you never complained before"
• My husband said " I have been complaining for 3 months and hired attorney to fight you!"
• I told Ms. Medan "You often say to my husband that he always seems happy with your work and that he never has complaints. My husband has in fact complained to you plenty, but he just does it in a polite American way and you don't get it!"
• "I will speak to you in a more clear and laud Israeli way. We are very unhappy with your empty promises of letting my husband and his brothers have control of their accounts. Months have passed and nothing has been done. My children will inherit their father's part one day and I want to make sure that it is all settled long before that time!"
? When Ms. Medan answered that it would be all over in a few weeks, I said, "It will only be over by the end of January 2013 if you plan to lose the case!"

Notes of my opinion (by Eilat ).

1. On February 26, 2014 judge Vered Shavit Finkelstein took the little control that the brothers had over their estate and gave it to former judge Talia Pardo!. how could it be that in 2012 she gave the brothers full control of their estate as the only yorshim and in 2014 she took their estate and gave it to Pardo to do whatever the two of them wish with it?? Only in Israel were bank- hon- shilton with their many sachbaks in the legal system have total control!!! they want to make the brother so unhappy that they will sign any deal were the bank/ Noa get away with crimes ( my opinion only). Talia Pardo ( just like judge Shavit) delays, delays, delays......it might be also a deal with HFN who charges the brothers by hours!!!! (my opinion only)
2. HFN never went to the civil court in Lod to ask for release of the bank accounts in bank Mizrahi Tfahot Gan Hair and transfer them to the brothers. Talia Pardo has full control of their account ( and information about bank activities) and in 2 and a half years they received 0 income! yet they have to pay much to HFN from their income in the US.
3. Noa Medan was never sued. All that HFN is saying is that they will get nothing from Noa and should agree to settle with her and signed that they can never sue her or the bank (my opinion)
4. It is all about covering the wrong doing of the bank. The bank takes no prisoners! We Are all their victims . They rather see me dead then help me correct-the damage that Noa and other attorneys did.
5. Judge Vered Shavit her the decision (if) to give control of the yerusha/ inheritance to the Levitan brothers to April of 2015! ( hahaha, she/HFN forgot she gave it to them in October of 2012.
And I was found guilty for alerting the bank! It is libel in Israel to alert the bank that money is missing from an account!!!!

--
Eilat Gordin Levitan

Capital Market / Those poor, rich families: Tribal infighting endangers Ofer family businesses
While the Ofer family fights over the estate there is concern that the company is being prevented from being able to run its businesses properly.
By Hila Raz | Nov. 8, 2011

On September 11, 2011, business tycoon Yuli Ofer passed away - and a family struggle over the inheritance quickly got underway, first between his children, Liora and Doron, and then with his widow, Ruth, and grandchildren joining the fray shortly thereafter.
While the family fights over the estate and the choice of an executor to run Ofer Investments and divide the property, there is concern that the company itself, thought to be worth billions of shekels, is being prevented from being able to run its businesses properly.
Ofer Investments holds a chain of dozens of subsidiaries. These include Melisron, in which it holds a 71.5% stake and which can be counted among the country's strongest, income-generating real-estate companies. Melisron is involved mainly in commercial malls and office leasing. Its top assets include the Kiryon, Ramat Aviv, Rananim and Savyonim malls, and a 71.5% controlling stake in British-Israel Investments. The group also owns 19.8% of Mizrahi-Tefahot Bank, 98% of Ofer Brothers Maritime, Ofer investments Energy Enterprises (Management ), Ofer Investments Energy Sources, and 41% of Ofer Bros. (Ships ).
Ofer Investments is 36.7% held by the estate of the late Yuli Ofer, 15% by daughter Liora, and 15% by Doron, his son. Eyal Ofer, Yuli's nephew and a son of the late Sammy Ofer who died in June, owns the remaining 33%.
In his last will, prepared in November 2008, Yuli Ofer left his share in Ofer Investments to his daughter, Liora. This was a change from the previous will, prepared in April 2008, which would have split the holdings equally between Liora and Doron.
A family insider explained that the senior Ofer changed his will to try to equalize things between his two children. According to the source, Yuli Ofer gave his son considerable sums of money during his lifetime, along with ownership of various companies, including one of the family's shipping firms. In his later years, he wanted to balance his gifts between his two children and give Liora what he hadn't given her during his lifetime.
Judge Tova Sivan isn't flustered
Fighting over the inheritance began almost as soon as the seven-day mourning period for the family patriarch ended. Liora asked the court to implement the will as it stood, and to appoint attorney Zvi Efrat, a close confidante of Yuli and Sammy Ofer for 30 years, as executor.
According to sources, Efrat was the one who had prepared the various wills that the elder Ofer has signed over the years, and he was Yuli Ofer's choice as executor of his estate.
As executor, Efrat would be responsible for implementing the will according to the wishes and instructions of the deceased, as laid out in the document.
Ofer's son, Doron, objects to Efrat as executor. Sources close to the Ofer family say legal proceedings in court have become messier since Ruth, Yuli's widow, and four of his grandchildren - Doron's children - joined the fracas. It's been reported that Ruth Ofer intends to claim half the assets her deceased husband accumulated during their 26 years together under the Law of Property Relations between Spouses.
Apparently, the judge presiding over the case, Tova Sivan, isn't perturbed by the name of the family she is dealing with, or the value of the company under discussion in her court. A source close to the proceedings said that the initial hearing in the case is set for the end of November. Three months will have passed between Yuli Ofer's death and the hearing - a full quarter in terms of a business enterprise - while the company operates under the heavy pall of uncertainty. The passage of time raises a number of questions marks regarding the future of Ofer's businesses.
Control permit for Mizrahi-Tefahot Bank
One of the main questions concerns the holdings of Ofer Investments in Bank Mizrahi shares. In late August, three weeks before Yuli Ofer's death, Banks Commissioner David Zaken sent an official letter to the Ofer Group, owner of a 25.3% stake in Mizrahi's controlling core, demanding that the group increase the rate of Ofer Investment's capital equity. He also insisted that its holdings in Melisron be transferred to another company - otherwise he would recommend changing the control permit for the bank.
The commissioner demanded that Ofer Investments hold nothing but the controlling shares in Mizrahi-Tefahot Bank. This is meant to prevent any possibility that the compromising of the company's other assets could undermine Ofer Investment's control of the bank.
While Yuli Ofer was alive, his son, Doron, objected to any separation between the holdings as proposed by other family members. One family insider thinks Doron's stubborn and uncompromising opposition to separation of the holdings was what finally caused his father to deprive him of the inheritance.
As far as is known, Doron has been consistent in his objections, and the family's has refrained from reacting to Zaken's demands. The banks commissioner first raised the demand for separating the holdings four years ago, and his patience may soon run out.
The Ofer family is seemingly in breach of a major condition in its control permit for the bank. This is a vital issue, striking at the heart of the banks commissioner's responsibility. It could be assumed that he can't wait several more years while the complicated legal case over the Ofer estate wends its way through the court system. Meanwhile, in discussions over separating the holdings, Yuli Ofer's chair sits empty and the matter remains stuck.
Who's responsible for Yuli Ofer's debts?
Businessmen of Yuli Ofer's stature usually manage dozens of private companies along with the public companies they control. Their businesses are leveraged by loans and credit amounting to at least tens of millions of shekels, with often just their personal signatures guaranteeing the debt.
Like others at the top of Israel's capital market, one can assume that Yuli Ofer had obligations to banks and other financial institutions for personal guarantees he signed in managing his manifold businesses. The amount he signed for isn't known, but judging from the extent of his business activities, one can safely assume that the figure is quite substantial.
Banks and investment houses are known for their lack of patience in collecting on their loans. The task of dealing with Ofer's debts is supposed to fall to the executor of his estate. But since the appointment has been delayed, the debts are presumably being neglected. Here, too, it is difficult to estimate when the banks and financial institutions will begin attempting independent action to collect on the debts owed to them.
"We are prevented from commenting on subjects pertaining to specific banking enterprises," the Banks Commissioner's Office responded.
Who will sit on the board of Ofer Investments?
Yuli Ofer served as chairman of Ofer Investments. According to information from Dun & Bradstreet, only five other people sat on the company's board - his children, Liora and Doron, and Jacob Steinmetz, Moshe Vidman and Mordechai Meir.
As far as is known, nobody has yet been chosen to replace Yuli Ofer as chairman of the company's board. The role of the board of directors is to outline investment policy and provide the company with strategic direction. It can approve significant transactions, propose new investment channels, or recommend ending money-losing endeavors.
The chairman of the board usually has the last word in disagreements between directors; so if support and opposition for any given move is equal, it is the chairman's vote that decides the issue. Considering the severe disagreements between Liora and Doron, who aren't even on speaking terms, and considering the conflicting positions they represent concerning the company's development, paralysis could set in.
Aside from its board problems, the future of Ofer Investments CEO Avi Levy remains shrouded in uncertainty. A year and a half ago, Levy was questioned by investigators from the Israel Securities Authority on suspicion of manipulating Melisron's stock. Back then, Ofer Investments gave Levy its full support and expressed confidence in his innocence.
Ofer Investments responded: "Ofer Investments is a private company and conducts itself in accordance with all the laws."
Liora Ofer denies plans to sell stake in Mizrahi bank
Under new anti-concentration laws Ofer Investments must offload either bank or real-estate giant Melisron
By Michael Rochvarger | Apr. 7, 2014 | 2:48 PM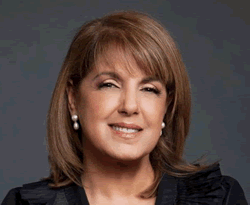 Ofer Investments chairwoman Liora Ofer will have to offload either Mizrahi Tefahot Bank or real-estate giant Melisron under the new anti-economic concentration law. Photo by Vardi Kahana

Who are the few who control one trillion Israeli shekels?
By Rotem Starkman | Oct. 13, 2010 | 11:57 PM
Jacob Perry leaves behind a den of discord at Mizrahi Tefahot
By Sivan Aizescu | Oct. 24, 2012 | 4:58 AM

Liora Ofer, the chairwoman of Ofer Investments, has made a decision in principle to sell the company's interest in the controlling shareholder group of Mizrahi Tefahot Bank, TheMarker has learned. Ofer, however, denies any such plan.
According to information received by the TheMarker, Ofer made the decision to divest of Ofer Investments' interest in the bank, but to retain its holdings in Melisron, a major shopping mall and commercial real-estate company where she serves as chairman of the board. For her part, however, after a report regarding her plans appeared in TheMarker in Hebrew on Monday, Ofer issued the following statement: "I am not selling Mizrahi Bank, period. The bank is one of the finest assets of Ofer Investments. I suggest that everyone not engage in baseless speculation of one kind or another."
Ofer added that she had not been asked for her reaction prior to the appearance of the initial report on the matter.
According to the information obtained by TheMarker, however, Ofer is interested in selling the interest in the bank as a result of the new law curbing concentration of corporate economic interests, which would require the Ofer group to either give up its controlling stake in the bank or sell some of Melisron's assets. If the Ofer family proceeds with the move to divest, it might retain a small quantity of Mizrahi shares outside of the investor group that controls the bank. The controlling shareholder group in the bank also includes the Wertheim family with a 22.4 % share.
Under the new government rules aimed at reducing the concentration of economic power, conglomerates will no longer be able to hold both significant financial and non-financial assets. Therefore, Ofer is expected to have to choose between Mizrahi and Melisron in the coming years.
===========
The Ofer family, owners of Mizrahi-Tefahot Bank, also owns the Israel Corporation and numerous real estate holdings. Liora Ofer, Yuli Ofer's daughter, recently bought a chain of malls owned by British Israel and the Ramat Aviv and Savyonim malls, that were previously owned by Lev Leviev's Africa Israel group.
Muzi Wertheim, the Ofer family's partner in Mizrahi-Tefahot Bank, also owns the biggest soft drink company in Israel, the Central Bottling Company (commonly known as Coca Cola Israel) and the concession for Channel Two. ...........................................................................
Jacob Perry leaves behind a den of discord at Mizrahi Tefahot
Regulators are about to submit a critical report on the bank's governance as changes at top erupt into a power struggle.
By Sivan Aizescu | 04:58 24.10.12 |
Just as Jacob Perry is readying to step down as chairman of Mizrahi Tefahot Bank to enter the political ring, the Bank of Israel is set to submit a sharply critical report on the bank's corporate governance.