Life in a Shtetl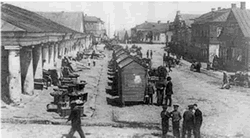 The market place http://www.novogrudek.co.uk/feature_images/?g=0&id=QJRVEu&theme_colour=blue
Life in a Shtetl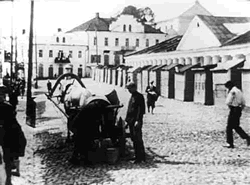 Yankl the water seller http://www.novogrudek.co.uk/feature_images/?g=0&id=OG5h6g&theme_colour=blue


Life in a Shtetl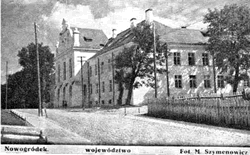 http://www.novogrudek.co.uk/feature_images/?g=0&id=x8cZqd&theme_colour=blue The town hall

Religion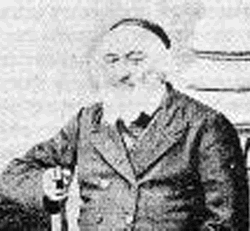 Rabbi Moshe Harcavy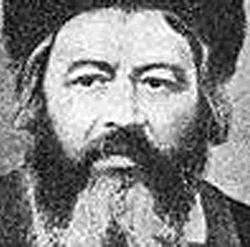 Rabbi Yechiel Michl Epstein (1884-1908)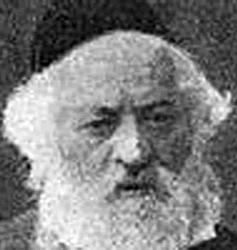 Rabbi Yitzchak Elkhanan Spector (1851-1864)
Throughout central and eastern Europe religion was an important element in every day life for all communities.
Many took their ethnic identity from their religion rather than their nationality and the concept of the nation state was still in its infancy in those regions. Ethnic Poles were Catholics, Byelorussians were Orthodox Christians, the Muslims still identified as Tartars despite settlement in the region for a number of centuries. The Jewish community was no different and considered themselves Jews foremost.
Religion was a binding force and focus of community life for everyone. In Novogrudek the Jewish community was divided between a number of synagogues, all orthodox but encompassing a range of political beliefs. The Jewish community lived under the religious guidance of a number of famous and influential rabbis.
In 1905 Rabbi Jozef Yozl Hurvitz opened the famous Musar Yeshiva.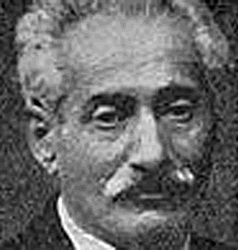 Alexander Harcavy
Emigration from Novogrudek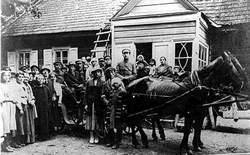 http://www.novogrudek.co.uk/emigration/ go to the link for information
The First World War

The First World War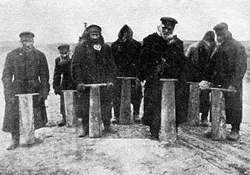 Jewish workers working for the Germans in the First World War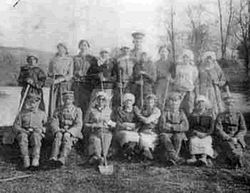 The First World War
to read about it go to; http://www.novogrudek.co.uk/the_first_world_war/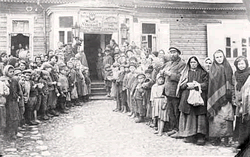 The Soup Kitchen
http://www.novogrudek.co.uk/interwar_years/
Novogrudek as part of Poland and the position of the Jewish minority
http://www.novogrudek.co.uk/novogrudek_as_part_of_poland/
Novogrudek as part of Poland and the position of the Jewish minority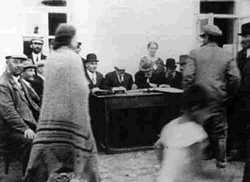 Gmilat Chesed 'Interest Free Loans'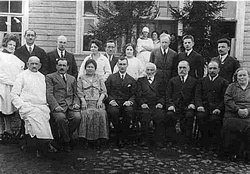 Szpital Zydowski Jewish Hospital, Doctors and nurses 1921

Jewish Politics and Social Groups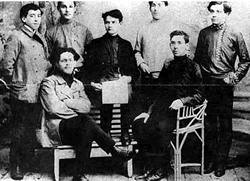 The Central Committee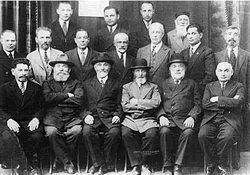 The central committee in Novogrudek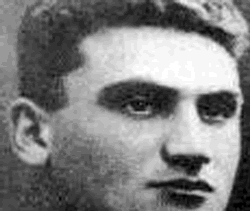 Tuvia Bielski, Commandeer of the Jewish partisan unit, in the Polish army 1927-29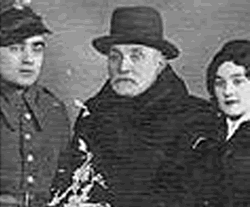 Leon Pikelny with his father and sister, Novogrudek 1938
Novogrudek help committee in New York

Novogrudek as part of Poland and the position of the Jewish minority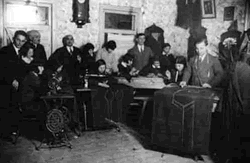 Sheikdey Melocho (ort school)

Jewish Politics and Social Groups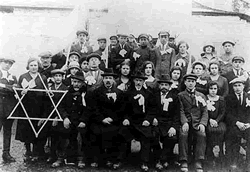 A group of Socialists in Novogrudek
ZionJewish Politics and Social Groupsist election Novogrudek 1935 http://www.novogrudek.co.uk/politics_and_social_groups/

Jewish Politics and Social Groups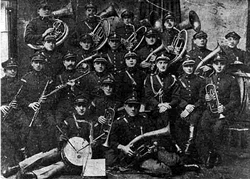 Firemen?s band
Jewish Politics and Social Groups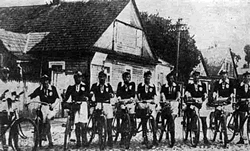 Maccabi Cycling team
Jewish Politics and Social Groups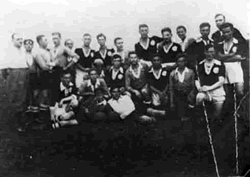 Maccabi Football Team