Regina Zielinski
Australia's only survivor of the brutal Sobibor extermination camp has received a bravery and heroism award from the president of Poland.
Regina Zielinski, 89, was presented with the Knight's Cross of the Order of Merit of the Republic of Poland on behalf of the president by Polish Consul General Regina Jurkowska at Matthew John nursing home at Erina on Friday.
The medal recognises the courage shown by the then 17-year-old during an uprising in the German Nazi death camp and for her efforts to promote knowledge and awareness of the Holocaust since then.
Regina Zielinski was among a group of 600 people who overcame their German guards and ran through the gates of Sobibor and into the surrounding forests.
She was taken to Sobibor with her grandparents, parents and siblings in 1942 from the Warsaw ghettos because they were Jewish.

She was saved from almost certain death when she was pulled from a line when an officer asked if anyone could knit. Her mother pushed her forward but Mrs Zielinski said she was sorry she didn't go with them.
"That was the last time I saw my family as they were taken to the gas chamber on December 20 in 1942, I will never forget that day," Mrs Zielinski said.
She worked in the barracks knitting a sock a day for German soldiers, doing laundry and working hard with little food and sparse clothing.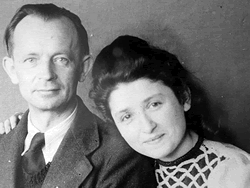 Regina Zielinski and her husband Kazimierz after the war.
During the uprising hundreds of prisoners ran through the main gates. About 300 were shot as they fled or died in the minefield outside the main gates. Only 50 escaped altogether.
"A phrase uttered by Aleksandr Pechersky, leader of the underground group in Sobibor during the outbreak of the uprising, has inspired me to share my story with others," Mrs Zielinski said.
"Pechersky said if one person survives from the escape, the escape will be a success, because that person will tell the world what happened here. I speak for the people still alive and I speak for the ones who didn't manage to survive."
"Three of us ran through the forest together and I found my way back to the neighbourhood where we had lived.
"My friend's mother gave me her daughter's birth certificate and I became known as Regina from my Jewish name of Riva Feldman.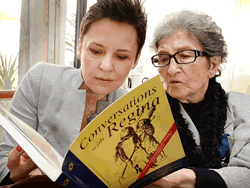 Polish Consul General Regina Jurkowska and Regina Zielinski look at the book about Regina's life.
"I went to Germany and worked as a nanny during the war years and this is where I met my husband Kazimierz, a Polish soldier. After the war in 1949 we moved to Sydney to be far away.''
Mrs Zielinski has spent many years and hours telling her story to school and university groups and volunteering her time to work at the Sydney Jewish Museum.
Her war year memories are painful and she is now the only survivor in Australia to have been part of the Sobibor camp.
SON'S BOOK TELLS MOTHER'S STORY
Regina Zielinski's son Andrew has written a book which depicts the horrors of the Holocaust in Nazi-occupied Poland. The book races his mother's incarceration in, and then escape from a Sobibor death camp and then her survival underground, liberation and the endeavour to re-establish normal life. In Conversations with Regina the Andrew Zielinski embarks on a journey to discover the history of his parents, and in doing so, discovers his own identity.
Professor Konrad Kwiet, Emeritus Professor of German Studies, Macquarie Univeristy, and resident historian, Sydney Jewish Museum said "in the ever-increasing flood of Holocaust testimonies, Conversations with Regina stands out. It is an intriguing account in which history and memory are intertwined."
Appwww.televisionfanatic.com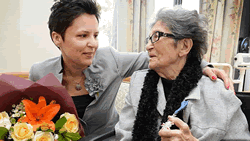 Polish Consul General Regina Jurkowska with Regina Zielinski who has received a bravery medal.
https://www.youtube.com/watch?v=-VqkuNGO1Ts