The story of Yanina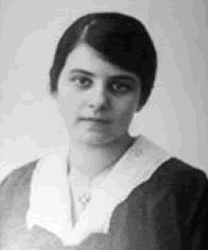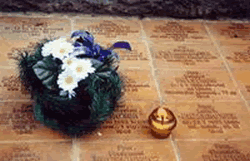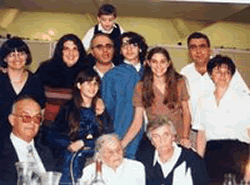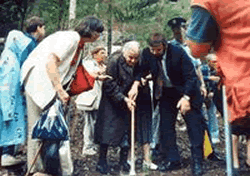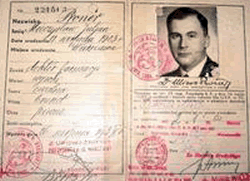 from http://goya29wapo.blogspot.com/2007_07_01_archive.html

[×™×]
Mieczyslaw and Maria Proner with daughter Yanina ( Goldhar)

Yanina Goldhar (born on 14.1.1929) was born to an assimilated family in Warsaw, Poland. Her father Mieczyslaw Proner (born in 1903) was a chemistry researcher in Warsaw University and her mother Maria Proner (born in 1897) was a physics doctor in Warsaw University as well.
While growing up there was no Jewish culture or atmosphere in Yanina's house, although she knew she was Jewish.
Yanina`s father`s IDYanina was an only child and the only Jew in her class. The other children who were aware of this made fun of her. Although even when the others didn't pick on her, Yanina felt that she didn't belong. At school Yanina met Malgosha Palester ( her father was born Jewish) and they became close. Malgosha's mother Maria Palester became a close friend of Yanina's mother a while later.
As from 1936 the anti-Semitism in Poland got more severe and Yanina recalls witnessing and hearing about incidents in which Jews were treated differently simply because they were Jews. For instance, in Warsaw University there was a day declared "day without Jews" and Yanina's parents weren't permitted to go to work.
In 1940 the Nazis had organized a ghetto. Yanina's father was sent as a Polish officer to war and was taken in captive to Russia during the war. All Yanina's grandparents had decided to move into the ghetto and Yanina and her mother were left alone. Yanina's mother wasn't sure whether to join the ghetto or go Yanina`s motherinto hiding and after consulting with Maria Palester who told her that it would be a death sentence to go, she arranged fake ID's (with Maria's help). Yanina and her mother moved to another neighborhood in Warsaw and pretended to be Christians under a fake last name.
Yanina kept attending the same school she did before the war despite how risky it was doing so, while living in constant fear of getting caught. The school principal changed Yanina's last name on the school records to help with her disguise.
Meanwhile Yanina's aunt and grandparents managed to escape from the ghetto and went into hiding. Yanina's mother sold goods that a friend of hers made to shops and when was recognized on the street by a former student, simply told them they must be mistaking her with someone else.
When Yanina graduated her school she kept studying in a sewing school and at a home school where she met polish girls who became her friends. (All the high schools in Poland were closed since the Germans saw the Poles as an inferior race and closed their schools. Therefore, Polish children went to home schools).
Yanina`s family - 4 generationsOn 1.8.1944 the Warsaw rebellion had begun (Poles against Germans). There was a large commotion near Yanina's house and after a week Ukraines (who co-operated with the Germans) took Yanina, her mother and all their Polish neighbors on a train to a working camp where Yanina worked in the kitchens. On February 1945 the camp was liberated and the surviving prisoners walked about 100 kilometers until they reached the Polish borderline. Yanina and her mother went to Maria Palester and Margosha who were helping at a temporary hospital. Yanina and her mother found shelter there and started to help out. Maria Palester and Yanina's mother soon ran the place together which had turned later into an orphanage.
planting a tree in memory of Yanina`s fatherYanina went back to school and graduated with Malgosha. Afterwards Yanina studied medicine in Warsaw University. She met her husband Israel Goldhar and married him in 1950. In 1968 Yanina, her mother, husband and their daughters moved to Israel. It was hard for them to adapt yet they succeeded.
During Yanina's childhood and youth she felt different and didn't want to be Jewish. On one hand she didn't want to hide the fact that she was a Jew, but on the other hand she wanted to be like her friends. Yanina's husband, who came from a traditional family, helped her fight those feelings that went away only after moving to Israel.
memorial plankYanina found out only in 1990 that her father was killed by soviets in 1940. Today Yanina lives with her mother in Ganei Tikvah, has two daughters, grandchildren and a great grandson. Yanina is a retired Tel Aviv University proffesor.
Israel Goldhar died in 2006.