Akiba Rubinstein
From Wikipedia, the free encyclopedia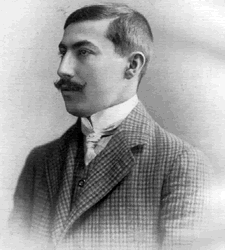 Akiba Rubinstein
Rubinstein around 1907/1908
Full name Akiba Kiwelowicz Rubinstein
Country Flag of Poland Poland
Born December 12, 1882
Stawiski, Poland
Died March 15, 1961
Antwerp, Belgium
Title Grandmaster
.
Akiba Kiwelowicz Rubinstein
Image:Akiba-Rubinstein.png
(12 December 1882, in Stawiski, Poland – 15 March 1961 in Antwerp, Belgium) was a famous Polish chess Grandmaster at the beginning of the 20th century.

Biography
He was Jewish,[1] and his family planned for him to become a rabbi, yet he did not finish his studies and chose to devote himself to chess entirely. The decision came in 1903 after he won fifth place at a tournament in Kiev. He had been training with the strong master Gersz Salwe in ?ód?, and playing frequently against him.
Rubinstein flourished especially from 1907 to 1912. Beginning from his win at Karlovy Vary in 1907, through a shared win at St. Petersburg in the same year, he culminated it in a record string of wins in 1912. He won five consecutive major tournaments that year: San Sebastian, Pieš?any, Breslau (the German championship), Warsaw and Vilnius (although none of these events included Lasker or Capablanca).[2] Some believe that he was better than world champion Emanuel Lasker at this time.[3] Ratings from Chessmetrics support this conclusion, placing him as world #1 between mid 1912 and mid 1914.[4] Reuben Fine, on the other hand, believed he was not quite as strong as Lasker, and was also eclipsed by José Raúl Capablanca after 1911.[2]
At the time when it was common for the reigning world champion to handpick his challengers, Rubinstein was never given a chance to play Lasker for the world chess championship because he was unable to raise enough money to meet Lasker's financial demands. His plans were damaged by a poor showing at the St. Petersburg in 1914 (not placing in the top five). A match with Lasker was arranged for October 1914, but it never took place because of the outbreak of World War I.[5]
After the war Rubinstein was still an elite grandmaster, but his results lacked their previous formidable consistency. Nevertheless, he won at Vienna in 1922, ahead of future world champion Alexander Alekhine, and was the leader of the Polish team that won the Chess Olympiad at Hamburg in 1930 with a superb record of thirteen wins and four draws. A year later he won an Olympic silver.
After 1932 he withdrew from tournament play, mostly because his schizophrenic tendencies[verification needed] became prevalent; he was suffering from anthropophobia, a fear of people and society.[6]
Although he lived for almost 30 years afterwards, he left behind no literary heritage like the other great grandmasters, which may be attributed to his mental problems.
During World War II when the Nazis eventually arrived to haul the aged Jewish grandmaster from his asylum to the death camps, he was so patently insane that they abandoned the attempt.[7]
Chess heritage
He was one of the earliest chess players to take the endgame into account when choosing and playing the opening. He was exceptionally talented in the endgame, particularly in rook endings, where he broke new ground in knowledge. Jeremy Silman ranked him as one of the five best endgame players of all time, and a master of rook endgames.[8]
He originated the Rubinstein System against the Tarrasch Defense variation of the Queen's Gambit Declined: 1.d4 d5 2.Nf3 c5 3.c4 e6 4.cxd5 exd5 5.Nc3 Nc6 6.g3 Nf6 7.Bg2 cxd4 8.Nxd4 Qb6 (Rubinstein - Tarrasch, 1912). He is also credited with inventing the Meran Variation, which stems from the Queen's Gambit Declined but reaches a position of the Queen's Gambit Accepted, with Black one move ahead.
Today, he certainly has no shortage of lines named for him. The "Rubinstein Attack" often refers to 1 d4 d5 2 c4 e6 3 Nc3 Nf6 4 Bg5 Be7 5 e3 0-0 6 Nf3 Nbd7 7 Qc2. The Rubinstein Variation of the French Defence arises after 1 e4 e6 2 d4 d5 3 Nc3 (or 3 Nd2) dxe4 4 Nxe4. The Rubinstein Variation of the Nimzo-Indian is the most popular non-classical line of the Nimzo-Indian [9]: 1.d4 Nf6 2.c4 e6 3.Nc3 Bb4 4.e3. Of course, there is also the Rubinstein Variation of the Four Knights Game which arises after 1 e4 e5 2 Nf3 Nc6 3 Nc3 Nf6 4 Bb5 Nd4, and the Rubinstein Variation of the Symmetrical English, 1. c4 c5 2. Nc3 Nf6 3. g3 d5 4. cxd5 Nxd5 5. Bg2 Nc7, a highly complex system which is very popular at the grandmaster level.
The Rubinstein Memorial tournament in his honor has been held annually since 1963 in Polanica Zdroj, with a glittering list of top-flight winners.
Notable chess games
* George Rotlewi vs Akiba Rubinstein, Lodz 1907, Tarrasch Defense: Symmetrical Variation (D02), 0-1 A very impressive attacking combination; "perhaps the most magnificent combination of all time" (Carl Schlechter)
* Akiba Rubinstein vs Emanuel Lasker, St.Petersburg 1909, Queen's Gambit Declined: Traditional Variation (D30), 1-0 This game ends in an interesting position where Lasker has no good moves (zugzwang).
* Akiba Rubinstein vs Karel Hromádka, Moravská Ostrava 1923, King's Gambit: Declined. Classical Variation (C30), 1-0 A nice game full of tactics and hanging pieces. The former Czech champion Karel Hromádka fights well, but at the end Rubinstein prevails.
* Akiba Rubinstein vs Carl Schlechter. San Sebastian 1912, 1-0 Capablanca has heaped enormous praise on this game, calling it "a monument of magnificent precision." A quintessential game of Rubinstein.
Mattison-Rubinstein, 1929
Image:chess zhor 26.png
Image:chess zver 26.png a8 b8 c8 kd d8 rd e8 f8 g8 h8 Image:chess zver 26.png
a7 b7 pd c7 d7 e7 f7 g7 pd h7 pd
a6 pd b6 c6 d6 pd e6 f6 pd g6 h6
a5 b5 c5 pd d5 rl e5 f5 g5 h5
a4 b4 c4 d4 e4 pl f4 g4 h4
a3 b3 c3 d3 e3 f3 pl g3 h3
a2 pl b2 pl c2 pl d2 e2 f2 g2 pl h2 pl
a1 b1 c1 kl d1 e1 f1 g1 h1
Image:chess zhor 26.png
Black to move (his twentieth move)
* Hermanis Mattison vs. Akiba Rubinstein, Carlsbad, 1929, (C68), 0-1 A famous rook and pawn ending that seemed "hopelessly drawn", but was won by Rubinstein. The editor of the tournament book said that if this game had been played 300 years earler, Rubinstein would have been burned at the stake for dealing with evil spirits. [10]