Yosef Ostrowicz
Long After Escaping the Holocaust, Need for a Little Help to Adjust in Brooklyn
Tyler Hicks/The New York Times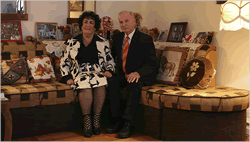 Galina and Yosef Ostrowicz, immigrants from Israel, at home in Bensonhurst, where they moved after struggling in suburbia.
By JENNIFER 8. LEE
Published: November 16, 2007
Sixty years later, he still remembers the smell of burning bodies somewhere near him. It was a 24-hour-a-day stench, unrelenting and inescapable. It hung, still, in the air at night. It greeted him when he woke up in the morning: an invisible, pervasive reminder of the living nightmare of Nazi control. Yosef Ostrowicz, born in Poland in 1928, survived the war, going into hiding in 1943 after he escaped the Warsaw Ghetto. But his parents and older sister did not survive. Separated from the three boys in the family, they were ushered off to their eventual deaths as Mr. Ostrowicz and his two brothers watched
Mr. Ostrowicz recalls that he walked for two days with almost no food or water until he found a kind Polish family. They hid him in exchange for his help on the farm.
When the war ended, Mr. Ostrowicz moved to Tel Aviv. He joined the Israeli Army, and fought battles many times over. He also found his two brothers, whom he assumed had died in Poland.
The second half of the 20th century saw a young man and a young country, both seeking new beginnings and minimal drama. Mr. Ostrowicz became a factory worker. He met a woman. He married. Decades later, she died.
One day in 1992, a friend suggested that he meet a woman, a decade his junior, who had moved to Israel two years earlier from Ukraine. On the designated day, Mr. Ostrowicz waited across the street from the meeting spot. The woman, striking and dark-haired, showed up and waited. He watched her. Seeing no one, she got ready to leave. He then crossed the street and introduced himself.
Their conversation was limited at first, since he spoke Polish and Hebrew and she spoke Russian. It started with simple imperatives: eat; come here.
A faded black-and-white photograph shows a youthful Mr. Ostrowicz with handsome, chiseled features and a confident smile. "Unfortunately, I met him when he was not so young," said the woman on the street, now Galina Ostrowicz.
In 2002, the couple gave up their lives in Israel to move to the Baltimore area to live with Mrs. Ostrowicz's children from her previous marriage. There, they discovered that in the American suburbs, a human who did not drive was not a full human. There were no Russian newspapers, no Russian groceries, no sense of Russian fashion. Mrs. Ostrowicz felt herself withering in surroundings that many on earth would consider ideal.
"If I stayed in Baltimore, I was going to die," she said.
So the couple looked at each other and decided that as long as they were together, everything would be all right. They had almost no income and no savings when they moved to Bensonhurst, Brooklyn, a once-Italian neighborhood where store signs are now in Cyrillic and Chinese. They had little money except for his monthly $400 pension from the Israeli government. Mr. Ostrowicz had not received his Holocaust reparation checks since 2003. Their neighbors suggested that they visit the Edith and Carl Marks Jewish Community House of Bensonhurst, a beneficiary agency of UJA-Federation, one of seven charities supported by The New York Times Neediest Cases Fund.
To help the couple eat, the center gave them $150 a month for three months from the fund to cover their basic needs and began the process of getting Mr. Ostrowicz reparation money again.
Now, the couple considers Bensonhurst home. They walk to the beach. They read newspapers while sitting on park benches and talk in the language they now share, Hebrew. And nearly every day in their living room, she sings karaoke for him, an audience of one. One of her favorites, which she has performed in a competition among Russian women, is a Yiddish song about a man named Yitzik, who is intoxicated by love. The lyrics roll off her tongue with gusto: Yitzik is in love. He has nothing. No money. No furniture. But he is happy, because he is in love.