Nathan Alterman
From Wikipedia, the free encyclopedia
Photo Nathan Alterman © Image: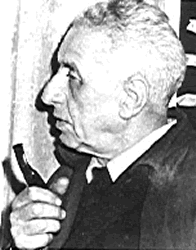 Natan Alterman (born August 14, 1910, Warsaw - died March 28, 1970, Israel) was an Israeli poet, journalist, and translator.
He was born in Warsaw, and moved to Tel Aviv in 1925, where he continued his studies at the Herzliya Hebrew High School. Though he studied agronomy in France, he worked mostly as a translator for Hebrew newspapers. His first poems were published in 1931 and his first book, Stars Outside, was published in 1938. According to Benjamin Harshav, this volume, "with its neo-romantic themes, highly charged texture, and metrical virtuosity, immediately established him as a major force."
His next major book was Simkhat Aniyim ("The Joy of the Poor") (1941), which many regard as his magnum opus. This is a kaleidoscopic phantasmagoria consisting of 31 interconnected poems, all from the viewpoint of the ghost of a dead man obsessed with the living woman he loves - a reversal of the Orpheus and Eurydice story. The dead man wants to protect his living love from war and poverty, but more than anything he wants to drag her into his world. His plans are continually frustrated. The light from a humble candle is enough to drive him back. The story reads like a supernatural thriller, but the rhyme and the meters are regular and elegant.
In 1942, Alterman wrote an angry poem in which Jewish children who have been murdered in the Holocaust give sarcastic thanks to God for choosing them.
Alterman translated Shakespeare, Molière and Racine into Hebrew, as well as Yiddish and Russian writers. He wrote the lyrics of the famous song Kalaniyot, sung by Shoshana Damari.
Alterman won the Bialik Prize in 1957 and the Israel Prize in 1968.
After the Six-Day War, Alterman criticized David Ben-Gurion for being too willing to give up the occupied territories in return for a peace agreement.
See The Modern Hebrew Poem Itself (2003), ISBN 0-8143-2485-1
Alterman was a regular contributor of political verse to the daily Ha'aretz, and later to the Labor daily, Davar. A poetic spokesman for the national struggle, many of his poems were banned by the British Mandate authorities and were passed from hand to hand by an eager public. Alterman also wrote lyrics to several songs that became overnight hits. Much of his lyric and philosophical poetry saw print between 1937-57; many poems deal with love and the experience of city living. An urban poet, Alterman viewed Tel Aviv as the successor to the cities he had known in Europe. Most of the Hebrew poets who preceded him felt connected to the Jewish religion, or to the rural biblical landscape, or Israeli reality. In contrast, Alterman, an avant garde poet, shaped an abstract theatrical world of music boxes, horse-drawn carriages and streetlights in Hebrew poetry.
After 1948 social and political themes became the dominant feature in Alterman's public verse. He was talented at writing about current events with a dry yet biting humor. His poetry is endowed with style, with rich and picturesque language, neologisms, and daringly original rhyme and meter. A prolific lyricist, playwright and essayist, he also translated many works into Hebrew, including pieces by Shakespeare and Moliere, and wrote poetry and plays for children. Alterman received both the Israel Prize and the Bialik Prize. His poems have been translated into twenty languages.
Bibliography
* 1938: Stars Outside (poetry)
* 1941: Joy of the Poor (poetry)
* 1944: Plague Poems
* 1948 and 1954: The Seventh Column (two volumes)
* 1957: City of the Dove

Niggun Atik (An Ancient Melody)
If your tears flow at night like a river,
My joy I shall kindle like straw,
My bed, if you shiver, will warm you,
I shall cover you, sleep on the floor.
If you yearn to join into the dancing
I will play till my bowstrings all break,
If a gift for your birthday you fancy,
My life it is yours, love, to take.
If bread or if wine you are wanting
Head bowed, I will stay on my feet
'Til I've sold both my eyes in the market
So my darling can drink and can eat.
But if ever when I am not with you,
you laugh and carouse without thought,
I'll burn down the rafters above you
With the anger my jealousy's wrought.
http://www.jhom.com/topics/envy/alterman.html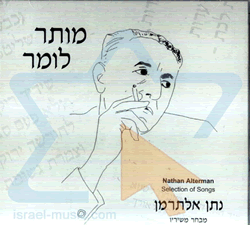 Nathan Alterman - Selection of Songs by Various