Finding Maya
http://www.exit2hope.org/maya
"What I know about Maya is that she was born on 22 February 1941 in Vilna, to Moshe Kopito and Rachel Serenka Zilberberg."
In January 1942, Serenka decided to hand Maya into care so that she could rejoin her peers in the Warsaw Ghetto. Serenka placed Maya with a female communist doctor in an orphanage in Vilna, under the name Yodviga Sogak. Since then no trace of her has been found. Please share this video, together we can find Maya".
Ofer Aloni, named for his aunt Serenka (Ofra), a Warsaw Ghetto Uprising rebel. At the age of 22, she left her infant daughter Maya, who has yet to be found, and charged with inconceivable courage, entered the besieged ghetto to join forces with others rebelling against the Nazis. With them, she fought for the sake of that existential human need, Hope...
http://www.youtube.com/watch?feature=player_embedded&v=3EEy5wwve6Y#at=14

Background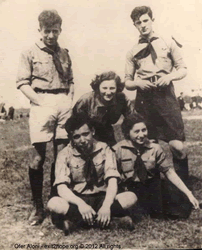 It lay like a stone unturned for 69 years, a historical treasure of personal-social value: the path to Hope, preserved in a warn, tin box, red as the world's flush of shame, from the WWII period, and found in Tel Aviv in February 2012. What did the treasure consist of? Chilling letters and photographs linked to hope, the foundation of our existence – "for a person without hope is likened to the dead".
The person who found this treasure is an artistic creator who has been consciously dealing with HOPE for over a decade. He is named for his aunt, who wrote the letters and whose image is captured on a rare and unique photograph together with Mordechai Anilewicz, Commander of the Warsaw Ghetto Uprising.
The letters and photo brought to light how the group was actually focused around the young woman, Serenka, the real spirit behind the Uprising, who handed over to the care of others her baby daughter Maya, still not heard of to date. She did this of her own volition, to enter the besieged ghetto and join up with her peers, inspiring the rebellion against the Nazis and encouraging those around her to stand together, to fight with hope and for hope, for that existential need basic to us all.
What is HOPE? How did the Warsaw rebels, and Serenka in particular, find hope in that lowest of all possible life circumstances, in the greatest war humanity had ever known?
________________________________________________________________________________________________
sculptor's inspiration?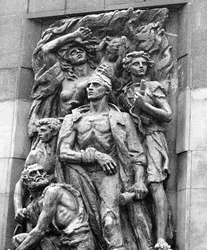 One of the most familiar symbols of the Holocaust heritage: the memorial sculpture by Nathan Rappaport in Warsaw, carved into the very stone that Adolf Hitler planned to use for his own victory commemorative.
In front: Mordechai Anilewicz. Behind him, a woman looking at the infant she holds. Is this none other than Serenka, my aunt after whom I am named? Was she the sculptor's inspiration?

Quotes on Serenka from various books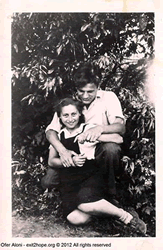 "We will not go as sheep to the slaughter. We have decided that when our end comes, we will not die without defending ourselves. And if we will have no weapons, we will spit in their faces. At least we will show them the derision we hold for them: and that is how we will fall. But at least our actions will not go unremembered. The Warsaw Ghetto Rebel."
One day we were called to our brigade meeting with the new young woman delegate from the Vilna Ghetto. I think her name was Serenka (or perhaps Rachel?) We all sat on the floor and before us stood a young woman, about 22 years old, whose hair already showed white streaks. In the twilight she looked so pretty and noble, but her eyes seemed extinguished.
"It was a night of horrors. We – the members of Hashomer Hatzair [The Young Gurad] hid in one apartment. We listened to the voices coming from the street. The Germans' vehicles stopped and then we heard voices, shouts, shots, heart rending crying. This is how they evacuated one street after another. To where? To the forests near the city, Ponar, no doubt the valley of slaughter.
"Thousands of Jews had already been taken there. We have witnesses who fled from the pit itself and described how they stood men, women and children in rows along the mouth of the pit, then shot them. We live in constant fear. I came to tell you to be wary of them. We have secure information on liquidation of the ghettos throughout east Poland, Ukraine and Lithuania.
to read more about serenka press here!
________________________________________________________________________________________________
A letter from my aunt Serenka to my mother: "... I named her Maya. Do you like it?..."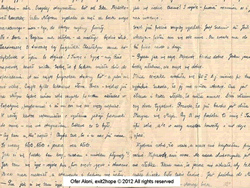 Serenka's letter to her sister announcing the birth of her daughter. In order to return to the ghetto, Serenka hands over her beloved daughter Maya.
Vilna, 6 March 1941
Dear Ruth,
Our daughter was born on 20 February, that is, a month after you left. What a shame you can't see her. She's beautiful, and so sweet that I could just die. Exactly today she's two weeks old. She's so big already, right?
Her name is Maya. Do you like her name?
___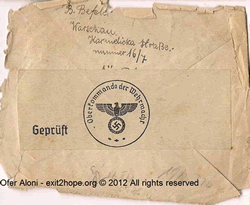 http://www.youtube.com/watch?feature=player_embedded&v=3EEy5wwve6Y#at=14