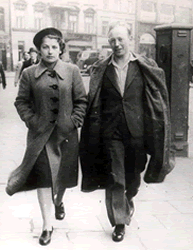 Zivia Lubetkin
From Wikipedia, the free encyclopedia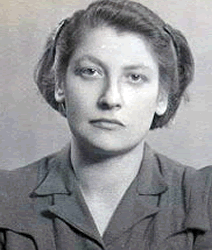 Zivia Lubetkin (1914–1976) (in Polish: Cywia Lubetkin), (in Hebrew: צביה לובטקין ) , also known by her nom de guerre "Celina", was one of the leaders of the Jewish underground in Nazi-occupied Warsaw and the only woman on the High Command of the Jewish Fighting Organization (Zydowska Organizacja Bojowa; ZOB).
Contents
* 1 Pre-World War II
* 2 The Second World War
* 3 Postwar life
* 4 Bibliography
Pre-World War II
She was born in 1914 in Byten, Poland. She joined the Labor Zionist Movement at an early age. In her late teens she joined the Zionist youth movement Dror, and in 1938 became a member of its Executive Council. She was in the Russian-controlled area of Poland when Germany invaded the country in September, 1939, and she made the perilous journey back to Warsaw to join the underground there.
The Second World War
In 1942, Lubetkin helped found the Antifascist Bloc. She also, as one of the founders of the ZOB, served on the Warsaw Jewish community's political council, the Jewish National Committee (Zydowska Komitet Narodowa; ZKN), and also served on the Coordinating Committee, an umbrella organization comprising the ZKN and the non-Zionist Bund, that sponsored the ZOB.
She was one of the leaders of the Warsaw Ghetto Uprising and one of only 34 fighters to survive the war. During her years of underground activities, the name "Cywia" became the code word for Poland in letters sent by various resistance groups both within and outside of the Warsaw Ghetto. After leading her group of surviving fighters through the sewers of Warsaw with the aid of Simcha "Kazik" Rotem in the final days of the ghetto uprising (on May 30th, 1943), she continued her resistance activities in the rest of Warsaw outside the ghetto. She took part in the Polish Warsaw Uprising in August, 1944.
Postwar life
Following the Second World War, Lubetkin was active in the Holocaust survivors community in Europe, and helped organize the Beriha, an organization staffed by operatives who helped Eastern and Central European Jews cross borders en route to Mandatory Palestine by illegal immigration channels. She herself immigrated to Mandatory Palestine in 1946.
She married Yitzhak Zuckerman, the ZOB commander, and they, along with other surviving ghetto fighters and partisans founded Kibbutz Lohamey ha-Geta'ot and the Ghetto Fighters' House museum located on its grounds. In 1961, she testified at the trial of captured Nazi war criminal Adolf Eichmann.
Her granddaughter, Roni Zuckerman, became the Israeli Air Force's first female fighter pilot.
Bibliography
* Lubetkin, Zivia. Die letzten Tage des Warschauer Gettos. pp. 47, illus. Berlin: VVN-Verlag, 1949
* Lubetkin, Zivia. Aharonim `al ha-homah. (Ein Harod, 1946/47)
* Lubetkin, Zivia. Bi-yemei kilayon va-mered. pp. 89. Tel-Aviv, 1953
* Lubetkin, Zivia. In the days of destruction and revolt. [translated from the Hebrew by Ishai Tubbin; revised by Yehiel Yanay; biographical index by Yitzhak Zuckerman; biographical index translated by Debby Garber]. Pp. 338, illus. Tel Aviv: Hakibbutz Hameuchad Pub. House: Am Oved Pub. House, 1981
Retrieved from "http://en.wikipedia.org/wiki/Zivia_Lubetkin"
http://www.holocaustchronicle.org/staticpages/405.html
-- Although they rarely knew their Jewish victims' names, the Nazis intended that Zivia Lubetkin, Richard Glazar, and Thomas Blatt would not survive the "Final Solution." Nevertheless, they did, and after the Holocaust ended each wrote a book about resisting disaster in 1943.
Some 400,000 Jews had inhabited the crowded Warsaw Ghetto, but disease, starvation, and deportations to Treblinka--300,000 of them from July to September 1942--drastically reduced that number. Estimating that 40,000 Jews still lived there (the actual figure was closer to 55,000), SS chief Heinrich Himmler ordered the deportation of 8000 more when he visited the ghetto on January 9, 1943. However, the Zydowska Organizacja Bojowa (ZOB; Jewish Fighting Organization), led by 23-year-old Mordecai Anielewicz, launched armed resistance when the Germans implemented Himmler's order on January 18. Although more than 5000 Jews would be deported by January 22, Jewish resistance--it included hiding and refusal to report as well as violent struggle--prevented the ordered quota from being met and led the Germans to terminate the Aktion. The reprieve, however, was temporary http://www.holocaustchronicle.org/staticpages/405.html