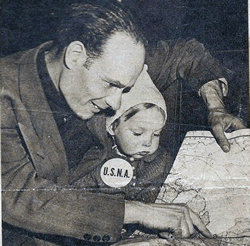 Henry (Chaskiel) Kirszenberg

http://www.kavhadorot.com/185223/Henry-Chaskiel-Kirszenberg
"Dear Gidi,

I am John Kirszenberg…

The only information that I have is about my father… I would like to find out the name of his parents, and brothers and sister, and grandparents if possible.

My father Henry (Chaskiel) Kirszenberg was born on… I'm not really sure exactly where in Poland, but he lived in Warsaw with many brothers and sisters… before the invasion… he left Warsaw with his brother Joseph (?) and went to Russia... he got separated with his brother… they never met up again…

He returned to Warsaw and found that his parents and some brothers/sister had been killed. He was only able to find one sister (name?)…who later moved to Argentina…he lost track of her…

While in the displaced camp he met my mother, Lydia, and I was born... he then divorced Lydia and we both came to the United States by boat… I was only 1-year old then…

I'm sorry, but that is all the information that I have…
Your help is greatly appreciated.

Kind regards, John Kirszenberg, Hudson, Ohio" - John's letter


During Kav HaDorot's years of tracing families, we have amassed materials on hundreds of people with the name Kirszenberg in our information bank. We located Irene Lewkowicz Shashar, the daughter of Helena Kirszenberg, living in Peru. Gabriel Nabielsky Danziger, whose father Nathan Kirszenberg survived the war by adopting a Polish identity, is living in Mexico. Some Kirszenbergs also made it to Israel: we found Professor Marcel Topilsky, son of Fela Kirszenberg, in Tel Aviv and Professor Uzi Smilansky, son of Sarah Kirszenberg, at the Weizman institute in Rehovot. Finally, with the help of Josef Kirszenberg (France) we outlined the extensive family tree of Asher Kirszenberg (c.1782), and Rabbi Israel Isaac Kirszenberg (1853-1913) from Lubartow, Poland, his first and second wife and 15 children.

Rabbi Israel Isaac's family tree shows 1,010 family members…

We scoured the Kirszenbergs' family tree but found no reference to anyone by the name Chaskiel or Josef. Without knowing the names of Chaskiel's parents, John's grandparents, there was no chance of finding a family connection. The only way to proceed was to locate John's mother Lydia.

We tracked down passengers lists:
The couple Chaskiel and Lydia Kirszenberg and their son Yonah were on the list of immigrants who were to sail on theGeneral C.C. Ballou on April 2, 1952 to NY. The list says "did not embark."

In fact 8 days later, Chaskiel (aged 36) and his son Yonah (14 months) did embark on the General M.B. Stewart and arrived in New York on April 20, 1952. The mother, Lydia, remained in Germany.


As they alighted from the ship the father and son were photographed for a Yiddish-English American newspaper and appeared in a short column entitled "New Immigrants."


Yonah's mother, Lydia, was found in Germany.
She now has a new life, a family, children and grandchildren. In a telephone call with her son she told him she was not prepared to meet him and had no further information about his father's family.

The last avenue for discovering the names of Chaskiel's parents was the American Social Security Administration, since he must have Chaskiel's written his parents' names on his application. Armed with Chaskiel's information, which we had gathered (Name: Henry Kirsh, Social security: 297-30-7618; etc.), John applied to Social Security.

Their reply was disappointing: due to concerns of individual privacy, we cannot reveal the names of your grandparents unless you can prove that they have died. Ms. Dawn S. Wiggins, Freedom of Information Officer, further suggests that he resubmit his request in four more years when his father turns 100 years old and the privacy act expires!

Chaskiel had already died 10 years before; so much for freedom of information!

However the search is not over.

Kav HaDorot is planning to send an appeal to Social Security explaining the background of the story and its urgency. Other tools at our disposal are legal channels and calls for information in the media. Since time is not on our side, we hope soon to have more to report to John and to be able to reunite him with cousins all over the world.
http://www.kavhadorot.com/185223/Henry-Chaskiel-Kirszenberg