The story of Kazia (nee Kagan) Bergman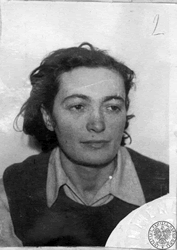 My mom, Kazia Bergman, after returning from camp.

On October 16, 2018 Orit Zehavi Bergman wrote
My mother would have been 100 years old today. She was born in Lodz in 1918, a daughter of two teachers, Zionists. Her father Avraham Kagan was born in Lodz; he was the director of the Jewisg school. Her mother Rivka Kagan nee Krieger was born in Pietrokov. My mother was different,
she joined the youth Communist organization.
At the beginning of the war (September 1939) soon after the Nazis took control of Poland, mother fled Nazi occupied Poland, She fled along with her parents and friends. They came to Lvov (Lviv, Ukraine , which was then controlled by the Soviet Union.) . Mother and her friends studied in the university. My grandparents were teaching. In June of 1941 Nazi Germany attacked the -Soviet Union. Soon the Nazis took control of the area. The Ukrainians killed about 7000 Jews living in Lvov, in collaboration with the Nazis. My mother and some of her friends left Lvov and went back to Warsaw, which was ruled by the Nazis for 2 years. They managed to enter the Warsaw Jewish ghetto. She worked there for some months and then ran away. She was caught, sent to another ghetto, fled again and found a safe shelter with a family of polish underground members. She served as the underground courier. She was caught with the forbidden materials and sent to Majdanek. She has been there under a false polish name not a Jew. When the Germans killed about 40000 Jews from Majdanek and the environment (November. 1943) my mother wanted to join them and die with them, but the other
Polish prisoners did not let her go.Than she was sent to Ravensbruck in Germany, a very cruel women camp, as a political polish prisoner. She decided that she wouldn't be a slave again. She refused to work for the arms factory. So she was beaten hard and sent to a punishment block for what should have been the rest of her life. But the war was about to end. The camp prisoners were sent to the "Death March". My mother ran away. She went all the way from Germany to Poland, working on German farms to survive on the long way.
She married my father, a Soviet Army officer, wounded in Stalingrad, who lost all his family at Lvov riots. I was born in Lodz.
In 1960 we left for Israel. My grandparents passed the war years inTashkent, Uzbekistan, where they worked as headmasters of an orphanage. They went to Israel in 1948.
My mother was a child psychologist, a perfectly normal, nice person most of her life.
When she was 70 years old she began crying at night. She said:" I have to go there, the children are burning..."
From the Kagan family two sisters survived. They join the resistance during the war and fought the Nazis.From the huge Krieger family of my grandmother two brothers left to America before the war. Two nieces fled to Tashkent and survived the war. The rest of the Kagan family was in the Lodz Ghetto. They were sent to Auschwitz and perished there.