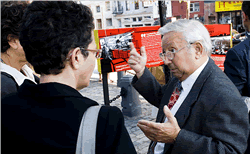 Louis Katz has been honored by signs citing his work at The Forward, the Jewish paper he joined 45 years ago.

By GREGORY BEYER
Published: September 23, 2007
BORN in Poland in 1936, Louis Katz was at a young age smuggled out of the Warsaw ghetto to a farm outside the city, where he lived with a family that treated him as a grandchild. To shield him from mounting anti-Semitism, they concealed his Jewish heritage to outsiders, saying he was a Christian.
Upon immigrating to the United States in 1962, Mr. Katz knew he wanted to work for one of New York's Jewish newspapers. After three months at another Yiddish-language daily, he passed the typesetter exam at The Jewish Daily Forward at its old location, 175 East Broadway on the Lower East Side.
Forty-five years later, Mr. Katz is at his same job, though the paper, now a weekly, moved its offices in 1974 to East 33rd Street and now publishes an English supplement in addition to the Yiddish.
Mr. Katz is among the honorees of Place Matters, a public art project initiated by City Lore and the Municipal Art Society, which celebrates city locations by sharing stories of their people. This month, the project's directors installed signs in Straus Square, near The Forward's old building, that include a photograph from the paper's archive and a brief autobiography of Mr. Katz, in both Yiddish and English. Other signs elsewhere on the Lower East Side feature other contributors to the neighborhood's history.
On Wednesday, a little before 5 p.m., Mr. Katz was sitting in his office at The Forward, before his shiny white Apple computer. Next to it, on a more old-fashioned device, he had tacked a page of Yiddish text. Some of the paper's writers still submit handwritten material in Yiddish, often by fax, which Mr. Katz then types on a word processor and occasionally translates for the English supplement.
In his years at The Forward, Mr. Katz, a short, round man with neatly combed white hair and bifocals (as opposed to what he called his "speaking glasses"), has worked with many of the publication's distinguished writers. He has enjoyed the rare privilege of handling raw copy from major Jewish-American voices, like Isaac Bashevis Singer, before converting their words into type.
"For a period of time, I was the only one he wanted to set his articles," Mr. Katz said of Mr. Singer. "He used to come upstairs and read his own proofs. I remember once he was missing a page ——"
Struggling to describe Mr. Singer's reaction, Mr. Katz threw up his hands and emitted a drawn-out "whish" sound.
"All hell broke loose," his wife, Hanna, translated.
Rukhl Schaechter, a Forward reporter, said that while Mr. Katz had helped expand her vocabulary of Yiddish swear words, his geniality made him a beloved figure in the paper's office, to the point that some people, playing on his last name, nicknamed him "ketsele." Because "ele" is a diminutive suffix, Mr. Katz became a "kitten."
Later in the evening, Mr. Katz, along with his wife and several younger Forward colleagues, attended a reception for the Place Matters project at the Lower East Side Tenement Museum, where he was called on to say a few words.
"My name is Katz," he said into the microphone, acknowledging that unlike most other speakers, he was not from the neighborhood. (The Katzes live in New Jersey.)
"I never lived on the East Side. I'm sorry that I didn't."
Correction: September 30, 2007
An article last Sunday about Louis Katz, a longtime typesetter at The Jewish Daily Forward newspaper, misspelled a diminutive Yiddish suffix used in his nickname at the newspaper's office. Colleagues call Mr. Katz "ketsele," meaning "kitten," in a play on words using the suffix "ele" — not "sele."