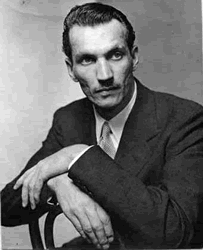 Jan Karski (24 June, 1914 – 13 July, 2000), was a Polish World War II resistance fighter and scholar. In 1942 and 1943 Karski reported to the Polish government in exile and the Western Allies on the situation in Poland, especially the destruction of the Warsaw Ghetto and the extermination camps.
In the summer of 1942 Karski was chosen by Cyryl Ratajski, the Polish Government's Delegate at Home, to perform a secret mission to prime minister Władysław Sikorski in London. Karski was to contact Sikorski as well as various other Polish politicians and inform them about Nazi atrocities in occupied Poland. In order to gather evidence, Karski was twice smuggled by Jewish underground leaders into the Warsaw Ghetto for the purpose of showing him firsthand what was happening to the Polish Jews. Also, disguised as an Ukrainian camp guard, he visited what he thought was Bełżec death camp.[2] (It is now believed that he actually saw a nearby "sorting camp".)
In 1942 Karski reported to the Polish, British and U.S. governments on the situation in Poland, especially the destruction of the Warsaw Ghetto and the Holocaust of the Jews. He met with Polish politicians in exile including the prime minister, as well as members of political parties such as the PPS, SN, SP, SL, Jewish Bund and Poalej-Syjon. He also spoke to Anthony Eden, the British foreign secretary, and included a detailed statement on what he had seen in Warsaw and Bełżec. In 1943 in London he met the then much known journalist Arthur Koestler. He then traveled to the United States and reported to President Franklin D. Roosevelt. His report was a major factor in informing the West, but no action followed.
In July 1943, Karski again personally reported to Roosevelt about the situation in Poland. He also met with many other government and civic leaders in the United States, including Felix Frankfurter, Cordell Hull, William Joseph Donovan, Samuel Cardinal Stritch, and Stephen Wise. Karski also presented his report to media, bishops of various denominations, members of the Hollywood film industry and artists, but without success. Many of those he spoke to did not believe him, or supposed that his testimony was much exaggerated or was propaganda from the Polish government in exile. It is possible, however, that Karski's descriptions influenced FDR to create a War Refugee Board several months later in January of 1944.
In 1944 Karski published Story of a Secret State, in which he related his experiences in wartime Poland. The book was initially to be made into a film, but this never occurred. The book proved to be a major success, with more than 400,000 copies sold in the United States until the end of WWII