Halina Olomucka, An Artist Who Survived Auschwitz
http://www.auschwitz.org.pl/new/index.php?tryb=news_big&language=EN&id=489
Halina O?omucka (née Olszewska) was born in Warsaw in 1921. She was eighteen when she was confined to the Warsaw Ghetto along with her mother, sisters, and brother. She began painting as a child; her mother made sure she always had pastels and paper. Images of a carefree childhood allowed Halina O?omucka some respite from the nightmare of the Warsaw Ghetto. She engaged in an unending struggle to find something to eat and a secure hiding place against the Germans - a quiet place where she could sit down and draw. She became part of an "outside detail" that smuggled food to the ghetto sentries; she found a way to carry some of her drawings beyond the walls of the ghetto. After the war, she recovered them intact from a family friend. Halina's father perished in the ghetto.
In May 1943, following the Ghetto Uprising, Halina's mother, wit her daughters and son, was forced along with thousands of other people to the Umschlagplatz. Jews were transported to the death camps from there. Her mother whispered to her: "You are young and beautiful. You do not have to die… You should not die." Halina's mother was killed in the gas chamber immediately after arriving at the camp at Majdanek. A week later, by chance, Halina avoided a similar fate. She was transferred from Majdanek to the Auschwitz-Birkenau camp, where they gave her camp number 48652. "A sign bearing the slogan 'Arbeit macht frei,' washed away by the rain, was leaning against a wall. I volunteered to repaint that sign. I could paint in secret. I did so in order to survive. I wanted to protect what was inside me."
Defying all circumstances, Halina O?omucka kept painting. She painted starvation, pain, despair, madness, and hope. Desire kept her alive: "I want to live, to be free! To paint meant living; to live meant painting." Women prisoners urged her: "If you survive, do not forget. Draw us, and thanks to your drawings, the world will learn what happened." Halina never forgot this.
The drawings that she did in the Birkenau women's camp were hidden and remained concealed until the end of the war. In January 1945, Halina and thousands of other women from the camp were led out of Auschwitz for the death march. She was then imprisoned in Ravensbrück, and later in Neustadt-Glewe, before being liberated in Mecklemburg on May 2, 1945.
"They came. They said that we were free. Free! I was free! Free - free? What did that mean? Free? I felt nothing. Or rather, I felt an unknown pain tearing at my insides. Whatever strength I had was gone. I had no need to go on fighting. I had no need to go on fighting? I was free. It hurt!"
She returned to Warsaw, but found neither her home nor any of her family or friends there. She was alone. She traveled to ?ód?. She found shelter and work there, and met Boles?aw O?omucki.
Halina O?omucka studied painting at the Higher School of Plastic Arts in ?ód? from 1945 to 1950. One of her professors was the painter and art theoretician W?adys?aw Strzemi?ski, the father of Unism. As a student, Halina O?omucka painted landscapes and other works depicting the horrors of war.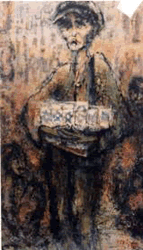 Melancholy and grief fill her paintings of the ruins of Warsaw.
In 1945, she married the architect Boles?aw O?omucki, who studied at the Higher School of Plastic Arts in ?ód? and the Warsaw Polytechnic from 1945-1951.
In 1951, Halina O?omucka gave birth to her daughter Miros?awa, or Miriam. In 1957, Halina O?omucka traveled to Paris with her family and taught drawing to children and adults there. She traveled around Europe, before visiting Israel for the first time in 1968. The dazzling light and the ideal blue of the sky delighted Halina, as did the fragrances, the air, the people, their speech - everything. Four years later, she decided to settle there permanently. She lives in Ashkelon.