Samuel Goldwyn (nee Gelbfisz, born in Warsaw in 1879)
http://www.cobbles.com/simpp_archive/samuel-goldwyn_intro.htm
Hollywood's Lone Wolf
by J. A. Aberdeen
Samuel Goldwyn was unique among the SIMPP founders, in that he had a hand in busting two major film trusts — the Edison patents monopoly (1915) and the Hollywood studio oligopoly (1948). His career spanned multiple generations of film production. He had an instrumental role in the formation of the two largest Hollywood studios, Paramount Pictures and Metro-Goldwyn-Mayer. Yet he opted out of studio executive management, motivated in part by his "lone wolf" nature as well as his inability to deal with partners. A one-time Hollywood mogul archetype, he reinvented himself as an independent producer, forming a production company that became the model for the independents who followed.
Samuel Goldwyn was born Schmuel Gelbfisz, the oldest of six children in a family of Hasidic Jews in Warsaw, during summer of 1879. (Previously most published sources including Goldwyn himself, claimed to have been born in 1882.) At age 15, Schmuel's father died. And the teenager left home on a foot-journey across Europe. He emigrated to England where his name was Anglicized to Goldfish. He lived with relatives until he earned enough money in a blacksmith shop to come to American.
The 19-year-old Samuel Goldfish landed in Canada, and briefly lived in Manhattan, before settling in Gloversville in Upstate New York. He worked in a glove factory then became a sales person. Within five years, he was a successful New York glove dealer.
In 1913, a visit to a nickelodeon began his thinking about a film career. He convinced his brother-in-law Jesse L. Lasky (then a stage producer) to go into business. They formed the Jesse L. Lasky Feature Play Company with the ambitious dream of filming a feature length movie. They hired the then-unknown aspiring playwright Cecil B. DeMille to go out west to direct their first feature The Squaw Man.
Hollywood Renegade: Samuel Goldwyn, early in his film career.
While DeMille was in charge of the filmmaking, and Lasky served as producer — Samuel Goldfish had the job of finding buyers for movies before they were completed. Though he never received screen credit, his partners credited him with being the business mastermind behind the operation. The success of the company spawned a merger with Adolph Zukor's Famous Players.
Once Famous Players-Lasky was created, Goldfish no longer wished to be relegated to the role of salesman, and began to take a greater role in the production of films, and in the administration of the company. He alienated his new partner Zukor, his brother-in-law Lasky, and the studio's biggest star Mary Pickford, and within months of the merger in 1916, he resigned, selling his $7,500 initial investment for $900,000. Famous Players-Lasky later evolved into Paramount Pictures...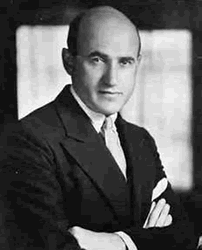 for the rest go to; http://www.cobbles.com/simpp_archive/samuel-goldwyn_intro.htm