Polish President Lech Kaczynski honoring a Pole who saved Jews during the Holocaust in Warsaw in October. (AP)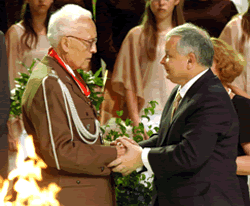 Last update - 02:46 06/12/2007
Polish film recounts heroism of Poles who helped Jews in WWII
By The Associated Press
A new documentary film that recounts the heroic efforts and violent deaths of Poles who helped Jews during the Holocaust premiered Wednesday, amid efforts by Poland to alter a lingering reputation for anti-Semitism.
A Life for a Life, a 33-minute film funded by Poland's Culture Ministry, uses testimony from survivors, grandchildren and neighbors of men and women who were killed by the Nazis for aiding Polish Jews during Germany's World War II occupation of Poland.
"There's a lack of knowledge that there were Poles who gave their lives to save Jews," said Maciej Pawlicki, a journalist and TV producer who came up with the idea for the film. "And there's a dramatic lack of knowledge that results in very negative stereotypes, especially in the West."

The documentary's release coincides with the 65th anniversary of a Polish wartime council set up to help Jews, and the Nazi execution of 33 Poles in the village of Ciepielow for aiding Jews. It also comes amid a broad push by Polish authorities to alter a perception of anti-Semitism that they say unfairly still hangs over the country.
"My grandfather, Jan Kowalski, was the sole member of his family who survived," said Agnieszka Kowalska, 30, who in the film recounts how Nazi SS troops murdered seven members of her family for helping Jews, burning them alive in their neighbor's wooden home. "I'm proud and in a way happy that somebody values that dedication because my relatives paid the highest price."
Unlike in Western Europe where punishment was relatively light, Poles caught aiding Jews were most often immediately shot, along with their entire families.
"There are no immediate plans to show the film abroad," Pawlicki said, although he says it would help correct negative perceptions held by many non-Poles.
Jan Zaryn, a historian from the state Institute of National Remembrance and chief historical consultant on the documentary, argues that the film should be shown in the West and the United States and Israel to present this largely unknown fragment of Polish history during World War II.
Earlier this year, Polish President Lech Kaczynski led a grand ceremony at Poland's National Opera House to honor Poles who saved Jews from the Holocaust. Most of those honored had already received the Righteous Among the Nations award from Israel for saving Jews .
More than 6,000 Poles have received the title from Israel's Yad Vashem Holocaust Memorial, the most of any nation.
Poland's Foreign Ministry has also made efforts in the past year to promote knowledge of Irena Sendler, a Polish woman who helped save 2,500 Jewish children during the war, as well as Jan Karski, a Polish wartime resistance fighter who struggled to get news about the Nazi extermination camps to the Allies.