Marek Edelman
From Wikipedia, the free encyclopedia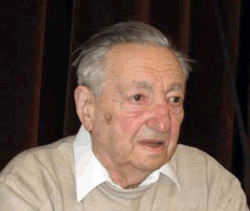 Marek Edelman, Warsaw University, Warsaw (Poland), April 26, 2005
Marek Edelman (b. December 31, 1922) is a Jewish-Polish political and social activist, cardiologist, and one of the last living leaders of the Warsaw Ghetto Uprising.
Born in 1922 in Homel (now Belarus), he soon moved with his parents to Warsaw. In 1942, as a youth leader in the Bund, Edelman was among the founders of the underground ¯ydowska Organizacja Bojowa (Jewish Fighting Organization). In the Warsaw ghetto uprising of April-May 1943, led by head-commander Mordechai Anielewicz, Edelman became one of the three ZOB sub-commanders in the brushmakers' area of the ghetto. Edelman survived the uprising's suppression and the ghetto's liquidation, and managed to escape aided by underground activists of the Armia Ludowa (People's Army). He joined the Polish underground Armia Krajowa (Home Army), and in the summer of 1944 participated in the Warsaw Uprising.
After the Second World War, Edelman studied at the Medical University in £ód¼. In 1976 he became an activist with the Komitet Obrony Robotników (Workers' Defense Committee) and later of the Solidarity movement. During the period of martial law in 1981, he was interned. He took part in the Round Table Talks and served as a member of the Sejm (Polish parliament) from 1989 until 1993.
On April 17, 1998, Marek Edelman was awarded with Poland's highest decoration, the Order of the White Eagle.
In a 2004 interview, Marek Edelman supported Operation Iraqi Freedom, arguing that Fascism, whether in form of Nazism, Baathism or Islamism, has to be defeated by all means. [1]
In Hanna Krall's book "Shielding the Flame" Edelman retells in detail the Warsaw Ghetto Uprising.
References
* Marek Edelman, Resisting the Holocaust: Fighting Back in the Warsaw Ghetto, Ocean Press, 2004, ISBN 1-876175-52-4.
* Hanna Krall, Shielding the Flame, Henry Holt & Co., 1986, ISBN 0-03-006002-8.
External links
* Marek Edelman's Life Story on Peoples Archive
* The Ghetto Fights, by Marek Edelman
* Edelman's Biography
* Last Warsaw ghetto revolt commander honours fallen comrades
--
Eilat Gordin Levitan