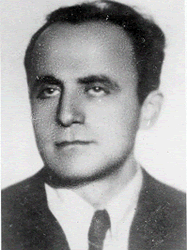 Emanuel Ringelblum (November 21, 1900 – March 7, 1944) was a Polish-Jewish historian, politician and social worker, known for his Notes from the Warsaw Ghetto, Notes on the Refugees in Zb?szyn chronicling the deportation of Jews from the town of Zb?szyn, and the so-called Ringelblum's Archives of the Warsaw Ghetto.
He was born in Buchach in the Austro-Hungarian Empire. Prior to the Second World War Ringelblum worked for various social organisations. Among his most notable activities was helping Polish Jews expelled from Germany in 1938 and 1939. He was also known as a historian and a specialist in the field of the history of Polish Jews between late Middle Ages and 18th century.
World War II
During the war Ringelblum and his family were resettled to the Warsaw Ghetto. There he led a secret operation code-named Oyneg Shabbos (Yiddish for "Sabbath delight"). Together with numerous other Jewish writers, scientists and ordinary people, Ringelblum collected diaries, documents, commissioned papers, and preserved the posters and decrees that comprised the memory of the doomed community. Among approximately 25,000 sheets preserved there are also detailed descriptions of destruction of Ghettos in other parts of occupied Poland, Treblinka extermination camp, Che?mno extermination camp and a number of reports made by scientists conducting research on the effects of famine in the ghettos.
He was also one of the most active members of ?ydowska Samopomoc Spo?eczna (Polish for Jewish Social Aid), an organisation established to help the starving people of the Warsaw Ghetto. On the eve of the ghetto's destruction in the spring of 1943, when all seemed lost, the archive was placed in three milk cans and metal boxes. Parts were buried in the cellars of Warsaw buildings.
Shortly before the Warsaw Ghetto Uprising Ringelblum together with his family was smuggled out of the Ghetto and hidden on the "Aryan" side. However, on March 7, 1944 his refuge was discovered by the Germans; Ringelblum with his family were executed together with the family of Poles who hid them.
Ringelblum's Archives
The fate of the Ringelblum's Archives is only partially known. In September 1946 ten metal boxes were found in the ruins of Warsaw. In December 1950 in a cellar of another ruined house at 68 Nowolipki Street two additional milk cans were found containing more documents. Among them were copies of several underground newspapers, a narrative of deportations from the Warsaw Ghetto, and public notices by the Judenrat (the council of Jewish leaders), but also documents of ordinary life, concert invitations, milk coupons, and chocolate papers.
Despite repeated searches, the rest of the archive, including the third milk can, was never found. It is rumoured to be located beneath what is now the Chinese Embassy in Warsaw.
Literature
* Kassow, Samuel D., Who Will Write Our History? Emanuel Ringelblum, the Warsaw Ghetto, and the Oyneg Shabes Archive, Bloomington & Indianapolis 2007.
External links
* Ringelblum's Archives in the State Archives of Poland http://archiwa.gov.pl/?CIDA=352
* Ringelblum's Biography http://www.diapozytyw.pl/en/site/ludzie/emmanuel_ringelblum/
*
* Ringelblum's Milk Can http://www.jewishvirtuallibrary.org/jsource/Holocaust/Ringelblumcan.html
* Time Capsule in a Milk CanPDF http://www.ushmm.org/museum/publicprograms/programs/milkcan/LearningGuide.pdf
* Ringelblum's Box http://www1.yadvashem.org/exhibitions/museums/histmuseum/from_coll/data/ringelblum.html