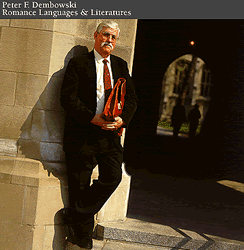 Peter Dembowski; Warsaw Ghetto
Burden of memory is lightened: Dembowski reveals personal history in
story of Warsaw Ghetto's Jewish converts to Christianity
By Jennifer Carnig
News Office
http://chronicle.uchicago.edu/060427/dembowski.shtml
Peter Dembowski is trying to quiet thousands of ghosts by giving them a
voice.
Haunted by memories of Poland during World War II, as well as images
of his own family, Dembowski wrote a book a lifetime in the making,
Christians in the Warsaw Ghetto: An Epitaph for the Unremembered.
"By writing you get rid of your demons, don't you?," asks Dembowski,
the Distinguished Service Professor Emeritus in Romance Languages &
Literatures. "One of my recurring nightmares is that I'm riding a
streetcar straight into the Ghetto and someone pushes me off, and I am
stuck. That's one of those nightmares when you try to wake up. By
writing this, I think that will ease a little. At least, that is my
hope."
Born in Warsaw in 1925, Dembowski spent most of the war years in
Warsaw where he was educated in a clandestine high school and became
active in the Polish underground army. Later he participated in the
Polish uprising—August 1 to October 2, 1944—and then he became a
prisoner of war. Any history of Poland during the Holocaust would be
intensely personal for Dembowski, but by focusing on the untold story
of Christians living in Warsaw, the book Dembowski penned is in many
ways the story of his family.
Dembowski's aunt, Janina Landy Dembowska, was a maternal figure and a
guiding character in his life. After his father died in 1937,
Dembowski went to live with her. The temporary situation turned
permanent in 1941 when his mother and sister were arrested.
Janina Landy was born to a distinguished Jewish-Polish family in 1896,
but in 1915 she was baptized. Her sister, Zofia, even went on to
become a Franciscan nun. Still, they and thousands like them lived in
the Warsaw Ghetto. Just before Janina died in 1979, Dembowski made his
last visit to Poland. There, he promised his aunt that he would write
about "Jewish Christians."
While her fingerprint on his life is strong, Dembowski admits she is
not the only reason he decided to write this history.
"Like many people of my birthplace and my generation, I carry the
burden of memory," he writes in the first chapter of his book. "Mine
eyes have seen, and I remember. I remember even if É I do not trust my
memory about the details. I was in Warsaw in the terrible days of the
ghetto."
A jovial man who likes to laugh and tease, Dembowski gets quiet and
his eyes glisten when he discusses his youth in Warsaw. The years he
spent researching and writing the book were difficult—it was not an
easy subject to tackle. He had been thinking about writing it since he
came to North America in 1946, but decided it was too much to handle.
It had to wait for his retirement.
"The Shoah is the most painful subject in the world," he said,
explaining that he does not use the word Holocaust because it
technically means an offering to God. The subject of the Jewish
converts to Christianity who are included in this group is a
particularly difficult subject to navigate through, Dembowski said,
because they were "considered traitors by many of the Jews they were
living with."
In his book, Dembowski divides the subject into chapters on the
sources he studied: a history of the Warsaw Ghetto, churches in the
Ghetto and their parishioners, how Jewish Christians were perceived by
Jews, and a look at how the Jewish Christians viewed themselves and
their Christian faith.
According to Dembowski, the difference in perceptions between Jews and
Christian Jews concerning the nature of conversion is the most obvious
conclusion to be drawn from the text.
"Jewish writers from the Warsaw Ghetto often expressed dislike,
exasperation, bewilderment, or a mixture of all three at the idea of a
fellow Jew becoming Christian," he writes. Often these ideas sprung
from the belief that these conversions only took place for
materialistic or "self-seeking" reasons, he argues, and they carried
with them a suspicion that these "assimilated Jews" were seeking to
promote the assimilation of others—they were traitors looking for
others to switch sides.
How then did Christian Jews view themselves?
"The main point that I would stress is this: each conversion is
different and each conversion would require its own history to be
understood," Dembowski writes in the conclusion. "In this domain,
stereotyping is simply not productive."
In many ways the target audience for the book is Dembowski's three
grown children. He was never able to discuss much of his beginnings
with them because of the painful memories the topic conjured up.
"Those of us who survived the war, we don't really talk about it,
we're too ashamed. But now is the time to talk," he said, explaining
his reasons for writing the book. "There's not much time left for all
of us, but there are still stories that need to be told, that nobody
knows about."
Still, Dembowski admits he was nervous about publishing the book,
afraid to open old wounds and remind survivors of the past lives they
are still trying to forget. But the response he has received has been
overwhelming and positive. Not only have his friends and fellow
faculty members given him their enthusiastic approval, but also he
recently received a letter in the mail informing him that a tree had
been planted in Israel in his honor. Someone Dembowski had never met
but who had read his work planted it.
He also received a letter from a Jewish-Christian survivor of the
Warsaw ghetto. "Thank you and God bless you for having written about
us," Dembowski read, his eyes filling.
"That is really gratifying," he said. "This is a story that needed to
be told. For Janina, and for the rest of us."