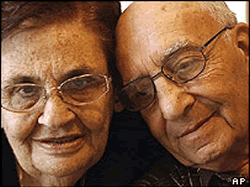 Yad Vashem Reunites Brother ( Binyamin Shilon Shlamovich) and Sister (Shoshana November) After 67 Years
Shoshana November [left] with her brother Binyamin Shilon
Holocaust Survivors Live 90 Minutes from Each Other in Israel,
Thought Each Other Murdered by Nazis
(December 21 2003) On Friday, Dec. 19 (on the eve of the Sabbath and festival of Chanukka), Holocaust survivor Shoshana November and her grandson Nir Zilberberg arrived at Yad Vashem's Hall of Names with a guest from the US. Little did they know that they would soon be reunited with November's long-lost brother, Binyamin Shilon, who had also survived the Holocaust, and lives 90 minutes from November. November and Shilon had thought each other to have been murdered by the Nazis.
A Hall of Names staff member helped them search Yad Vashem's database of Holocaust victims' names, and found a Page of Testimony in memory of November's father, Yaacov Shlamovich. The Page of Testimony, which was submitted in 1956, listed two of Shlamovich's children as having perished. November remembered a third brother who was assumed dead. The staff member searched the database further and found another Page of Testimony, submitted by Binyamin Shilon (formerly Shlamovich). She then found an additional Page of Testimony filled out by Shilon, in memory of November - under the name Ruza, which was her childhood name. The staff member was able to conclude that Shilon was November's long-lost brother Binyamin - each had thought the other dead since the Holocaust.
The Hall of Names staff member then assisted November in locating Shilon, and they met yesterday for the first time since the Holocaust, over a festive Sabbath and Chanukka holiday meal at the home of November's daughter.
Also of note is the fact that November's friend from the US is the daughter of one Yaacov Shlamovich's close friends, with whom November stayed in Poland after surviving a Nazi death camp.
Hall of Names staff often help reunite extended family members during searches for Holocaust victims. The most recent case of reunited siblings was in 2000, under similar circumstances. The key to linking long-lost relatives is Yad Vashem's unique Pages of Testimony, which often contain enough information to make such links possible; Yad Vashem has been collecting Pages of Testimony since the 1950s. The Hall of Names staff, who are experts in genealogy, linguistics, history, and geography, are often the only resource able to research and connect between disparate family sources and documents, as was the case with Shoshana November and Binyamin Shilon.
About the Hall of Names
The Hall of Names houses "Pages of Testimony" commemorating the names and biographical details of Jews who perished during the Holocaust. The Pages of Testimony are an attempt to give them back their personal identity and dignity, which the Nazis and their accomplices tried so hard to obliterate. They are filled out by family members, friends or neighbors, many of whom are survivors of the Holocaust.
In mid-2004, Yad Vashem will enable global access to its database of names of victims of the Holocaust. This database holds great significance for the Jewish People, as it is the most comprehensive record of its sort in the world.
Using a computer system developed at Yad Vashem, any person connected to the Internet will be able to access the database, search for names of victims, and submit names and biographical information of unlisted victims to the database. The system features a sophisticated arrangement of indices (with performance that surpasses other existing retrieval tools) of names and places, to facilitate access to the database and to permit retrieval of information regardless of spelling or changes in the names or places. The system's leading edge search capabilities significantly increase the likelihood of a match - this was often hindered by incomplete data, multiple spellings, language differences, multiple versions of biographical data, etc. The online searches will be performed on Yad Vashem's website.
67 years after they were separated in the Warsaw orphanage, the brother and sister were reunited in Israel
Edited from an article published in Yediot Aharonot
By Meir Turgeman
Y Y Y
Shoshana was 5 years old when she saw her older brother, Benny, then 11, for the last time. Both survived the Holocaust, immigrated to Israel and set up their own families. Each one was convinced that only he/she survived.
"All these years, I thought that my entire family had been lost in the Holocaust. Sixty-seven years after we saw each other for the last time – suddenly I find out that I have a brother, and that he lives 1½ hours away from me by car. I always thought that I was alone in the world, that I was an orphan, having neither parents nor siblings. Now, I can hug and kiss my big brother."
And that is precisely what happened: Shoshana November (73) didn't stop kissing and embracing Benny Shilon (79), her older brother, whom she hadn't seen since he came to say good-bye when she was 5 years old; she was then a little girl in Janusz Korchak's orphanage in Warsaw.
Both siblings were separated from each other at a young age. Each experienced the horrors of war apart from one another, both miraculously surviving the Holocaust. Each immigrated to Israel and raised a family. For decades, each believed that he was the only one of the family to remain alive.
"It always bothered me that I was alone in the world," recounts Shoshana, a resident of Kfar Saba. "I always wanted to say: I'm having my brother over for Shabbat, or – my brother and his children are coming to me for the holidays. My late husband's family has become my extended family."
But recently, a great miracle occurred: Shoshana found out that her brother, Benny, was alive and well, and living in Kiryat Tivon (near Haifa ). They met for the first time in the home of Rachel Zilberberg, Shoshana's daughter. "I have a brother; I have a family," said Shoshana proudly, and didn't stop hugging and caressing Benny.
After they finished embracing and kissing one another, and after all those present at their reunion wiped their tears, the two siblings sat down to reminisce. To put in order dates and times, and the few memories shared by a 5-year-old sister and her 11-year-old brother, separated from each other so many years ago.
Their parents, Jacob and Batya Shalmovitz, had four children: Shalmak was the oldest; next came Benjamin (Benny) and then Shamek. Shoshana, the youngest, was born in 1930. The family lived in Warsaw , Poland . Benny recounts that his parents, whose economic circumstances were good, lost all their possessions during the economic crisis of the 30s.
Their father, Jacob, left the family and journey to England , while their mother, Batya, was left alone with four small children. "We became very poor," recalls Benny. In 1936, given the difficult situation at home, the children were dispersed to various children's homes throughout Poland . Shoshana, he recounts, was sent to Janusz Korchak's orphanage in Warsaw . His younger sister is surprised: she didn't even know that she had spent her childhood years in the orphanage run by the famous educator.
Two years after she was sent to the children's home, Benny came to visit his younger sister. "I was then 11 years old," he recalls. "Rositchka – that's what we called her – wanted to give me a kiss. But I refused – I was embarrassed to be kissed by my little sister. During all the years that have elapsed since then, I was sorry that we did not part with a kiss. Every year, on Holocaust Martyrs and Heroes Remembrance Day, I would think of my dead little sister and of the kiss that never was."
Yesterday, he made up for what he had missed when he kissed his little sister again and again while recounting the story of his life. He had been drafted into the Red Army, where he served until the end of the war. All contact with members of his family was severed.
I fought to live
Shoshana doesn't remember the story of the kiss. "I was really little," she says apologetically. She remembers the years preceding the war; remembers how she was taken to various work camps until she ended up in Auschwitz . "I fought to live," she recounts, as she rolls up her shirt sleeve, revealing the number imprinted on her arm.
She recalls the woman who saved her life as they stood side by side at one of the "selections", in the row of those designated for the gas chambers. "The woman standing next me in line looked at me and said: 'You're young; you have something to live for. Go into the second line.' She pushed me out of the line, and by doing so, saved my life."
Benny finds it difficult to conceal his emotions: "As a soldier in the Red Army, I was among the troops who liberated Auschwitz . I never dreamed that my sister, Rositchka, was there. I remember we saw the big ovens. I couldn't imagine my little sister being in that camp."
But Shoshana had been there. She survived the death march and remained alive. Both brother and sister were so close to one another without knowing it, but fate did not bring them together.
Is that you, Rositchka?
In 1948, Shoshana immigrated to Israel alone. She married and gave birth to two daughters – Rachel and Batya. Today, she also has five grandchildren. Benny made aliya in 1957. He married Na'ama and together they have three children and six grandchildren. "When I was in Russia , I tried to find my siblings," he recounts, "but I was certain that Shoshana had perished in the Holocaust. I've been alone since I was very young. I didn't get to feel what it was like to have a warm family until I got married and had my own children."
Brother and sister would never have been reunited had it not been for a relative from the United States who paid a visit to Shoshana. They traveled together to the Yad Vashem Holocaust Memorial in Jerusalem . "I gave my details to the Relatives Search Section, "Shoshana recalls. "I searched for years until I understood that the chances of anyone having survived were nil. Suddenly I was told: 'Someone is looking for you – your brother.'"
Deeply moved, Shoshana left Yad Vashem holding a note on containing her brother's name and telephone number. "I went back home," she recounts, "and gave the number to my grandson, Nir, to dial for me."
"I called him and said: You have a sister named Shoshana, and she wants to speak with you. He asked me: Is that you, Rositchka? And I immediately felt in his voice that he was my brother, Benny. We immediately switched to Polish. We talked about our mother and father, and our two brothers." At the end of that emotional conversation, they made up to meet on Shabbat for a family dinner.
"When my mother told me she had found her brother, I was very sceptical," says her daughter, Rachel. "I was afraid that my mother would get too emotional. But from the moment we found my uncle, our house has been filled with excitement and joy. Up to the last minute, we feared that it would all turn out to be a mistake and we would all suffer disappointment."
I still can't believe it
But there was no disappointment when Benny, accompanied by his wife and one of his children, knocked on the door at long last. "I couldn't imagine what he would look like," recounts Shoshana. "I remembered that he was always said to be a pretty child." Benny: "You were the pretty one and have remained so. I knew you were my sister right away."
The two siblings, who had not seen one another in 67 years, could hardly say good-bye to each other. "We have a lot of catching up to do," they say. "I still can't believe it," says Shoshana. "Even though he's here beside my and I'm speaking to him and touching him, I still don't believe that I have a brother. It's a dream. It's really a miracle."
Now that they have found one another, they are both beginning to believe that anything is possible – that one of their two brothers may still be alive, perhaps even living here in Israel. Shoshana takes out her picture album. "You're still the same pretty girl from the photographs," says Benny affectionately. "I've always worried about you and thought of you." Surrounded by their children and grandchildren, they are already planning a reunion of their entire extended family. After more than 67 years, they finally have a large extended family.