Adina B. Szwajger Dead at 75; Pediatrician in Warsaw Ghetto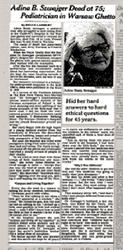 By Bruce Lambert
Feb. 24, 1993

Credit...The New York Times Archives
See the article in its original context from
February 24, 1993, Section B, Page 7Buy Reprints
Adina Blady Szwajger, a pediatrician who struggled to save young lives in the Children's Hospital in the Warsaw ghetto and survived to recount the horrors, died Feb. 18 in Lodz, Poland. She was 75 and lived in Warsaw.
The cause of death was pancreatic cancer, said Jerzy Warman, a friend in Manhattan.
When the Nazis finally shut the hospital Dr. Szwajger (pronounced SHVY-gher), despite her Jewishness, escaped the ghetto with special identity papers, then worked with the resistance.
After the war she resumed work as a pediatrician and occasionally spoke about her harrowing experiences. But she kept the most haunting episode a secret for decades, until she was ill and in retirement.
Her memoirs circulated in a Solidarity underground magazine in the mid-1980's, then were published in the West in 1988. 'Damning and Uplifting'

In a review of the Pantheon edition in The New York Times, Kati Marton said: "Dr. Szwajger's unsentimental, almost matter-of-fact memoir of the German occupation of Poland is the most damning and most uplifting of the many accounts of the Holocaust that I have read. I did not think the well-covered ground of Nazi atrocities could still astonish. 'I Remember Nothing More: The Warsaw Children's Hospital and the Jewish Resistance' proved me wrong."
Her story began with the high hopes of a young medical student from the University of Warsaw. She described herself as bubbling, happy and proud to help youngsters at the hospital."Once he was talking to me when a little girl appeared at a window," she wrote. "He raised his gun, shot her and carried on talking to me. I picked up a child, said goodbye to him and walked away -- only I didn't know how to hold the child so that it wouldn't be hit if the Ukrainian shot at me."
At the hospital, toward the end, "corpses and living all lay together" as soldiers killed some patients and ordered others to the death camps. A nurse pleaded with Dr. Szwajger to inject the nurse's bedridden mother with a lethal dose of morphine.
The doctor agreed. She also decided -- and this secret she kept for 45 years -- to carry out euthanasia on some of the children. In the infants' ward, she spoonfed each of them a fatal dose of morphine.
"Just as, during those two years of real work in the hospital, I had bent down over the little beds," she wrote, "so now I poured this last medicine into those tiny mouths. And downstairs there was screaming because the Germans were already there, taking the sick from the wards to the cattle trucks." 'Why I Was Different'
She told the older children to get into bed, and "this medicine was going to make their pain disappear."
"So they lay down and after a few minutes ----," she wrote. "I don't know how many. But the next time I went into that room, they were asleep. And then I don't know what happened after that."
That memory never left, "and that's why I was always different from everybody else."
Dr. Szwajger's husband, a law student, was killed by the Nazis, who tricked him into turning himself in. Later she became pregnant by a man in the resistance. But she arranged an abortion, and also arranged abortions for three other women, because she was convinced that "children had no right to be born" into such a world.
Dr. Szwajger later married Wladyslaw Swidowski, who died several years ago. She is survived by two daughters, Hanna and Alina, four grandchildren and two great-grandchildren, all in Poland.
But soon the hospital was filled with youngsters dying from tuberculosis, typhus and starvation. The Nazis occupiers sealed off the ghetto and eventually marched a steady stream of people to their deaths.
"So we tried to save them with those scraps of food, medicines and injections," she wrote. Some children revived enough to smile -- "except that this was the kind of smile that made your hair stand on end and your flesh crawl." She described "famished skeletons" fighting over the soup pot, spilling it and lapping the slop off the floor. 'Corpses and Living Together'
Every day she went to a square to looking for stray children, befriending a Ukrainian guard with vodka.