Poland honors 53 who risked lives to save Jews in World War II
By Lisa Zilberpriver, Haaretz Service and News Agencies
A group of Poles who saved Jews during the Holocaust looking on during a honoring ceremony in Warsaw, Poland. (AP)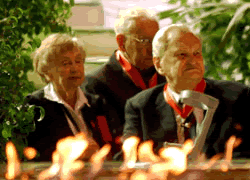 Poland honors 53 who risked lives to save Jews in World War II
By Lisa Zilberpriver, Haaretz Service and News Agencies

Polish President Lech Kaczynski on Wednesday led a ceremony at Warsaw's National Opera House honoring individuals who risked their lives to save Jews during the Holocaust, many of whom already hold the Righteous Among the Nations award bestowed by the Yad Vashem Holocaust authority.
Wilm Hosenfeld, a German officer who helped save Szpilman, Polish-Jewish musician and subject of Roman Polanski's Oscar winning film, The Pianist, also received a posthumous award, presented to his grandchildren by Kaczynski.
Yad Vashem Chairman Avner Shalev thanked some 53 awardees on behalf of Israel, after each was escorted to the stage by two Polish children, one Jewish and one Catholic.

"You were lonely and isolated and frightened. You have proven to us that it is within each of us to fight evil. The Jewish people will forever remember you and the lessons you have taught us," Shalev said.
U.S.-based Jewish lawyer Michael Traison, who attended the ceremony, told Haaretz that the Polish presidents' address elicited an emotional response among the 2000-strong crowd.
"Again today (Kaczynski) sounded more like the president of the Jewish people than of Poland. As right wing as may be his followers, this man has a passion for our people that he does not try to tone down in his public statements," Traison said.
Czechoslovakia on Tuesday bestowed its highest military decoration upon a Briton who helped hundreds of Jewish children avoid being sent to Nazi concentration camps.
Sir Nicholas Winton, 98, was awarded the Cross of Merit of the 1st class by Defense Minister Vlasta Parkanova for saving 669 Czechoslovak children from death by organizing train transport from Prague through Germany to London at the outbreak of the war in 1939. The children reached foster parents in England and Sweden.
"I am completely overwhelmed that this should happen to me for something I did before most of you were born," Winton said during a ceremony at the defense ministry. Winston has been honored by Czech and British authorities in the past and Czech Foreign Minister Karel Schwarzenberg said Tuesday he would nominate Winton for the Nobel Peace Prize.
Web sites specializing in betting Tuesday nominated a Polish Holocaust heroine among favorites to win the Nobel Peace Prize. Irene Sendler was honored earlier this year in Poland for her role in saving 2,500 Jewish children from the Nazis in Warsaw.
The committee was due to name the winner of the $1.53 million prize on Friday.