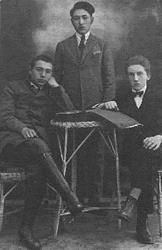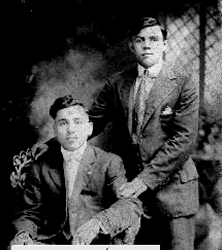 Boruch Kagan (Ben Cohen) and Vileika friend Max Tobias in 1913. Courtesy of his daughter; Beatrice Markel, Redondo Beach, California
Remembrances of Vileika
Ben Kagan/Kahan/Cohen
The following is paraphrased from an Audiotaped interview in Los Angeles, California, when my father was in his eighth decade, and incidentally before my involvement in genealogy.
Beatrice Markel, Redondo Beach, California
I was named Baruch Kagan and I left my home in Vileika…Little Vileika… in Belarussia to come to America in 1913 when I was 18 years old.
Little Vileika was near a lake not far from the town of Vileika and a short distance from Dolinov, where I remember traveling by horse and wagon to get supplies for the mill and inn my father operated.
My father's name was Avrum and my mother's name was Rikla Zapodnik. My father was a Cohanim. He was a Cantor and well learned in Hebrew. I was the fourth of five sons..
I will tell you about them later.
I have wonderful memories of growing up in this very big house, which
was also used as an inn for travelers who would spend the night there. We had chickens, cows, horses and even sheep. My mother had a loom and would weave the wool sheared from the sheep into material.
The mill and land was owned by the local Church authority and I remember the priest's wife (matushka) being paid rubles (100 rubles a year) and calling me by my Russian name: Boris. All of the Christians in the village were friendly and I can't remember any incidents directed at us. They would get drunk but there were no pogroms at that time and place.
Our house was a gathering place for the Jewish community as well as my aunts and cousins from four or five families in the neighboring villages. I had a boyhood friend, Max Tobias in Vileika and Dolinov, whose father also operated a mill, but it wasn't as big as ours.
At Passover, because we had a huge oven, all the matza for the community was baked in our house. There was an abundance of fruit and I remember apples (yavlishki) pears (grushki, cherries (vishli) and a kind of grape (agres)
My oldest brother, Zundel went to Vilna as a young man and established himself in the business of buying and selling cloth. He married in Vilna and had a son Itzak and a daughter. He would come and visit us in Vileika and would bring material for my mother, that she sewed into clothes for the family.
My brother Hershel went to Moscow to live after the Revolution, he may have had strong Socialist views. He married and sent a photo of himself, his wife and daughter taken in 1927 in Moscow. My brother David was the first to go to America in 1908, (through Ellis Island) and eventually settled in Chicago, Illinois and Milwaukee, Wisconsin, where our cousins from Vileika and Dolinov had already settled. My brother, Beryl, was in the Russian Army, at age 16, and was shot in a non-service related incident, I don't know much more about it.
There were also two sisters-twins but they died when they were just 3 years old in an accident. I don't remember them.
I left my parents and Vileika for America, because my father and mother thought that I was getting too friendly with the Christian girls there. So, in the winter of 1913 I went on the journey that would take me by way of Liverpool on the ship "Canada" to Nova Scotia and the U.S. port of Portland, Maine — to Chicago, Illinois.
Finally, my mother and father came to America, in 1924, after the Revolution took over the land.