The story of the Kaliko Norman family
http://www.ynetnews.com/articles/0,7340,L-4062954,00.html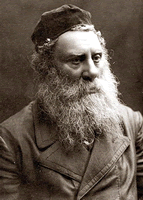 1. picture of Yekutiel
Yekutiel Ben Shlomo Keiles (his eldest daughter Ester – Rachel Keiles
– Kaliko, was my mother's grandmother) was born in Bialystok in
eastern Poland, in 1840. He was a blacksmith in the new city, Nova.
In 1912, Yekutiel Keiles was among the "non-Russia" Jews who met the
authorities' criteria and were allowed to vote for the Russian
parliament, the Duma, as one of the Jews' representatives. He died of
an illness in 1927, after the death of two of his daughters that year.
Yekutiel had six daughters and two sons, and three others whose names
appear in the records of the Polish archive of Bialystok and who I
didn't know about.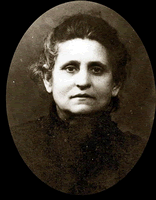 2. picture of Masha Bat Israel Keiles
Masha Bat Israel Keiles (the wife of Yekutiel Keiles. Her eldest
daughter, Esther Rachel, was my mother's grandmother) was born in
Bialystok in the middle of the 19th century and died in the 1920s. She
had six daughters and two sons and three others who I didn't know
about.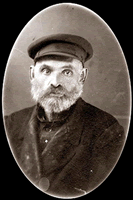 3. picture of Leib (Aryeh) Ben Hirsch Kaliko
Leib (Aryeh) Ben Hirsch Kaliko (the husband of Esther Rachel
Keiles-Kaliko, my mother's grandmother) was born in Bialystok around
1860 and worked as a weaver. After the death of his wife
Esther-Rachel, he immigrated with his young daughter to America
(around 1925) following his two sons (Yerachmiel-Robert and
Israel-Izidor) who immigrated before him. He spent the rest of his
life in New York, where he died. He had five sons and two daughters.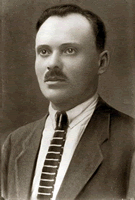 4. picture of Shimon Kaliko
Shimon Kaliko was the eldest grandson of Yekutiel Keiles (son of
Esther-Rachel Keiles and Leib Kaliko of Bialystok). He was born in
Bialystok in 1885 to a family who lived there for many generations. As
young man he worked as a skinner in Smorgon, near Minsk. He was active
in the Bond – the Jewish laborers' movement – and was sent to prison
for subversive socialist activity against the czar. In jail he met his
future wife (my grandmother), Chaya Bella Norman of Vileyka,who was
also active in the Bond movement. They married in 1908-1910 in
Smarho?. (their eldest daughter was my mother, Nechama Kaliko, who was
born in Smarho? in 1912).
During World War I, my grandfather was expelled with his wife and
three small children, along with the rest of Smarho?'s Jews. They were
forced to march from Smarho? to Minsk. There, they lost their three
children in one day following a rubella (or measles) plague which
spread among the refugees. Shimon and his wife, Chaya-Bella, fell into
deep grief. Even before the end of the war, he reached Kazan (the
Tatarstan capital) in search of his eldest daughter (my mother,
Nechama Kaliko), who escaped with her grandfather and aunts on a train
from Vileyka to Tatarstan during the expulsion.
In Kazan they had a son and a daughter (Zvi-Hirschel, 1916, and
Tzipora-Feigel, 1918). After several years in Kazan, they moved to
Bialystok, where grandfather's family lived – a great tribe of the
Keiles and Kaliko family members. Their seventh son Gershon was born
in Bialystok in 1920.
Due to difficulties providing for his family, they moved in 1926-7 to
his wife's hometown – Vileyka, then Poland, on the Belarus border. My
grandfather and grandmother, Shimon and Chaya Bella, refused to flee
the town on the day the Germans entered – June 22 1941, believing that
the enlightened Germans would not hurt them. According to testimonies,
my grandfather, Shimon Kaliko, was burnt alive along with the other
men of Vileyka, while they were imprisoned in the local jailhouse
which was set on fire. My grandmother and her small grandson were
apparently thrown into pits outside Vileyka and shot in the same
method which was customary in the areas surrounding Vilna, and in all
of Belarus and Lithuania.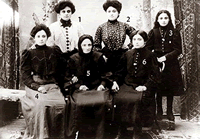 5. picture of the Norman girls c 1900
1 – Chaya ( Kaliko), the eldest sister, 2 – Besel (Batya), 3 – Menuha,
4 – Heine, 5 – the mother, Feige Meirovitch-Norman, 6 – Batsheva, the
only one who lived to an old age. She immigrated to America in 1919
and married Yaakov – Jack Aizenshtat of Minsk, and lived a rich life
in Boston. She died in 1965.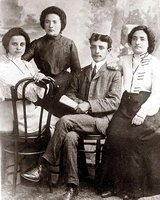 6.picture of the Norman cousins
From left to right: The young Chaya Bella Norman (later Shimon's
wife), her brother Nathan Norman and two cousins in Vileyka, the
summer of 1904. Her brother, Nathan Norman, immigrated to the United
States in the first decade of the 20th century, lived in Los Angeles
all his life, founded a large insurance agency and was an amateur
painter. Chaya and the cousins were murdered in the Holocaust.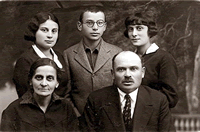 7. The Kaliko family
Farewell photo of my mother, Nechama (standing on the right), on the
eve of her immigration to the Land of Israel, 1933. Her brother
Gershon (standing next to her), her sister Feigel, the parents Shimon
and Chaya – were all murdered.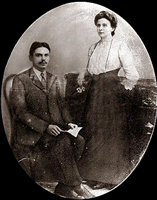 8. A wedding picture
My grandfather and grandmother, may God avenge their blood, Shimon
Kaliko from Bialystok and Chaya Bella Norman from Vileyka, on their
wedding day in Smarho? 1908-1910. They were both murdered in Vileyka
on June 22, 1941 with their small grandson.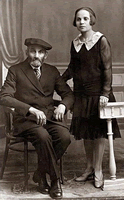 9. Shalom Norman with daughter
Shalom Norman (the brother of my great grandfather, Kalman Norman)
and his daughter Hannah Heine Norman, in Vileyka. Hannah perished in
the Holocaust.