Yeshayahu Leibowitz
No man is a prophet in his own land 2/2
http://www.youtube.com/watch?v=AVYGRwVfSSQ

A Philosopher for all Seasons
http://www.youtube.com/watch?v=JJFdZdxuY4w

5/8
http://www.youtube.com/watch?v=6k8ABjj1iCE

Yeshayahu Leibowitz was born in Riga in 1903, to a religious and zionist family. His father was a lumber trader, and his cousin was future chess grandmaster Aron Nimzowitsch. In 1919, he studied chemistry and philosophy at the University of Berlin. After completing his doctorate in 1924, he went on to study biochemistry and medicine, receiving an MD in 1934 from the University of Basel.
He immigrated to Mandatory Palestine in 1935 and settled in Jerusalem. Leibowitz was married to Greta, with whom he had six children.[1] His son, Elia, was chairman of the Tel Aviv University astrophysics department and the longest-serving director of the Wise Observatory.[2] Another son, Uri, was a professor of medicine at Hadassah University Medical Center.[1] His daughter, Yiska, is a district prosecutor.[1] His sister, Nechama Leibowitz, was a world famous biblical scholar.
Leibowitz was active until his last day. He died in his sleep on August 18, 1994.[3]
In 2005, he was voted the 20th-greatest Israeli of all time, in a poll by the Israeli news website Ynet to determine whom the general public considered the 200 Greatest Israelis.[4]

Academic career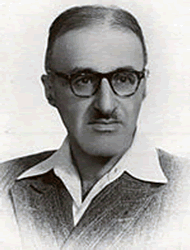 Leibowitz in the 1930s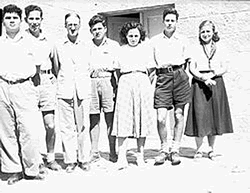 Leibowitz (third from left) with students at Tichon Beit Hakerem, 1947
Leibowitz joined the faculty of mathematics and natural science of the Hebrew University of Jerusalem in 1936. He became a professor of biochemistry in 1941 and was promoted to the position of senior professor of organic chemistry and neurology in 1952. He taught at the Hebrew University for nearly six decades, lecturing in biochemistry, neurophysiology, philosophy, and the history of science.[3]
Religious philosophy
Leibowitz was an Orthodox Jew who held controversial views on the subject of halakha, or Jewish law. He wrote that the sole purpose of religious commandments was to obey God, and not to receive any kind of reward in this world or the world to come. He maintained that the reasons for religious commandments were beyond man's understanding, as well as irrelevant, and any attempt to attribute emotional significance to the performance of mitzvot was misguided and akin to idolatry.
The essence of Leibowitz's religious outlook is that a person's faith is his commitment to obey God, meaning God's commandments, and this has nothing to do with a person's image of God. This must be so because Leibowitz thought that God cannot be described, that God's understanding is not man's understanding, and thus all the questions asked of God are out of place.[5] Leibowitz claimed that a person's decision to believe in God (in other words: to obey him) defines or describes that person, not God.
One result of this approach is that faith, which is a personal commitment to obey God, cannot be challenged by the usual philosophical problem of evil or by historical events that seemingly contradict a divine presence. When someone told Leibowitz that he stopped believing in God after the Holocaust, Leibowitz answered, "Then you never believed in God."[6] If a person stops believing after an awful event, it shows that he only obeyed God because he thought he understood God's plan, or because he expected to see a reward. But "for Leibowitz, religious belief is not an explanation of life, nature or history, or a promise of a future in this world or another, but a demand."[7]
Leibowitz was a staunch believer in the separation of state and religion. He believed that mixing the two corrupted faith. He condemned the veneration of Jewish shrines, cynically referring to the Western Wall as the Discotel (a play on the words "discothèque" and "Kotel").[3]
In contrast to his strict views on some religious matters, he was surprisingly liberal in others. On the subject of homosexuality, for example, Leibowitz believed that despite the ban on homosexual relations in Judaism, homosexuals should do their best to remain observant Jews.[8]
Lectures and published work
Leibowitz served as the editor of the Encyclopaedia Hebraica in its early stages. Apart from his innumerable articles and essays, Leibowitz authored a wide range of books on philosophy, human values, Jewish thought, the teachings of Maimonides, and politics. Many of his lectures and discourses, including those given as part of the "Broadcast University" project run by Israeli Army Radio, were subsequently compiled and printed in book form. Leibowitz was a prolific letter-writer and his advice or comment was sought out widely. A first collection of his letters (in Hebrew) was published posthumously.
Political views
Before the founding of the State of Israel and for a few years after, Leibowitz still believed that the state should strive to adhere to Jewish Law, Halacha. He became progressively critical of government policy, and came to change his views completely. In his later philosophy he denied that the state of Israel had any Jewish religious significance and became an outspoken defender of the complete separation between religion and state.[9] He was among the first Israeli intellectuals who stated immediately after the 1967 Six-Day War that if Israel held on to the occupied territories, this would lead to the decline of Israel's moral stature. From then on to his death Leibowitz was an outspoken critic of Israeli values and national policy. His remarks accusing Israeli soldiers of a "Judeo-Nazi" mentality provoked a public outcry amongst Israelis.
Israel Prize
In 1993, he was selected for the Israel Prize. Before the award ceremony, Leibowitz was invited to speak to the Israel Council for Israeli-Palestinian Peace, where his controversial remarks calling upon Israeli soldiers to refuse orders triggered outrage (and Yitzhak Rabin had threatened to boycott the ceremony). The jury convened to discuss the possibility of withdrawing the prize, but Leibowitz himself announced that he would refuse to accept it, because he did not want to create antagonism when receiving the prize.[10]
Family
His grandson, Shamai Kedem Leibowitz, has also been controversial in his own right. As lead defense counsel to former Tanzim leader Marwan Barghouti, who was convicted of murder in 2002, he compared his client to Moses, because "according to Exodus, he is a freedom fighter."[11]
On December 17, 2009, Shamai Leibowitz pleaded guilty to leaking classified documents to a blogger known as "Recipient A." He was sentenced to 20 months.[12] An exposé by the New York Times on September 5, 2011 revealed that the leaked documents contained transcripts of discussions recorded by wiretap at the Israeli Embassy by the FBI and that the identity of "Recipient A" was Richard Silverstein.[13] Upon release from prison, Leibowitz claimed in his blog that Silverstein made the story up.[14]
References
^ a b c Confessions of a litigation commando – Haaretz – Israel News
^ Templeton Research Lectures on the Constructive Engagement of Science and Religion :: Speaker Bios
^ a b c Greenberg, Joel (August 19, 1994). "Yeshayahu Leibowitz, 91, Iconoclastic Israeli Thinker". The New York Times.
^ ??? ???????' (June 20, 1995). "??????? ???? 1: ???? ???? – ????? ??????". Ynet. Retrieved July 10, 2011.
^ Zev Golan, "God, Man and Nietzsche: A Startling Dialogue between Judaism and Modern Philosophers" (New York: iUniverse, 2008), p. 43
^ Zev Golan, Thundering Leibowitz, The Jerusalem Post, Sept. 15, 1997
^ Golan, God, Man and Nietzsche, p. 89
^ Journal of Homosexuality, volume 52, issue 3/4, Gay, Orthodox, and Trembling: The Rise of Jewish Orthodox Gay Consciousness, 1970s–2000s, by Yaakov Ariel
^ Yeshayahu Leibowitz (1995) Judaism, Human Values and the Jewish State. Cambridge, Mass: Harvard University Press.
^ Uri Avnery: Israel's Conscientious Objectors
^ Bennet, James (October 4, 2002). "Palestinian Urges Defiance; Plan to Grab Arafat Reported". New York Times. Retrieved September 6, 2011.
^ "Yeshayahu Leibowitz's grandson pleads guilty to leaking FBI documents". Yediot Aharonot. December 18, 2009. Retrieved September 6, 2011.
^ Shane, Scott (September 5, 2011). "Leak Offers Look at Efforts by U.S. to Spy on Israel". New York Times. Retrieved September 6, 2011.
^ Leibowitz, Shamai. "The freedom to ignore", Shamai Leibowitz | Pursuing Justice, 5 Jun 2012. Retrieved on 13 Aug 2012.
External links
Wikimedia Commons has media related to: Yeshayahu Leibowitz
Yeshayahu Leibowitz (Hebrew)
Yeshayahu Leibowitz (English)