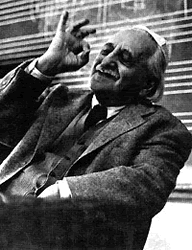 Solomon Rosowsky
http://www.jtsa.edu/library/archives/music/rosowsky_print.shtml#bs
Solomon Rosowsky (also known as Salomo or Schlomo) was a composer,
musicologist, collector and editor of Jewish sacred and secular music,
music critic, teacher, and author of The Cantillation of the Bible:
The Five Books of Moses (New York: The Reconstructionist Press, 1957).
Rosowsky was born in Riga in 1878, the son of noted cantor Baruch Leib
Rosowsky (1841-1919). After periods at the Leipzig Conservatory of
Music (during 1905) and the University of Kiev, where he studied law,
Rosowsky graduated from the St. Petersburg Imperial Conservatory of
Music in 1911. While in St. Petersburg, he was a music critic for the
St. Petersburg Dyen and served, in 1918, as music director of the
city's Yiddish Art Theater. In 1908 Rosowsky helped found the Society
for Jewish Folk Music in St. Petersburg.
In 1920 Rosowsky returned to Riga. There he founded, and subsequently
taught at, Riga's Jewish Conservatory of Music. Rosowsky worked as a
music critic in Riga, and he began editing his father's musical works.
In 1924 one volume of Baruch Leib Rosowsky's two volume Shirei
Thefiloh, edited by his son, was published.
After five years in Riga, Rosowsky emigrated to what was then
Palestine. There he taught at the Palestine Conservatory of Music,
1940-1946, conducted the research on biblical cantillation which
became the basis for his book, The Cantillation of the Bible, and
composed music. Some of this music was theater music, written for the
country's Hebrew language theaters, including the Habimah, Ohel, and
Jerusalem Studio. In 1946 Rosowsky was elected chairman of the
Federation of Musicians' Associations in Palestine.
Anxious to publish his work on biblical cantillation, Rosowsky
travelled through Europe and the United States during the 1930s,
lecturing on the subject. In 1947 he and his wife Rachel (a chemist,
born Rachel Rossiensky in Moscow, 1891) came to the United States to
try to further efforts to have the book published.
Rosowsky spent the last years of his life in New York, teaching at the
Cantor's Institute of the Jewish Theological Seminary and the New
School for Social Research. He died in 1962.
Note: biographical information comes from the Rosowsky Papers, and
from the following published sources:
Encyclopedia Judaica. Jerusalem: Keter Publishing House, Ltd.,1971. v.
14 p. 313.
Appleton, Lewis. The Music of Gershon Ephros, Solomon Rosowsky,
Heinrich Schalit, Jacob Weinberg, New York: National Jewish Music
Council, 1963. (Rosowsky Papers, box 4, folder 6.)
Nulman, Macy. Concise Encyclopedia of Jewish Music, New York: McGraw
Hill, 1975.
Sadie, Stanley. The New Grove Dictionary of Music and Musicians,
London: Macmillan; Washington D.C.: Grove's Dictionaries of Music,
1980