J?nis (?anis) Lipke Righteous Among the Nations
(February 1, 1900, Jelgava - May 14, 1987, Riga) was a Latvian rescuer of Jews in Riga during World War II.
Lipke, a dock worker in the port of Riga, determined to help save Latvian Jews from capture by the Nazis after witnessing actions against them in the streets. He retrained in order to become a contractor for the Luftwaffe, and then used his position to smuggle Jewish workers out of the ghetto and camps in and around Riga, whom he concealed with the aid of his wife until the arrival of the Red Army in October 1944. The Lipkes and their various helpers saved forty people in this way.
When he died in 1987, the Jews of Riga arranged his funeral, and he is honoured as one of the Righteous Among the Nations.
On 4 July 2007, the day of remembrance of the victims of genocide against the Jewish nation, a monument commemorating those, and in particular Janis Lipke, who saved Latvian Jews was unveiled at Riga's Great Choral Synagogue
Jews Rescued by Janis/ Yanis Lipke, Resident of Riga
http://www.worldholocaustforum.org/eng/persons/7/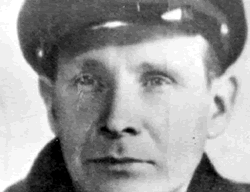 "…In Riga we witness daily raids – they are hunting Jews. Jews are killed in the streets and rounded up in Bikernieksky forest for execution. The fascist machine is on the move."
An ordinary man named Jan (Janis) Lipke, a worker from Kipsala, takes a stand against the machine. He is a dock worker.
People are in trouble. They need help. He is tortured by these thoughts, which become his obsession and his reason for living. Victims of the terror find shelter at his house at 50 Balasta Dambis. The Fascists had instructed Janis to collect people from the ghetto and bring them to the warehouses, where he was to supervise their work…
In those days, when over 30,000 Jews were shot in Riga, most of them children, women and the elderly, the ghetto was a fearsome sight: the pavement was littered with the mangled bodies of children thrown from house windows and interspersed with everything the deceived victims had left behind – they were told that the ghetto was being moved to another camp.
"My father and I were standing in front of the barbed wire around the ghetto. I was eight then," recalls Zigfrid, Jan's elder son. "I always remember my father's voice then. It suddenly started to tremble. He said, 'You must never forget this, son,' and tears were streaming down his face…"
Jan made frenzied efforts to find places in town where people could be sheltered. On December 15, he helped ten people escape from the ghetto and arranged a hiding place for them…The tireless Jan found helpers who took people into their homes.
Faced with dwindling options, they decided to work together to construct an underground bunker under Jan's barn. It was too risky for him to keep the seven people he had living with him at that time in his house.
Jan, his wife Yohanna, and their oldest son Alfred, as energetic and fearless as his father, not only provided their hidden guests with food, but gave them a radio set, weapons and ammunition, as well.
It was becoming increasingly difficult for Jan to do his "job." As part of the "Final Solution of the Jewish Question," the Fascists began liquidating the ghettos in the autumn of 1943. After many executions, survivors were sent to Riga's concentration camps: Kaiserwald, Balasta Dambis, Rezigravis, Strazdeymyige etc.
One dark autumn night in 1943, Jan cautiously loosened a few planks in the fence of Balasta Dambis concentration camp, which was located not far from his house. As promised, he came under cover of night with a truck and helped Dr. Shmulian, a well-known physician from Larvia, to escape through the hole in the fence.
Jan owed the success of many of his daring operations to his trusted assistant, Karl Yankovsky, a driver…
Together they carried out an extremely risky operation, stealing a fascist car full of machine guns, ammunition, explosives and packs of unused travel permission slips…
In 1943, Jan was transferred to another job. In his new position, he was authorized to travel around the country at his own discretion, which was extremely important as he began creation of an extensive network of underground shelters.
Every human life saved by Jan stands alone as a heroic deed.
Finally October 13, 1944 arrived. It was a day we will never forget. We shed tears of joy as we embraced and kissed the Soviet tank drivers storming into Riga and embraced our old good Jan, whose deeds will always remain in our hearts,