Beba Levanon ( nee Levin)
http://nechemia.org/references/levanon2E.html
Beba Levanon
daughter of Mina and Avraham Levin
February 22, 1915 - April 4, 2007

Beba was born on February 22, 1917 in Riga, the Latvian capital, to Avraham and Mina Levin. She had two brothers, Yehuda and Shimon, and two sisters, Sonia and Hilda. When she was 10 years old her family moved to Dvinsk, now known as Daugavpils. Though her parents weren't religious, they faithfully observed all the Jewish holidays and traditions. They also kept in close contact with their extended family. At the Levin's home there were always visitors - relatives and friends. Mina, Beba's mother, was a Zionist woman who made sure that Beba received a Zionist education. Both of Beba's parents, as well as her brothers and sisters with their spouses and children, all were murdered by the Nazis during World War II.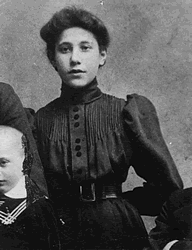 Mina Levin (Chrom), Beba's mother

In Dvinsk Beba went to a Jewish elementary school where the language of instruction was Hebrew. Later on she studied at the "Hebrew Gymnasium," where she graduated, receiving a matriculation certificate written in Hebrew.
While still a student at school, Beba joined a Zionist pioneer-youth movement - "Netzach." In the movement, she was trained and later instructed younger trainees towards self-fulfillment as pioneers and as kibbutz members in "Eretz Yisrael."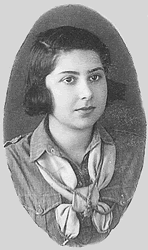 Beba - a member of "Netzach" - a Zionist youth movement
Upon graduating high school, Beba went to a farm, where she trained in preparation for her aliyah to "Eretz Yisrael." Beba stayed at the farm from July 7, 1934, until November 5, 1935, during which time she got experience in agricultural work, housekeeping, and speaking Hebrew.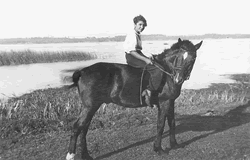 Beba at the agricultural estate

While waiting for her immigration certificate from the British authorities in "Eretz Yisrael," Beba attended the "Pedagogical Institute for Teachers" in Riga.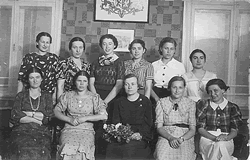 Beba at the "Pedagogical Institute for Teachers" in Riga -standing third from right

Beba shortened her long wait for an immigration certificate by fictitiously marrying a resident of "Eretz Yisrael" who was on a family visit in Riga. On December 20, 1937, at long last, Beba arrived in the land of Israel at the age of 22.
In "Eretz Yisrael" Beba joined the "garin" (cadre) of the "Netzach" youth movement, who were staying at "Hatzer Kinneret." Later she moved with the "garin" to Kibbutz Ein-Gev. On September 3, 1938, Beba joined the "Anglo-Baltic garin" which was undergoing "hachshara" (training for kibbutz life) in Kibbutz Afikim.
At Kibbutz Afikim Beba chose to prepare herself as the garin's kibbutz economist (the person in charge of a kibbutz's food supply and kitchen). And indeed she spent her time well in Afikim preparing for the position she desired to fulfill.
In November, 1939, the "Anglo-Baltic garin" became an independent entity, named "Anglo-Baltic Kibbutz" and moved to Binyamina. In Binyamina Beba organized the first kitchen and dining-room of the "Anglo-Baltic Kibbutz.." The same year Beba married her first husband, Baruch (Borka) Yakobson, who fathered her first son, Dan.
A year later, on May 18, 1941, Borka along with another 22 of the Palmach's best fighters and a British officer sailed on board the "Sea Lion" with the intention of sabotaging the pro-German, French regime's refineries in Tripoli. The ship never made it to its destination, and the fate of its crew is unkown.
In 1943 in Binyamina Beba married her second husband, Nechemia Levitan (later - Levanon) and bore him her second son, Yair.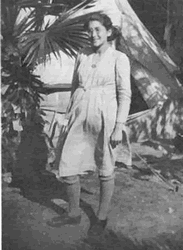 Beba in Binyamina

In November, 1944, along with the other women and children of the "Anglo-Baltic kibbutz," Beba arrived at the group's permanent location in the Hula Valley. They named their new settlement "Kfar-Blum."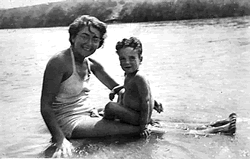 Beba and Yair splashing in the water of the Jordan River

At the end of the year 1946 Beba and her two sons joined Nechemia in London, where he had gone the previous year as an envoy in the Zionist youth movement, "Habonim." When Israel's "War of Independence" broke out in 1948, Beba and her family returned to Kibbutz Kfar-Blum.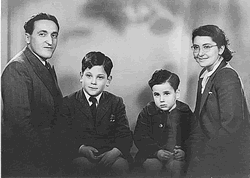 Beba, Nechemia and their sons in London

At the end of the "War of Independence" Beba attended the "Kibbutzim Seminar" in Tel-Aviv where she trained to become a kindergarten and elementary-school teacher. While attending the seminar, Beba bore her third son, Avinoam. Back in Kfar-Blum Beba worked as a kindergarten teacher.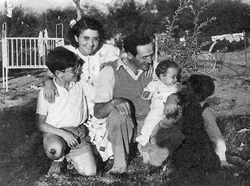 from left - Dan, Beba, Nechemia, Avinoam and Yair

In 1953 Beba and her three sons again accompanied her husband, Nechemia, to Europe. Nechemia was sent on a mission on behalf of the Mosad to search for possible means by which communication could be established with Soviet Jewry, then locked behind the "Iron Curtain." Nechemia was also expected to locate possible pathways for extricating jews from the Soviet Union. For six months the Levanon family stayed in Stockholm, Sweden, and upon renewal of diplomatic relations between Israel and the Soviet Union, the family was able to move to Moscow. In Moscow Beba, in addition to managing the housework, assisted with tasks in the Israeli embassy, mainly by ciphering and deciphering telegrams. In the fall of 1956 Nechemia was declared "persona non grata" by the Soviet authorities, and the Levanon family, as well as two other Israeli families from the embassy, were deported from the Soviet Union.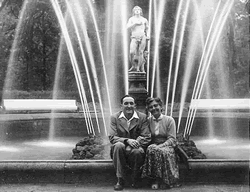 Beba and Nechemia in Leningrad

Back in Kfar-Blum, Beba returned to educating kindergarten and elementary-school pupils. Her fourth son, Gavriel (Gabi), was born in 1959.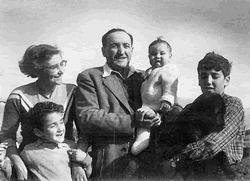 In Kfar-Blum - from left - Avinoam, Beba, Nechemia, Gabi and Yair

During the years 1965-1969 Beba, Nechemia, Avinoam and Gabi were in Washington, D.C., where Nechemia served as a "Minister-Counselor" in the Israeli embassy. Actually Nechemia was the delegate of "Bar" in the United States.
At the end of her Washington years, Beba taught Hebrew to new immigrants in Kfar-Blum.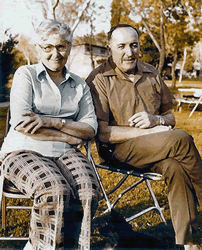 Beba and Nechemia in Kfar Blum

In her last years, Beba was one of the initiators and founders of the craft workshop for the elderly in Kfar-Blum, which would later be called "Golden Hands."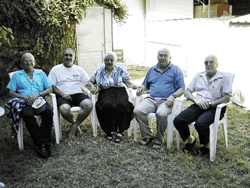 Beba and sons (2003) Kfar-Blum - from left - Dan, Gabi, Avinoam and Yair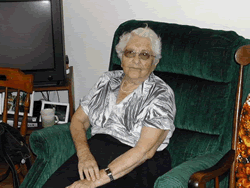 Upon her passing, Beba left four sons, twelve grandchildren and ten great-grandchildren.