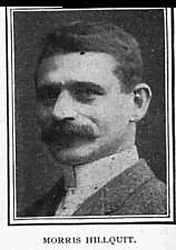 Moses Hillkowitz (AKA Morris Hillquit)
(1869-1933)
http://reds.linefeed.org/bios/hillquit.html
Long-time Socialist populizer and campaigner. Hillquit was born Moses
Hillkowitz in Riga, Latvia, to Jewish parents who raised him in the
Russian school system. He immigrated to the United States in 1885 and
worked in New York's Lower East Side as a garment worker. He became
involved in the socialist movement here, joining the Socialist Labor
Party and socialist trade unions. He also studied law at New York
University and entered the bar in 1893.
He officially took the name Hillquit in 1897 — roughly the same time
that he led a Marxist "Kangaroo" faction against the hardliner Daniel
De Leon in the SLP. After negotiating with Eugene V. Debs's Social
Democratic Party in 1901, Hillquit's Kangaroos officially joined with
the Debsians, forming the Socialist Party of America. He would go on
to serve as the SP's first national secretary.
Hillquit was similar in political orientation to Germany's Karl
Kautsky. Both were "centrist" Marxists — opposing both mild reformists
and extreme revolutionaries. Hillquit was one of the chief opponents
of the Industrial Workers of the World (IWW) and demanded the
expulsion of Bill Haywood from the SP's National Executive Committee.
However, as a lawyer, he defended countless unionists (including
Haywood), regardless of their political views.
Hillquit ran for many offices on the Socialist slate — including US
Congress (1906 and 1908) and New York City mayor (1918 and 1933). He
wrote a monumental book, The History of Socialism in the United
States, and served as the first American "socialist historian."
Following the split between Communists and Socialists (and after he
received negative epithets from both Lenin and Trotsky), Hillquit
became an anti-communist — writing the critical From Marx to Lenin
(1923).
In 1933, Hillquit ran a brave campaign for New York City mayor and
received a quarter of a million votes. He died of tuberculosis shortly
afterward.


http://www.nyu.edu/library/bobst/research/tam/yiddish/Englishbks/engworkslives.html
Born in Riga, Latvia, Moses Hillkowitz immigrated to the U.S. in 1885,
worked in the New York City garment industry, and helped found the
United Hebrew Trades. A Socialist Labor Party activist, he was a key
figure in the bitter intra-party disputes over ideology and
leadership. Hillquit attended New York University Law School, passed
the New York bar in 1893, and devoted his decades-long law practice to
labor and civil liberties cases. He ran, unsuccessfully, for Congress
in 1906 and 1908, and for New York City mayor in 1918. Hillquit was
also a key chronicler of American socialism, in both English and ...
http://politicalgraveyard.com/death/tuberculosis
Morris Hillquit (1869-1933) — also known as Moses Hillkowitz — of New
York. Born in Riga, Latvia, 1869. Socialist. Immigrated to the United
States in 1885; lawyer; leader of "Kangaroo" faction which left the
Socialist Labor Party and marged with the Social Democratic Party to
form the Socialist Party of America in 1901; served as the Socialist
Party's first national secretary; candidate for U.S. Representative
from New York, 1906, 1908, 1920; candidate for mayor of New York City,
N.Y., 1918, 1933. Jewish. Member, American Civil Liberties Union.
Died, of tuberculosis, in 1933. Burial location unknown.Yiddish