Dear Eilat
I am sorry to bother you as I'm sure you get a lot of emails on this subject, but I have just discovered your website and the incredible wealth of information that you have gained about Riga and its inhabitants. I have recently started to research my family history and have hit a bit of a wall, mainly due to there not being anyone around anymore to ask. My great grandparents apparently came from Riga, all i have are a couple of photos and names. Having had very little luck from the ancestry website, I was wondering if you could advise me on any possible ways of gaining more information, I do understand that most have probably perished in the 1940s.
My great grandparents were named Ellis Cohen and Mary Saul (as far as i know but I'm sure these were the anglicised versions of the names). I have their wedding photo (I have attached to this email) which i think took place in Latvia as nobody seems to know any of the other possible family members in the picture. I have no idea when they came to England but there is a record of Ellis' naturalisation in 1902.
I have been told that Ellis's surname could have been Kagan, he was born around 1876. it looks like he had siblings from the wedding photo but all i know is that he was some kind of tailor or garment maker. that is all. Mary Saul, his wife, was possibly born around a similar time. I have a newspaper cutting from a descendent of Mary's brother, Samuel Saul, who also came to England (this side of the family found out very little too). Again from the wedding photo and another family photo i have also attached it looks like she had more siblings. The photo is a young Mary with her parents, brother Samuel and what looks like a sister and two other brothers.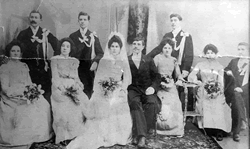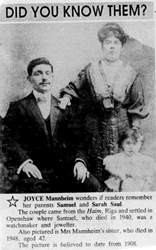 Samuel Saul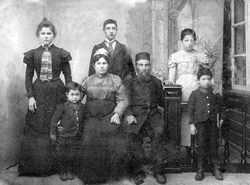 Mary and her parents and siblings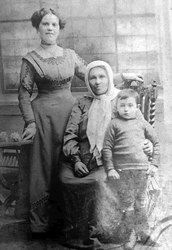 Mary, her mother and possibly her eldest son Benny
I think at least one of Ellis and Mary's children were born in Latvia as i cant find all of their birth records. Sarah/Sadie was the eldest born early 1900s, then Rose around 1907, Benny 1909, Tilly 1911, Lottie and Larry/Lewis were the youngest and definitely born in the UK.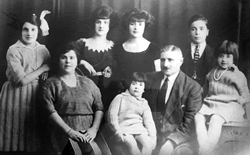 Ellis and Mary with their children in the 1920s I presume.
I am sorry to inundate you with information but I thought that if you knew what information I had, then you may be able to advise me better. Thank you for your time, and the very interesting website.

Kind Regards
Berel-Anne Evans