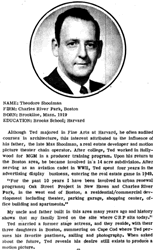 Theodore Joel (Ted) Shoolman of Lighthouse Point, Fla. and Brookline
died Saturday, Oct. 15, 2005, at his home in Brookline. He was 86.
Mr. Shoolman grew up in Brookline and Marblehead, graduated from
Harvard in 1941 and was an aviation cadet in World War II.
After a brief career in the movie industry in Hollywood, Shoolman
became a real estate developer like his father, Max Shoolman ( of
Kurenets) , who built the Metropolitan Theater, now known as the Wang
Center, in Boston's theater district.
The upscale Charles River Park was built on 48 acres of the old West
End neighborhood after it was cleared for redevelopment in the late
1950s.
Critics said it was urban renewal run amok. The gritty neighborhood
was home to 10,000 residents, but developers and city officials argued
that the new complex would boost Boston's real estate economy and
revitalize the city.
The apartment and condominium complex, which includes Longfellow Place
towers, today is home to 5,000 people.
Developers in 1999 sold the last large piece of the complex for about
$240 million to Chicago-based Equity Residential Properties Trust.
Charles River Park is bounded by North Station, the Charles River,
Beacon Hill, and Government Center.